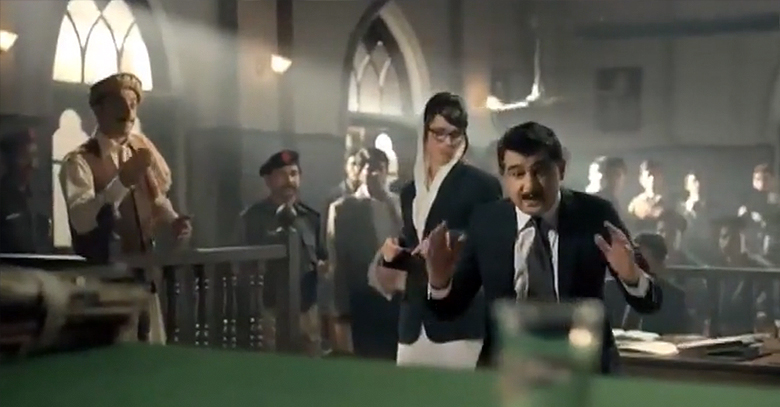 By Ufaq Ashfaque
Ufone has launched a new TVC using dialogue from the new Pakistani movie 'Waar' as its concluding punch line.  
The TVC, created by Ad agency Interflow and directed by Ahsan Rahim, has the usual pool of actors including Pakistani model Ayaan, Mikal Zulfiqar, Adeel Hashmi and Faisal Qureshi who deliver performance above par every time.
In the ad we see a court scene where the lawyer proves that the offender could not have made the alleged calls because he was not using Ufone and hence was not guilty.
The judge releases the offender from the case but executes him because not having a Ufone connection is a criminal offense in itself. The ad basically subtely attacks its competitors, claiming that their network coverage and quality is so poor that one cannot even call someone and even if they are successful in doing that they surely can't talk peacefully.
The most interesting part of this ad was how Ufone incorporated a dialogue from the award-winning, internationally acclaimed movie 'Waar'.
Waar is Pakistan's most influential, record-breaking blockbuster that has swooned local and international cinemas. Bilal Lashari's outstanding execution and promotion has given acclamation from both Pakistani directors and Indian legends such as Ram Gopal Verma, praising the film.
The original dialogue of the movie was, "You know what will be really nice: if you stop focusing on yourself for a change and start focusing on your country".
The words 'yourself' and 'country' were replaced to 'cellphone' and 'number' in order to create the kind of sharp appeal for words and phrases.
Ufone has been using the humorous platform for quite some time now. Their creative, humorous campaigns have captured the minds of the Pakistani audience and forced other Telco companies to follow suit.