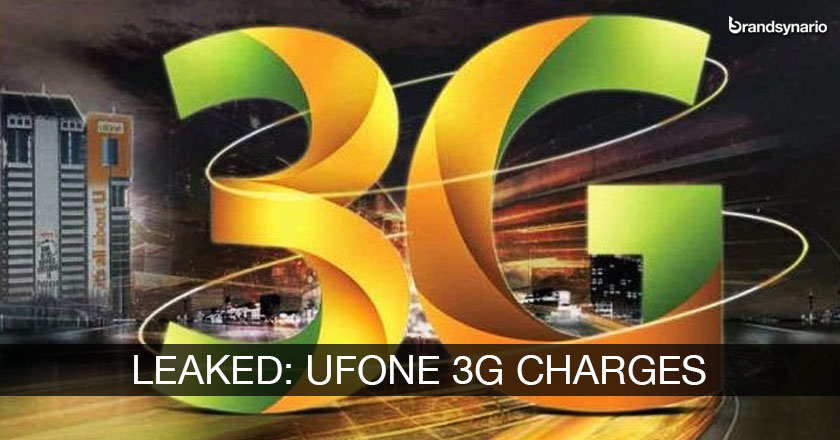 The packages for 3G have started surfacing the internet, with Ufone taking the lead as three packages of the company recently made it to the internet. 
Confusion still persists as instead of one, there are numerous versions of these three packages that are simultaneously surfacing the internet for Ufone's 3G services.
Best guess is that after receiving feedback from customers on these currently rumored package versions, Ufone might announce only one, in its official announcement for 3G.
The three versions of 3G packages which can as well only be mere speculations are described as under:
Version 1:
U High (256 Kbps)
• Daily 40 MB Price: Rs. 10
• Half Day 50 MB Price: RS 5
• Weekly 250 MB Price: Rs 50
• Monthly 1 GB Price: RS. 200
• Monthly 3 GB Price: RS 500
U Super Sonic (512 Kbps)
• Weekly 250 MB Price: Rs 75
• Monthly 1 GB Price: RS 400
• Monthly 1.5 GB Price: RS 750
U Hyper Sonic (1 Mbps)
• Weekly 250 MB : 100 Rs
• Monthly 1 GB: RS 500
• Monthly 1.5 GB: RS 700
• Monthly 3 GB: RS 1200
Version 2:
U High Speed 64 KBPS
? Daily 40 MB Price: Rs. 10
? Half Day 50 MB Price: RS 3
? Weekly 250 MB Price: Rs 25
? Monthly 1 GB Price: RS. 100
? Monthly 1.5 GB Price: RS. 150
? Monthly 3 GB Price: RS 300
U SuperSonic 128 KBPS
? Weekly 250 MB Price: Rs 50
? Monthly 1 GB Price: RS 150
? Monthly 1.5 GB Price: RS 200
? Monthly 3 GB Price: Rs. 350
U HyperSonic 512Kbps
? Weekly 250 MB : Rs. 70
? Monthly 1 GB: RS 200
? Monthly 1.5 GB: RS 300
? Monthly 3 GB: RS 500
Version 3:
U High Speed 512 KBPS
? Daily 40 MB Price: Rs. 100
? Half Day 50 MB Price: RS 120
? Weekly 250 MB Price: Rs 250
? Monthly 1 GB Price: RS. 500
? Monthly 1.5 GB Price: RS. 700
? Monthly 3 GB Price: RS 1000
U SuperSonic 1Mbps
? Weekly 250 MB Price: Rs 350
? Monthly 1 GB Price: RS 700
? Monthly 1.5 GB Price: RS 1000
? Monthly 3 GB Price: Rs. 1750
U HyperSonic 2 MBPS
? Weekly 250 MB : Rs. 500
? Monthly 1 GB: RS 750
? Monthly 1.5 GB: RS 1500
? Monthly 3 GB: RS 3000