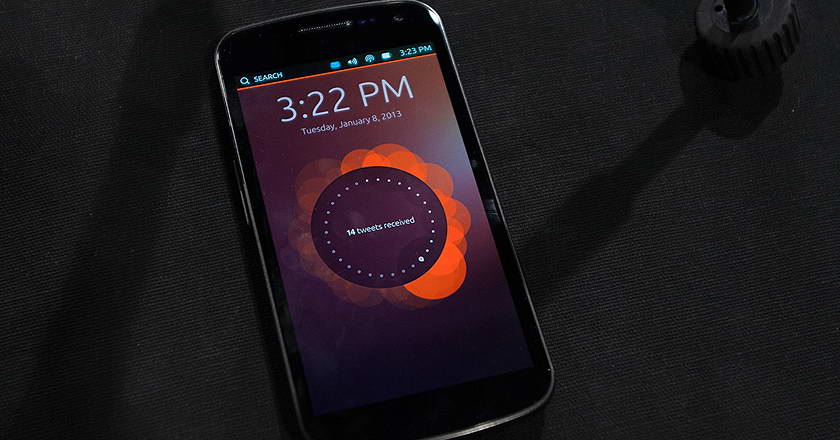 The two year old Ubuntu Edge plan has finally taken shape into the form of Aquaris E4.5 smartphone, launched by BQ, with its heart at the content centered Ubuntu OS.
The new smartphone will be available soon, in two weeks according to some sources, for a price of €169.90, with the following specifications:
. Slim design with a 4.5 inch screen, 540×960 qHD
. Dual SIM option
. 8GB memory and 1 GB RAM with MediaTek Quad Core Cortex A7 (max. 1.3 GHz capacity)
. 8MP rear camera with dual flash and auto-focus and 5MP front camera
. Sharp video capture options with HD 1080p
. Color: Black
The phone will be available as part of Flash Sales across Europe, through social media announcements.
The new intriguing option might remind us of traditional Android or iOS phones but it is different in more than one ways.
The most important of these being the omitting of the typical apps grid for replacement by a new platform, Scopes.
Scopes are sort of swipe-based screens in the form of themed cards, accumulating all similar apps and related content in each theme. The users can configure their own Scopes or use the default ones including Today Scope (serving as the home screen), Music Scope, Apps Scope, Videos Scope, Photos Scope and Nearby Scope.
The usual apps including Facebook, Cut the Rope, Twitter, eBay, Yelp, Amazon, TimeOut, Spotify and Dropbox will be available on the Aquaris E4.5 with a surprising Whatsapp absence.
The original idea of Ubuntu phone powering a desktop is still on the charts and the associated technology in development will be displayed at the upcoming Mobile World Congress conference.