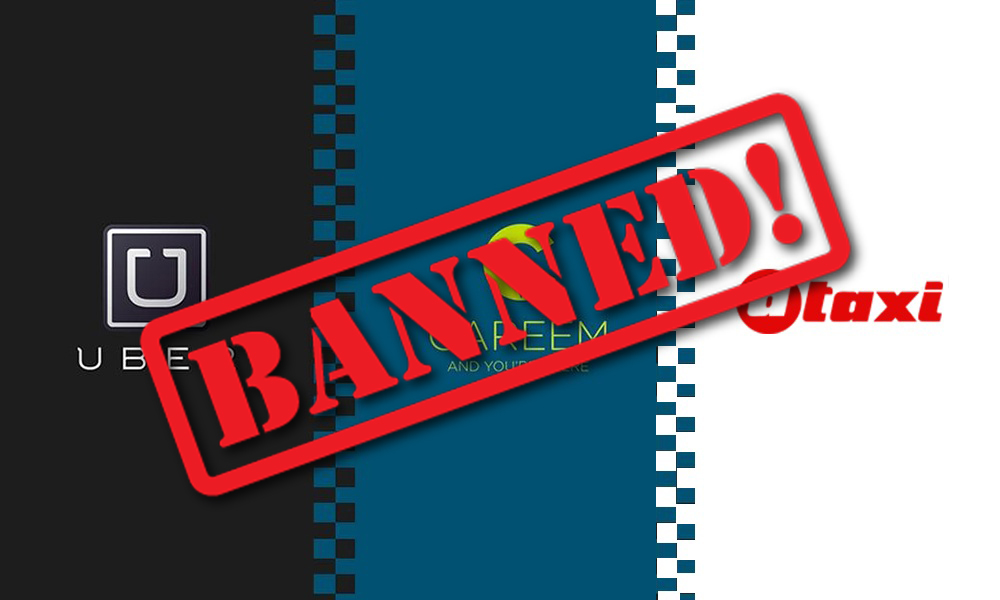 Update: Ministry of transport issued a notification to PTA to suspend Careem and Uber ride-hailing service applications immediately. "Uber and Careem must take fitness certificate", added Ministry of Transport. The taxi services must also take route permit and excise licence, pitched Nasir Shah.
According to the notification, both services are violating local laws and can also be a threat to the safety and security of the public.
---
Update: Sindh government has declared the use of private cars as taxis without mandatory legal permits as 'illegal' and has contacted PTA to block Careem and Uber's mobile apps. The notice filed requests a ban on the applications for the ride-hailing services.
"When private cars are used as commercial vehicles they have to pay Rs160 annually to the Excise and Taxation department. However, they are not required to change their number plates," Sindh Secretary Transport, Tuaha Farooqui.
According to Farooqi, around 12 letters to Careem to comply with the legal issues.  On the other hand, Uber, the will also go through the legal processes, because only eight of their vehicles were registered. As for now, he said that they have written to the Pakistan Telecommunication Authority (PTA) to block their services.
---
Punjab government has imposed a ban on private taxi services Careem, Uber, and A-One Taxi for 'illegal' transport services in the city of Lahore. The government has also announced that stern action will be taken against the service providers.
Punjab Transport Authority (PTA) has issued a notice to the mentioned companies for the use of use of private cars for services the provincial government is facing huge financial damages, further adding that cars are being used as a taxi without the mandatory car-fitness certificate and route permit.
"Illegal operations of private cars as taxi under the umbrella of Careem, Uber and A-One car services in Lahore". -Office of the Chairman Punjab Transport Authority
However, as of now, it is unclear if this ban is only for the city of Lahore or if other cities in Punjab will be impacted as well. Sindh government may also take this into consideration whether the province will also ban the private services of Careema and Uber. Lahore's chief Traffic Officer has also received a notification to stop such services if seen on the streets of Lahore for commercial purposes.
Social Media Reactions
Pakistanis have taken over different social media platforms to express their anger, and to mock the government for this move.
#Uber & #Careem banned in Punjab!! pic.twitter.com/o5mWI0Qy3a

— Hunain Noman (@Hunainnoman) January 31, 2017
Government na to awaam ko sahulat de skti hai or Jb koi dosra sahulat de to aisay aag lgti k phr Woh sahulat b cheen leti. #Careem #Uber

— Asad Sultan (@AsadSultan18) January 31, 2017
@CMShehbaz Please don't ban #Uber and #Careem in Lhr. Try to regularise their services and bring them under some kind of legal arrangement

— Haider Abbas (@rajahaider110) January 31, 2017
#Uber or #Careem to be banned in Sindh
Commission nhi dogy tu aisa he hoga

— Moona Khan (@moonatvone) January 31, 2017
Surely city like #Lahore can't see a Ban on #Uber & #Careem https://t.co/mj2JUDS7rS

— Nabeel Khan (@Nabeeell) January 31, 2017
Yeh bik gai hai Gormint. #careem #uber

— Zair Abbas (@zairabbas) January 31, 2017
#Uber & #Careem banned in punjab and Sindh. pic.twitter.com/SCO0ZQQJsq

— Mirza (@iMirzaSaheb) January 31, 2017
I don't want yo travel in those disgrace of a transport called chinqchis.
Ban them not #Uber or #Careem u morons of Sindh Govt. #Karachi

— Raees (@hinasafi) January 31, 2017
Now wait just one cotton picking minute. WTF?#Uber #Careem #CareemBan #UberBan @CareemPAK https://t.co/ITvKudelFj

— Ali Akber (@aliakberhabib) January 31, 2017
Ban on #UBER and #Careem ?
And they said they are encouraging investment in Pakistan.
They are supporting new businesses
Really?

— OverThinker (@SabbabaK) January 31, 2017
Stay tuned to Brandsyanrio for more news and updates.