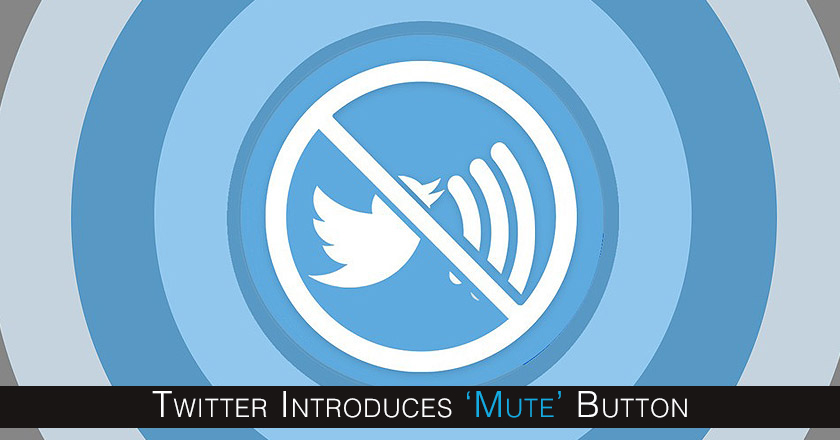 Your Twitter life just got way easier and less noisy with a Mute button. 
The micro-blogging social website has introduced a new feature to mute the tweets from all those overly excited tweet-aholics who fill up your Twitter's newsfeed with irritating and boring tweets.
According to the company's official statement, "Today we're beginning to introduce a new account feature called mute to people who use our iPhone and Android apps and twitter.com. Mute gives you even more control over the content you see on Twitter by letting you removes a user's content from key parts of your Twitter experience."
Very soon, Twitter will also launch a 'whisper mode' feature for private conversation. According to Twitter's CEO Dick Costolo, "There are frequently public conversations that you would like to grab hold of and take into whisper mode. Being able to move fluidly between that public conversation and the private conversation is something we'll make simpler.'
Although Twitter offers private conversation option through DMs (Direct Message) but the soon to be introduced whisper mode would effectively create group version of DMs.
HOW IT WORKS
Muting a follower on Twitter means you will no longer see any tweet from that account also; you will not get any notification or SMS notification from that user.
To mute a user from a Tweet on your iOS or Android device or on Twitter's desktop version all you have to do is click 'more'  and then mute @username.  To mute someone directly from their profile page, tap the gear icon on the page and select mute @username.
According to Twitter, 'In the same way you can turn on device notifications so you never miss a Tweet from your favorite users, you can now mute users you'd like to hear from less,' 
The muted user will still be able to favorite, reply to, and retweet your Tweets; you just won't see any of that activity in your timeline.  Twitter's latest feature is a secret tool as the muted user will not know that you've muted them, you will also have the option to unmute them at any time.
The main difference between the mute tool and the block function is that notifications and direct messages from muted users will still appear.