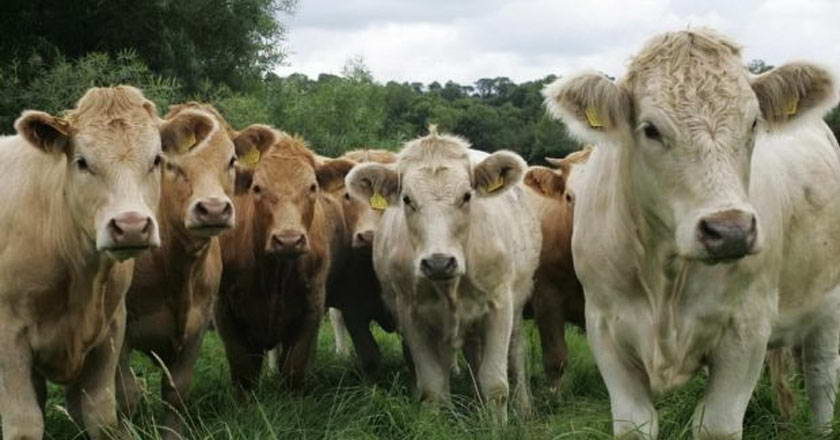 Recently, the Maharashtran Government banned the slaughter of cows and the sale and consumption of beef in the State.  The penalty for breaking this law will be a five-year imprisonment. It is true that Hindus form 80% of India's population which means about 1.2 billion people. According to tradition, Hindus are supposed to revere cows and the cow-slaughter is already banned in many States in the country.
Prime Minister, Narinder Modi has expressed dismay at the rising amount of meat exports from the country and is hoping to bring about a National ban on cow slaughter.
This measure has ensued mass criticism on social media. The hashtag of #BeefBan is trending on twitter across India with about 50.6k tweets regarding this particular trend.
Take a look at the hilarious reactions as well as the outrage and tirade of the people from across the Border:
Cows be like… #BeefBan pic.twitter.com/NRCMFH7kmW

— The Ghanta Awards (@theghantas) March 3, 2015
We want to protect the cow but we can live with female feoticide. Confused even in our gender discrimination #BeefBan

— Pawan Khera (@Pawankhera) March 3, 2015
I very much agree with Rushdie! #BeefBan #Maharashtra How about fining & jailing people for harassing women? pic.twitter.com/ROmA9VevJ2

— Astha Alang (@asthaalang) March 4, 2015
On one hand, these people (activists) r DOG Lovers, cant even tolerate a stone pelted. On the other hand, they complain about #BeefBan! WTF

— Tottology | Toshal (@Tottology) March 4, 2015
Banning is never the answer. Let people choose. Even God doesn't obstruct 'free will', who the hell are you to limit choice? #BeefBan

— Le Jalebi (@ErumSKhan) March 4, 2015
Funny ain't it? Close to 80% of Bombay's population lives in Slums and Fadnavis believes that a #BeefBan was a pressing need of the people.

— Arun Nambiar (@aruns_nambiar) March 4, 2015
Chickens claim they are distant cousins of cows. #BeefBan

— Abhilash Thapliyal (@abhilashthapli) March 4, 2015
I have a soul, I have feelings, I can feel pain and joy. Please don't eat me. #BeefBan pic.twitter.com/HNVcsa8z9Q

— Gautam Trivedi (@Gotham3) March 3, 2015
Many mainstream Bollywood celebrities have also given their opinions regarding this meaty issue including Ayushman Khurrana, Raveena Tandon, Farhan Akhter and a couple of others. Take a look:
So now in Maharashtra you can have a beef with someone but you can't have beef with someone.

— Farhan Akhtar (@FarOutAkhtar) March 3, 2015
Beef faal baad! #kaminey

— Ayushmann Khurrana (@ayushmannk) March 3, 2015
Gau maata. Humein kuch nahi aata! #beefban

— Ayushmann Khurrana (@ayushmannk) March 3, 2015
Basically all Hindus were vegetarian as they respected all living forms on earth and that's how tree worship and animal worship started …

— Raveena Tandon (@TandonRaveena) March 3, 2015
@TandonRaveena: My only take on beef issue that it should not be enforced,it should be optional… To eat or not to eat,is a personal choice

— Raveena Tandon (@TandonRaveena) March 3, 2015
Beef gets banned…on the plus side, less red meat in our diet is a good thing…on the not so plus side…another step towards a theocratic state

— Uday Chopra (@udaychopra) March 3, 2015
So we can't think what we want. We can't speak what we want. We can't do what we want and now we can't eat what we want…YAY democracy!!!!!

— Arjun Kapoor (@arjunk26) March 3, 2015