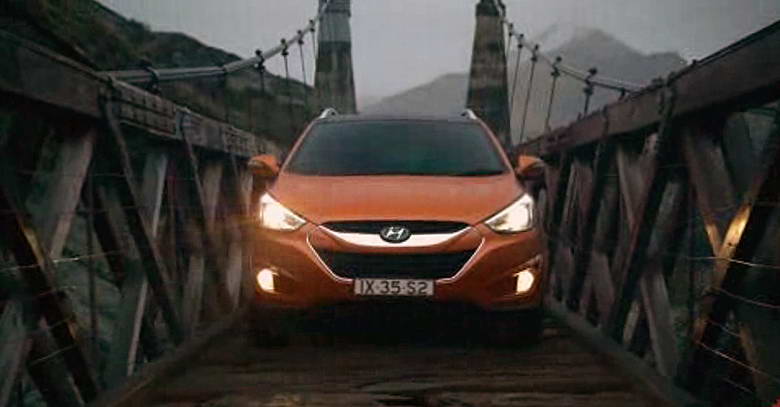 Hyundai has a history of promoting its cars through the most novel ideas and strong strategies. Evidently, the brand's latest campaign "The road less traveled", for its compact SUV vehicle"ix35", which rolled out in Australia gives proof of its consistently ingenious modes of promotion.
A creation of Innocean Australia, the ad has smartly positioned the ix35 as the most desirable car for rough and risky journeys.
Since Hyundai ix35 is widely known for its utmost safety, versatility, sleek design and exceptional technology, the TVC revolves around the tough built of the vehicle and its sturdy off road performance
However, the commercial leaves it on the audience to decide whether they will choose a safe and a sound route for their journey or a spine chiller option.
The advertisement has a very suspenseful storyline and revolves around a young couple setting off on trip in their ix 35. Their route can either be adventurous, spooky and a bumpy one or a very pleasant, smooth one.
But with the cliffhanger ending of the ad, the audience is left to wonder as to what alternative the couple will prefer to travel with Hyundai's SUV.
Not just the plot but also the visual execution of the TVC through interactive digital scenes makes the ad all the more attention grabbing.
Consequently, Hyundai has successfully posed the much dangerous ride in the TVC as exciting in its ix 35, practically challenging the consumers to take "The road less traveled"
"It's really giving the capability credential and dialing up the toughness which is what it was lacking in the beginning because we focused so much on design and stylish cues,´ Innocean creative director Scott Lambert commented about the TVC.
"We think the spot delivers that in a fun way, with a little bit of use of hyperbole. We show it in a fantasy, Harry Potter, Lord of the Rings kind of way."
With the ad, Hyundai's conveys its message loud and clear that the ix35 is unquestionably the ultimate car for daring and adventurous expeditions who can bravely bear it all.