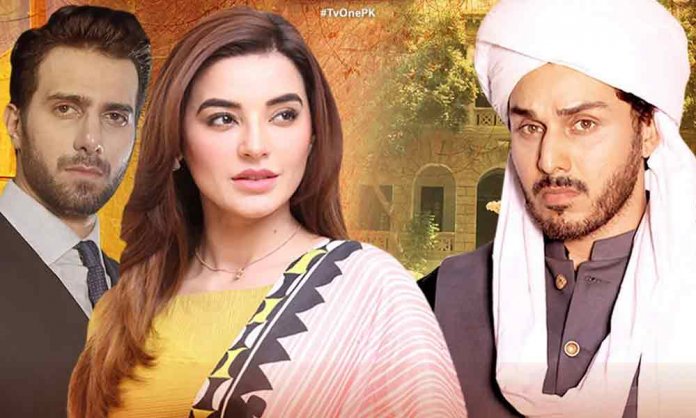 TV One has given its fans a nostalgic throwback to all the amazing projects that made it one of the leading entertainment channels of 2018.
Its dramas featuring creme de la creme of the entertainment industry and even newcomers in the cast, the channel has showcased Pakistani talent like never before for the world to laud.
With many intriguing storylines and out-of-the-box concepts, TV One had many exciting dramas to offer that has become quite popular among the audience.
Titled 'Sub Drama Hai', the glimpse of all its successful projects prove that the channel had its entertainment game strong this year.
From Adnan Siddiqui, Ahsan Khan, Amar Khan, Imran Ashraf and Hamza Firdous, the star-studded casts of these dramas kept us hooked to our screens.
Maintaining their A-game when it comes to the OSTs, TV One's dramas featured many melodious songs, sung by the likes of Rahat Fateh Ali Khan, Sahir Ali Bagga and Naveed Nashad.
 Here's A List of TV One's Dramas released in 2018 that You Don't Want to Miss!
Adhuri Kahani
Following relationship dynamics, TV One's Adhuri Kahani is the story of how two sisters follow different paths to reach the same destiny.
With Iffat Omer and Omair Rana in the cast alongside the talented young actors Dania Enwer and Imran Ashraf, the drama boasts quite an interesting plot.
Viewers can watch this intriguing story of a woman who wakes up from a coma to only wish she had died, every Thursday at 8 pm.
https://www.youtube.com/watch?v=5QDIWYh_nu4
The drama's melodious OST has been crooned by the rising songstress, Alycia Dias. Her soft voice and moving lyrics combined to create magic and made this soundtrack a hit amongst fans.
Maryam Pereira
With aims to bring social evils under the spotlight, Maryam Pereira is a story of a strong-willed Christian girl. The fearless heroin stands up against the powerful feudal lords when it comes to defending the rights of her community.
Starring Ahsan Khan, Sadia Khan, Ayub Khoso and Emmad Irfani, follow this journey of love, hatred, and lust for power every Wednesday at 8 pm.
https://www.youtube.com/watch?v=XjT-tKV168I
Maria Meer and Naveed Nashad share the vocals in the beautiful OST of Maryam Pereira, written by Mubbashir Hassan.
 Ro Raha Hai Dil
Blinded by anger towards her father, an innocent girl falls for the wrong guy and rejects all the efforts by her loving fiancé.
Starring Junaid Khan, Sonia Mishal, Asad Siddiqi, Mariam Ansari, Atiqa Odho and Usman Peerzada, watch Ro Raha Hai Dil every Monday at 8 pm as her fiancé tries to save her from a ruthless man!
https://www.youtube.com/watch?v=awis7GbkQXs&t=84s
Junaid Khan himself has sung the melodious OST of Ro Raha Hai Dil along with Maria Meer, which is no less than an emotional roller coaster itself.
Naulakha
A love trio finds itself in a more complex situation in this Umera Ahmed screenplay. Naulakha exposes devious elders in the drama who play their own games to possess the gem-studded family heirloom, while others scheme to take over the entire family wealth.
The star cast includes Bushra Ansari, Sarwat Gillani, Mirza Zain Baig, Behroze Sabzwari, Kiran Haq, Arjumand Hussain, Gul-e-Rana, Sana Askari. TV One has used yet another hidden star, Saif Samejo as the voice behind its powerful OST.
https://www.youtube.com/watch?v=z_kH3FUXU60
Kasak Rahay Ge
Selfless love stands up against selfish desires in this twisted story of love, arrogance, and hatred. Starring Noor Hassan, Sakina Sammo, Zainab Ahmed, Faizan Khwaja, and Adla Khan, watch Kasak Rahay Ge every Friday at 8 pm.
https://www.youtube.com/watch?v=ak4me3wT5nw&t=2s
 Ghughi
TV One didn't restrict its horizons to the modern day stories. Its pre-partition period drama Ghughi was also well appraised.
Starring the veteran actor Adnan Siddiqui alongside the newcomers Amar Khan (debutant) and Hamza Firdous in the lead, the cast of Ghughi had a perfect blend of seniority and fresh talent.
https://www.youtube.com/watch?v=dkomH5aIW6k
Penned down by Zehra Nigah, the OST of Ghughi was yet another positive aspect about this serial.
With a melodious tune and vocals of Bina Khan and Naveed Nashad, it portrays the heartbreaking journey of Ghughi and its lyrics overwhelms listeners with the emotions of its characters.
TV One's roundup for 2018 exceeded everyone's expectations and we can't wait to watch more amazing projects in 2019.
Stay tuned to Brandsynario for more updates and news!