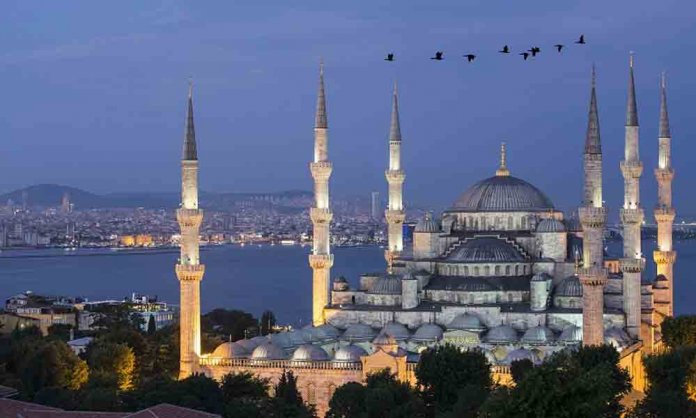 Since years, Turkey has allowed visa on arrival aka E-Visa for various nations at their international airports.
Passengers could walk up to an E-Visa Kiosk and avail the visa. However, in its latest move, Turkey has ceased its visa-on-arrival policy to a number of nationalities.
Citizens of over 100 countries, including India, Bhutan, Maldives & Nepal will have to apply for a visa beforehand.
See the Lake in Turkey That Has Shockingly Turned Blood-Red!
Now, citizens of following countries can avail visa-on-arrival:
Antigua and Barbuda
Australia
Armenia
Austria
Bahamas
Bahrain
Barbados
Belgium
Canada
Croatia
Dominica
Dominican Republic
Estonia
Greek Cypriot Administration of Southern Cyprus
Grenada
Haiti
Hong Kong (BN(O))
Indonesia
Ireland
Jamaica
Latvia
Lithuania
Maldives
Malta
Mauritius
Mexico
Netherlands
Norway
Oman
Poland
Portugal
Saint Lucia
Saint Vincent and the Grenadines
Spain
U.S.A
United Kingdom
If they are applying for an e-visa, they need to register for it and get a printout before they arrive at the airport.
However, the E-visa option applies only for the purpose of tourism or business. For other purposes such as study or work, visas will be issued by Turkish embassies or consulates.
Following nations are eligible for Turkey's E-Visa:
Afghanistan
Algeria
Angola
Antigua and Barbuda
Armenia
Australia
Austria
Bahamas
Bahrain
Bangladesh
Barbados
Belgium
Benin
Bhutan
Botswana
Burkina Faso
Burundi
Cambodia
Cameroon
Canada
Cape Verde
The central African Republic
Chad
China
Comoros
Congo, Republic of the
Congo, the Democratic Republic of the
Côte d'Ivoire
Croatia
Djibouti
Dominica
Dominican Republic
East Timor
Egypt
Equatorial Guinea
Eritrea
Estonia
Ethiopia
Fiji
Gabon
Gambia
Ghana
Greek Cypriot Administration of Southern Cyprus
Grenada
Guinea
Guinea-Bissau
Haiti
Hong Kong (BN(O))
India
Indonesia
Iraq
Ireland
Jamaica
Kenya
Kuwait
Latvia
Lesotho
Liberia
Libya
Lithuania
Madagascar
Malawi
Maldives
Mali
Malta
Mauritania
Mauritius
Mexico
Mozambique
Namibia
Nepal
Netherlands
Niger
Nigeria
Norway
Oman
Pakistan
Palestine
Philippines
Poland
Portugal
Rwanda
Saint Lucia
Saint Vincent and the Grenadines
São Tomé and Príncipe
Saudi Arabia
Senegal
Sierra Leone
Solomon Islands
Somalia
South Africa
Spain
Sri Lanka
Sudan
Suriname
Swaziland
Taiwan
Tanzania
Togo
U.S.A
Uganda
United Arab Emirates
United Kingdom
Vanuatu
Vietnam
Yemen
Zambia
Zimbabwe
For Pakistanis, E-Visa is only granted to passport holders with a valid Schengen, OECD member's visa or a residence permit.
Turkiye Busları Scholarships: Get a Chance to Study in Turkey
Stay tuned to Brandsynario for more updates.