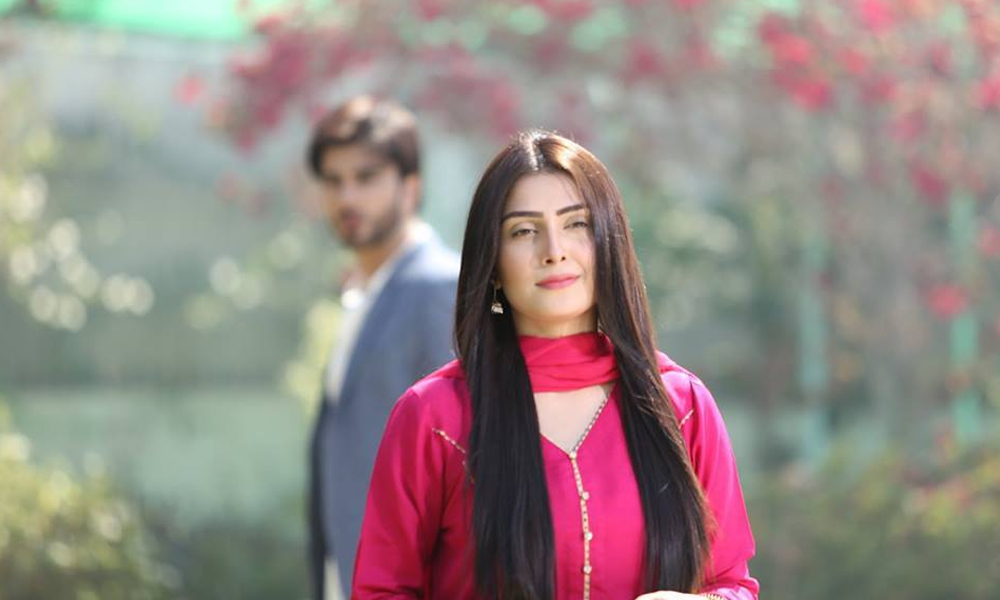 Urdu1's Tum Kon Piya starring  Ayeza Khan and Imran Abbas in the lead roles began airing from 23rd March, Wednesday at 8 pm and be it Ayeza Khan's beautiful presence, Imran Abbas' sober demeanor or Maha Malik's engaging script – we loved every bit of it.
Directed by Yasir Nawaz, the episode introduced us to the lead characters and gave a brief insight into their lives.
Storyline
Written by Maha Malik, the story begins with an old-aged widower Waqar Ali (Qavi Khan) and his three dutiful daughters Elma (Ayeza Khan), Neha and Sonia. A common man, Ali works in a factory owned by his cousin Muzzafar sahib.
While Muzzfar sahib (Mehmood Akhtar) is a typical businessman with a greedy mindset, his elder son, Ramish (Imran Abbas) is a man with a golden heart. Tired of his father's atrocities against his employees, Ramish keeps raising his concerns for their welfare.
5 Reasons Urdu1's Drama Tum Kon Piya Is the Next TV Blockbuster
The mesmerizing chemistry between Abbas and Ayeza begins when he once drops his ailing Waqar chacha to home and meets his beautiful daughter, Elma – it was surely a love at first sight where Ramish couldn't get his eyes off her.
https://www.instagram.com/p/BDTw2gPwNGD/?tagged=tumkonpiya
The drama also introduces us to Zarbab family headed by a dominating mother, Sharafat Begum (Hina Bayat). Zarbab (Ali Abbas) is the sole earner of his family and had special feelings for his sister's friend, Javeria. Zarbab's mom keeps a close eye on his activities as she doesn't want him to divert his attention towards any girl.
Her intentions became more obvious when she warned her daughter to keep a distance from Javeria as she might trap her brother in love.
Tum ne to woh daulat di hai jis ke baad duniya ki kisi cheez ki tamanna baqi rehti hi nahi ! woh kiya ? Kabhi na khatam honay wala Intezar !!Tum Kon Piya Coming Soon Only On Urdu 1!

Posted by Tum Kon Piya on Tuesday, March 15, 2016
Based on Maha Malik's best-selling novel, the serial is beautifully dramatized by Yasir Nawaz. The director's experience of filmmaking turns the drama into a visual delight.
The actors fits their roles like gloves – and for us, the highlight of the play is the amazing chemistry between Ayeza Khan and Imran Abbas.
They held the audience attention with each presence – although they shared the screen for only a few minutes but those magical moments were the definite high points of the serial.
The ravishing Ayeza Khan made a fresh entry in her comeback serial and Imran Abbas was, as usual, very comfortable in his romantic avatar.
Among the senior actors, Qavi Khan and Mehmood Akhtar looked convincing in their roles but it was Hina Bayat who stole the show with her impeccable act. She once again opted for an unusual role of a middle-class dominating mother and thoroughly impressed us.
The drama OST sung by Rahat Fateh Ali Khan added further charm to the serial. The drama was a testimonial of Yasir Nawaz's brilliance as a director and we simply can't wait for the second episode where Ramish will inform his parents of his love.