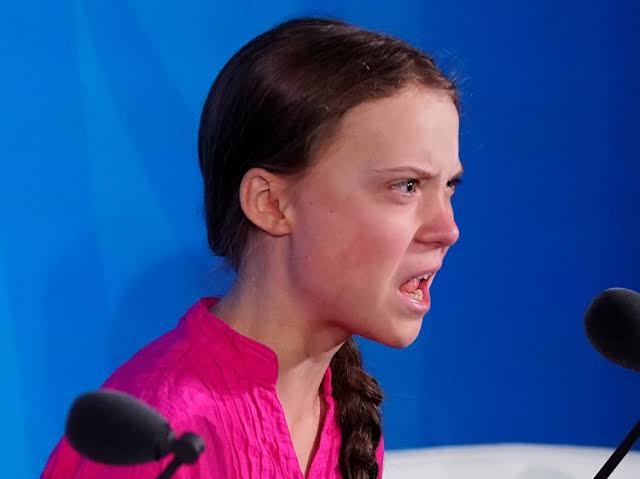 A16-year-old climate activist , Greta Thurnberg has accused world leaders for stealing her childhood in an emotional speech at the UN Climate Summit.
Her speech was full of anger, tears and questions towards these leaders who have failed to implement drastic cuts in emmission and have failed in taking other steps to prevent a cathostrophic event of climate change.
The young activist was invited by UN Secratry-General Antonio Guterres. She sailed from Plymouth to New York for the summit in a "zerbo carbon" yacht.
"People are suffering, people are dying, entire ecosystems are collapsing. We are in the beginning of a mass extinction, and all you can talk about is money and fairy tales of eternal economic growth." She said.
She seems like a very happy young girl looking forward to a bright and wonderful future. So nice to see! https://t.co/1tQG6QcVKO

— Donald J. Trump (@realDonaldTrump) September 24, 2019
She had tears in her eyes, as she continued to condemn what she sees as the lack of action on part of leaders around the world to pause climate change.
Addressing the world leaders, Greta at the U.N. climate summit said:
"This is all wrong. I shouldn't be up here. I should be back in school on the other side of the ocean, yet you all come to us young people for hope. How dare you,"
"You have stolen my dreams and my childhood with your empty words."
Last year, the 16-year-old activist began a school strike for the climate, skipping school every Friday to stand in front of the Swedish parliament, necessitating action to stop catastrophic climate change.
Her protest became viral gaining global attention. Schoolchildren all around the world have participated in their own local school strikes for the climate.
Greta has become a leading figure in the climate justice movement while Trump in the past has called climate change a "hoax".
The American President responded to 16-year-old climate activist in a sarcastic tweet.
"She seems like a very happy young girl looking forward to a bright and wonderful future. So nice to see!" Trump wrote on Twitter.
The 2019 Climate Action Summit began at the UN on Monday, where world leaders gathered to discuss serious strategies to decrease climate change.
Stay tuned to Brandsynario for more news and updates.