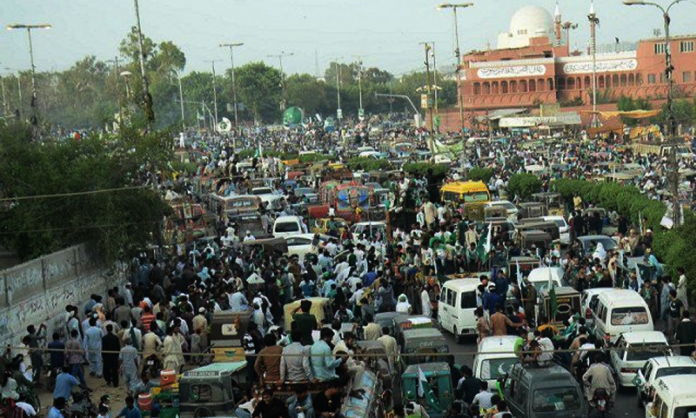 210 views
Now that Karachiites are gearing up to brace Monday after an unfateful weekend, seems like they are likely to face traffic again on the roads today.
Although the situation in the city is coming to normal, there is yet another religious rally to be held in town and citizens need to gear up for it.
#Karachi Mon 27th NOV on account of Jaloos

M.A Jinnah road will be closed from Numaish till Tower: 7am – 1pm

Following routes will be closed 2pm – 9pm

Golimar to Lasbela
Lasbela to Teen Hatti
Teen Hatti to central jail
Teen Hatti to Gurumandir
Golimaar to Nazimabad

— Norbert Almeida (@norbalm) November 26, 2017
The first procession would leave from Nishtar Park and head for Noor Bagh Musafir Khana in Moosa Lane. 
All traffic coming from the city side would be diverted towards Soldier Bazaar (Bahadur Yar Jang Road), Anklesaria Chowk onto Jubilee or Nishtar Road.
All traffic coming from the Nazimabad side will be diverted from Lasbela, Nishtar Road towards the zoological gardens, while all traffic coming from Liaquatabad will be diverted onto Martin Road towards the Karachi jail.
However, the traffic will be permitted to proceed till the jail and shall then proceed via Jamshed Road, Dadabhoy Noorji Road, Kashmir Road, Shahrah-e- Quaideen, Sharea Faisal, Lucky Star, Sarwar Shaheed Road, Fawara Chowk, Shaheen Complex, II Chundrigar Road to Merewether Tower.
The traffic coming from Stadium Road shall proceed via New MA Jinnah Road and vehicles will be diverted at Dadabhoy Noorji Road towards Kashmir Road, Society Light Signal, Shahrah-e-Quaideen to Sharea Faisal.
All traffic coming from Super Highway will be diverted from Liaquatabad No 10 towards Chowrangi No 2, Nazimabad, and shall proceed via Habib Bank Chowk, Estate Avenue Road, Shershah to Mauripur Road.
All traffic coming towards the Quaid-e-Azam's mausoleum via MA Jinnah Road will be diverted towards Bahadur Yar Jang Road.
All traffic going towards Saddar and adjoining areas will not be permitted to proceed towards Empress Market from the junction of Preedy Street/MA Jinnah Road, Court Road Chowk and Fresco Chowk, when the head of the procession reaches near the crossing of MA Jinnah Road and Mansfield Street.
Traffic proceeding towards Saddar via MA Jinnah Road shall not be permitted to proceed from the Preedy Street junction and Aga Khan Road/Mansfield Street.
No vehicles shall be permitted to proceed towards MA Jinnah Road from the junction of MA Jinnah Road/Preedy Street until the procession enters the Bombay Bazaar area. Vehicular traffic on Aga Khan Road from Karachi Zoological Gardens shall not be permitted to proceed towards the MA Jinnah Road and Aga Khan Road intersection.
The 2nd procession will leave from Qasr-e-Musayyab, Rizvia Society, Nazimabad, and head towards Shah-e-Najaf Imambargah on Martin Road. 
All traffic coming from New Karachi, North Nazimabad, Hyderi, and Nazimabad No 7 will be diverted left before Petrol Pump Flyover towards Liaquatabad No 10 and Hassan Square.
Similarly, traffic coming from Sohrab Goth, Water Pump, towards Karimabad Flyover shall be blocked at 3 pm and be diverted right towards Moosa Colony and left towards Usman Memorial Hospital towards Hassan Square.
All traffic coming from Liaquatabad No 10 shall be diverted from Daak Khaana towards Sindhi Hotel onto University Road.
From Bara Board to Gujjar Nala Crossing, the road will be closed for all traffic and at 3 pm all traffic going via Gurumandir, Liaquatabad, Gulberg, Sohrab Goth, New Karachi, North Nazimabad and Hyderi shall be diverted from Gurumandir towards Banori Light Signal, New MA Jinnah Road, Islamia College, Jail Flyover, University Road, Hassan Square or left towards Sir Shah Suleman Road. Lastly, all traffic coming towards Teen Hatti via Garden and Lasbela shall be diverted from Nishtar Road towards Britto Road.
Plan your routes accordingly
Stay tuned to Brandsynario for more updates