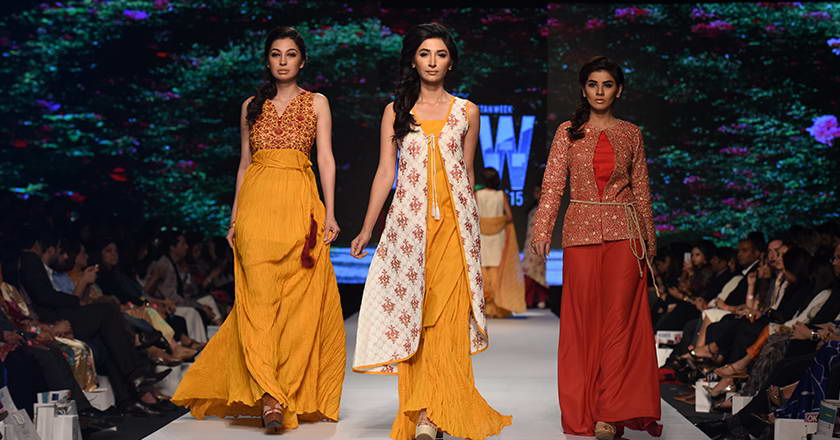 Telenor Fashion Pakistan Week Spring/Summer 2015 kicked off yesterday with just the right amount of glamour and extravaganza.
Held at the Pearl Continental Hotel Karachi, the event saw collections under 7 designer categories, some all ready to set new fashion trends for the current year while some downright bizarre.
Nida Azwer – French Trellis Collection
The event commenced with a stunning luxury prêt collection, French Trellis Collection, by Nida Azwer. In shades of ice grey, beige and off-white, the collection looked glamorous and classy, with intricate trellis-inspired hand embroidery, digital prints, crystal and pearl embellishments, all fused together. With her latest collection, Nida Azwer has cemented the new fashion trend of short shirts, straight pants and flowing capes.
Along with the more modern silhouettes were traditional sarees and gowns, made offabrics like silk, chiff
Bank Alfalah – Rising Talent
Up next, were student designers sponsored by Bank Alfalah. While the up and coming designers came from the two top fashion schools of Pakistan, their collections were disappointing. Not only were the cuts and silhouettes unflattering but the weird combination of prints (stripes and polka dots) along with shiny fabrics and oversized flower embellishments were simply not up to the mark.
Lala Textiles – Electric Summer 2015
Electric Summer 2015 collection by Lala Textiles had a bit less of glamour and more a touch of practicality. In the scorching heat of Pakistan, Lala's summer collection, with light color hues, flowing silhouettes (loose shirts and baggy culottes), fine fabrics and light prints, seems just perfect.
The more classy pieces from the collection featured cutwork cropped jackets and straighter pants.
Sania Maskatiya – Khayat – The Tailor
Sania Maskatiya outdid herself as usual. Her collection, a tribute to fashion craftsmen, Khayat – The Tailor, was a mix of eclectic prints, vibrant colors, stunning cuts and snazzy patterns. True to its name, the collection had all the tools of a craftsman splattered across fabrics, infused with geometric patterns and paint splashes.
The color palette was bright and vibrant in line with the seasonal palette and silhouettes were a mix of short and long shirts, cigarette pants and flowing gowns, cropped jackets and long capes.
FnkAsia – Freedom Collection
Collection by FnkAsia, Freedom Collection, had a mix of a brighter color palette featuring tangerine and yellow and a lighter palette with hues of off-white, peach, grey and white.
The collections had waistline gowns with straighter silhouettes, as opposed to box pleat skirts that we have been seeing since last year, with lace as the main feature of almost all dresses. The brighter colored dresses were a definite miss.
Madiha Raza
Madiha Raza's collection had a gorgeous spring color palette and amazingly fresh floral prints, making it the perfect casual summer collection. It had funky cuts, flowing skirts, ponchos, capris, frocks, tights, jasmine pants and floral cutwork all rolled in one refreshing collection.
Sadaf Malaterre
The show ended with Sadaf Malaterre's nude colored dress collection. The collection had some elegant cuts and silhouettes but nothing that we haven't seen already.
While the choice of the color was one of Pantone Spring 2015 colors, it could have been made more attractive with hints of brighter colors.
Whose collection did you like best? Tell us in the comments below!