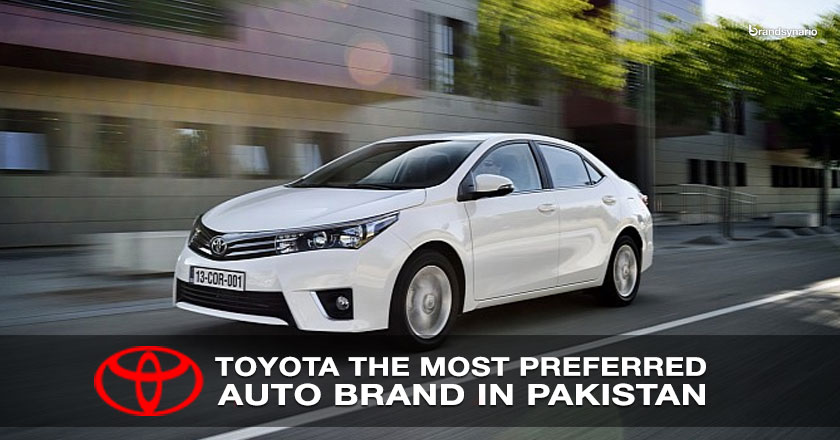 A latest survey conducted by Pak Wheels highlights the changing Pakistani consumer buying patterns in the auto market in Pakistan.
According to the survey, Toyota is the number one customer choice auto brand in Pakistan, while Honda and Suzuki follow in 2nd and 3rd positions.
Over 10,000 respondents from all over Pakistan participated in the online survey.  Respondents  belonging to all ages, income levels, and industry sectors were included to take a 360 degree outlook of the trends.
The survey even had responses from people who don't own cars to get a good idea of the market from a third person's perspective.
Toyota has upheld its reputation as a quality and fuel efficient brand, a recent example is the new and much anticipated Toyota Corolla 2014 with its innovative features like pedal gear shifting, auto adjustable drive seat, rear reclining seats, intelligent android based system connected with key controls embedded in the steering wheel, additional control system and much more.
Data from the survey shows an increasing awareness amongst the consumers regarding brand perception, driving experience, fuel efficiency and other related features.
The recent findings reveal that auto buyers in Pakistan are becoming mature in terms of decision making; this also includes the rising purchases of imported cars within the country.
Some other facts pointing towards the change in consumer perception in Pakistani auto market includes the evolution of traditional markets, online sale and purchase of autos and apps for keeping the sellers and buyers intact.
Though the changes are relative to the technology growth but have also influenced the customer decision making heavily, involving much more rather than simple price and resale value considerations from the past.
Except for Toyota, even Honda is taking certain measures to highlight its point of differentiation which includes more than just quality and luxury. The recently launched Honda Civic 2014 is a state of the art high tech car, with many innovative features including Bluetooth hands-free calling connectivity and audio streaming, Pandora integration and text message functionality.
These major changes in consumer perception for buying autos are affecting the priorities of major brands and their flagship products, clearly seen by the changes implemented in 2014's Toyota Corolla and Honda Civic.