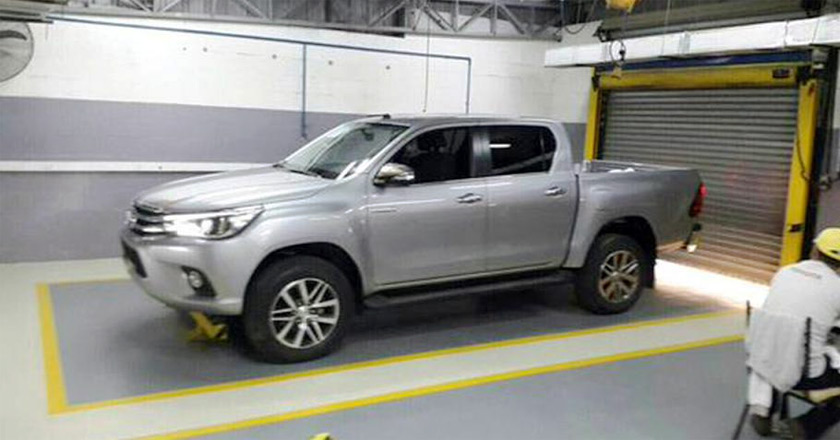 Spy shots of the next generation Toyota HiLux have the fans raving and we are more than pleased.
The next-generation Toyota HiLux is almost certain to hit the global automobile market by the end of 2015. The 2016 Toyota HiLux does enough to satisfy the appetite of big-truck lovers worldwide since truck would not only be bigger, but it would also be more powerful and far more fuel-efficient than its predecessors.
The 2016 Toyota HiLux sports a bigger front grille that is more prominent and upright than the grilles on previous models. It also sports sharper headlights, which give the truck a meaner look, while the volume of the air intakes has also been significantly increased.
The engines would face some major changes; however some versions of the model would carry the same engines as the ones installed in previous generations – the 2.7 liter inline 4, with nearly 180 horsepower and 188 lb-ft of torque is the likeliest of the engines to be carried over to the newer models.
The new diesel engine will be based on the new Cummins 5 liter V8, which gets 2.8 liters in displacement and produces about 160 HP, with more than 300 lb-ft of torque.
This engine is also more fuel efficient, and is expected to use 10% less fuel. The 4 and 5 speed automatic and manual transmissions will be replaced with 6 speed manual and 6 speed automatic transmissions, which will be available both with rear wheel drive and 4-wheel drive.
The interior has not gone through many major changes with the chief changes being the use of a different fabric for the dashboards, while the car could come equipped with features which include automatic climate control, a surround audio system, and a trip computer.
The exterior comprises of broader wheel arches, swept-back headlights, and a contoured hood, while daytime running lights that appear to be LEDs, a new alloy wheel design, and a longer two-row cabin can also be seen in the images leaked earlier.