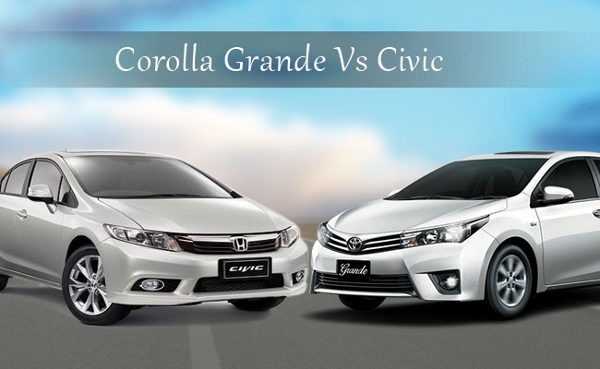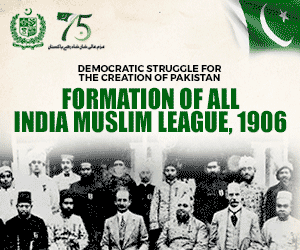 For years, we have been debating on the comparison between Honda Civic and Toyota Corolla. Ever since both sedan manufacturers became the biggest stakeholders of Pakistan's auto market, a debate of Toyota Corolla Altis Grande CV-T and Honda Civic i-VTEC Oriel has captured everyone's attention.
We decided to compare both titans to determine which manufacturer has the leverage over the other.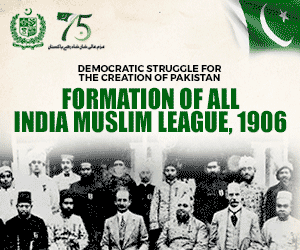 Corolla Altis Grande Vs Civic i-VTEC Oriel: Specs & Features
Engine and Technical Specifications
Corolla Altis Grande has a 1.8L engine, producing 138-hp (horsepower) and 173Nm torque.On the other hand, Civic i-VTEC Oriel also sports a 1.8L engine which was also part of its previous model. Despite having a slightly older engine, it produces more horsepower, 141-hp, and a less torque, 169Nm.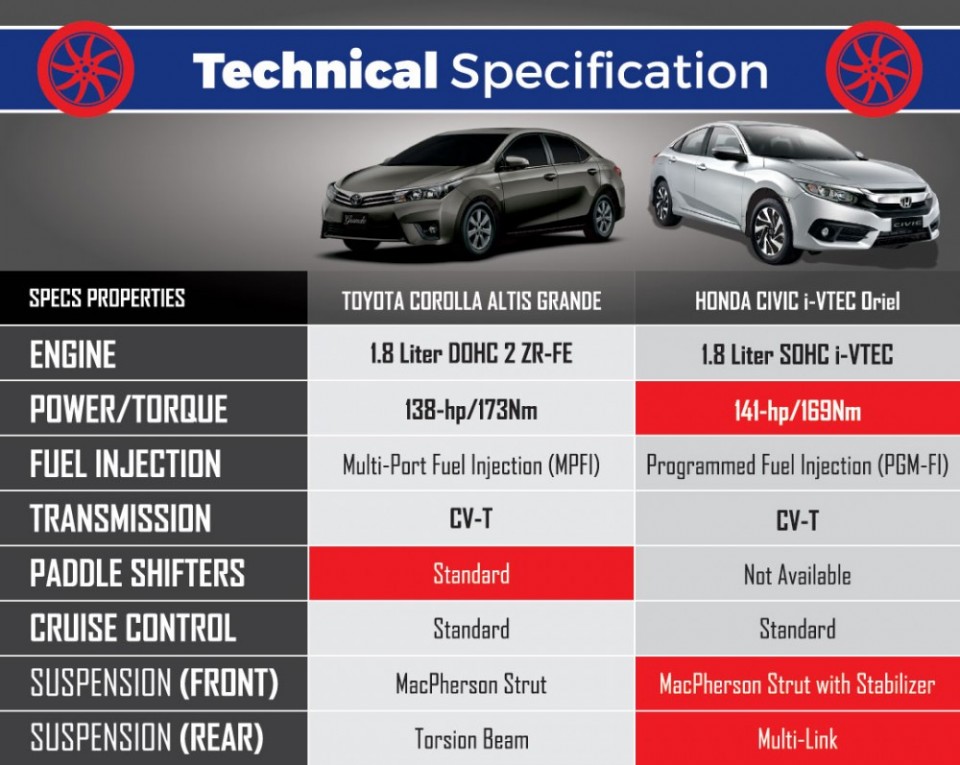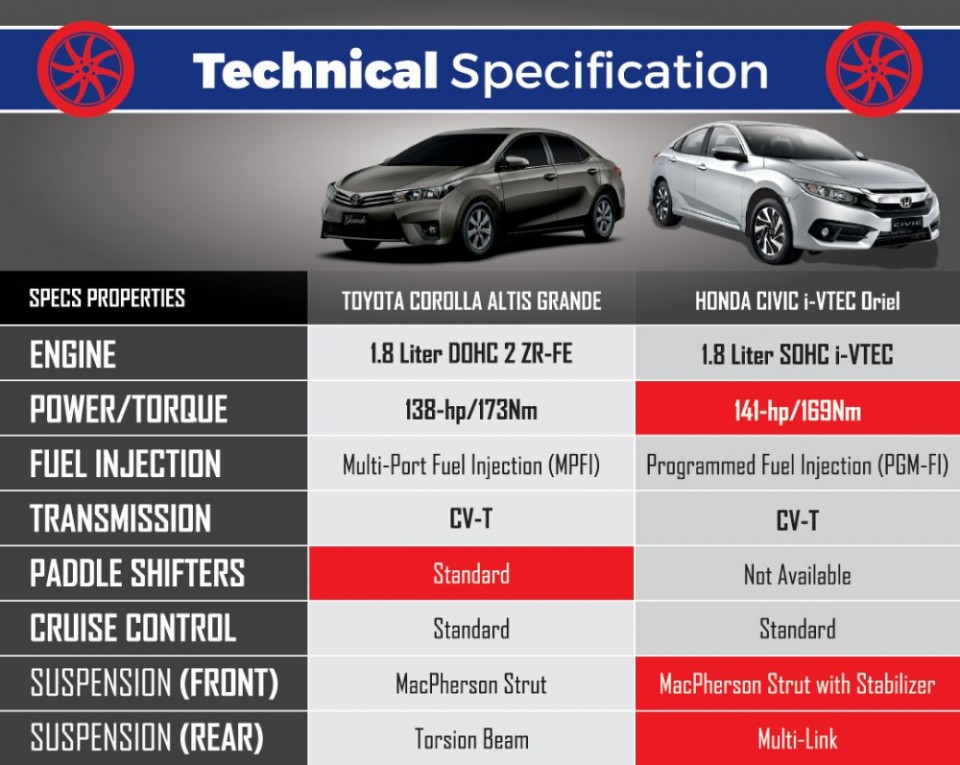 Both these cars have the same sort of transmission but the Grande is equipped with Paddle Shifters which are not a part of Civic.
Both have standard Cruise Control, but when it comes to Suspension, Civic is better than Grande as it has a MacPherson Strut with stabilizers on the front and a Multi-Link Suspension system at its rear.
Corolla Altis Grande is equipped with traditional MacPherson Strut on the front and Torsion Beam at the rear.
Exterior Features
Honda Civic has a clear edge over its competitor Corolla Grande in the exterior specifications. Starting off with the dimensions, the 10th generation Civic is better than 11th Generation Corolla. It is 10mm longer, 20 mm wider and 42 mm lower than the Grande.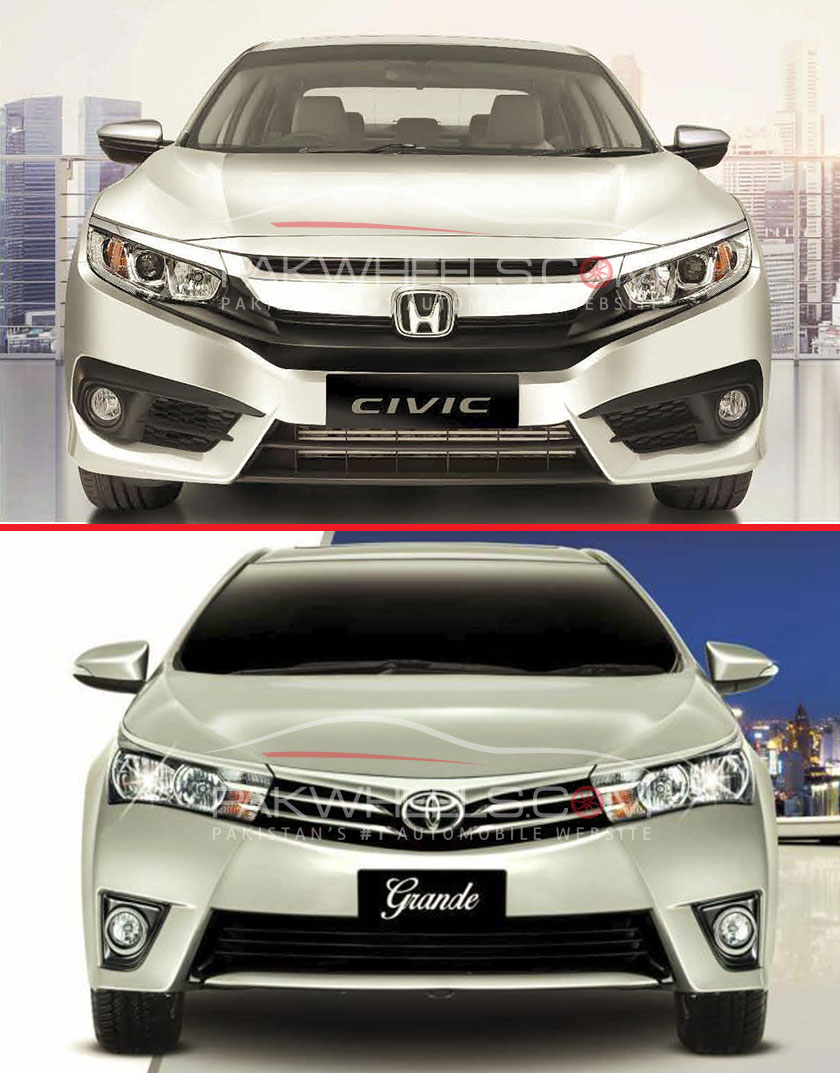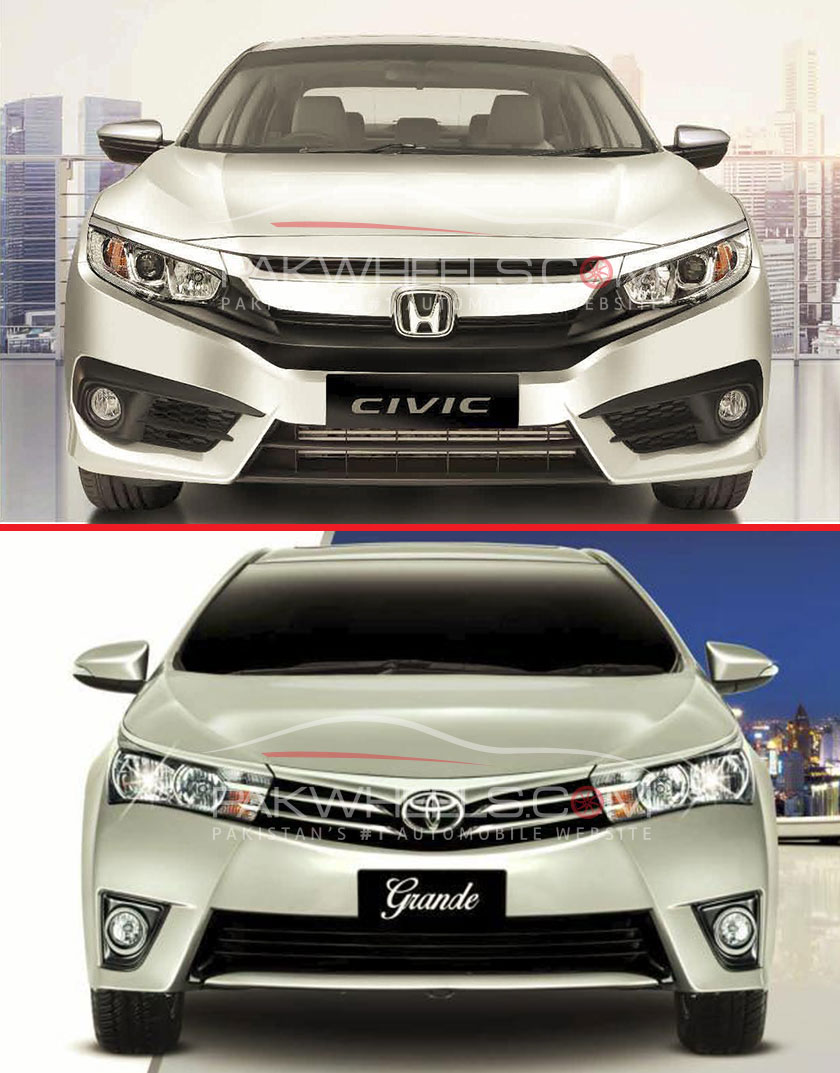 Civic i-VTEC Oriel has 1-inch bigger alloy rims (16 inches) as compared to Grande,that has stuck with its same design, 15-inch rims and standard LED daylight running lamps (DRLs).
Civic comes with standard halogen projector headlamps, while Atlis Grande is still stuck with old-age non-projector Halogen headlights with DRLs. The common factors between the two are automatically retractable doors, mirrors, sunroof and fog lights.
Interior Features
The inside features are a bit tricky to determine which car wins this category. The Corolla Altis Grande has an 8-inch captive touch screen navigation system and partial leather seating material. Whereas the Civic i-VTEC Oriel has the latest interior specs that Grande misses out on. They include Smart Entry, Standard Push Button, Steering Cruise Control Switches and Electronic Parking Brake, etc.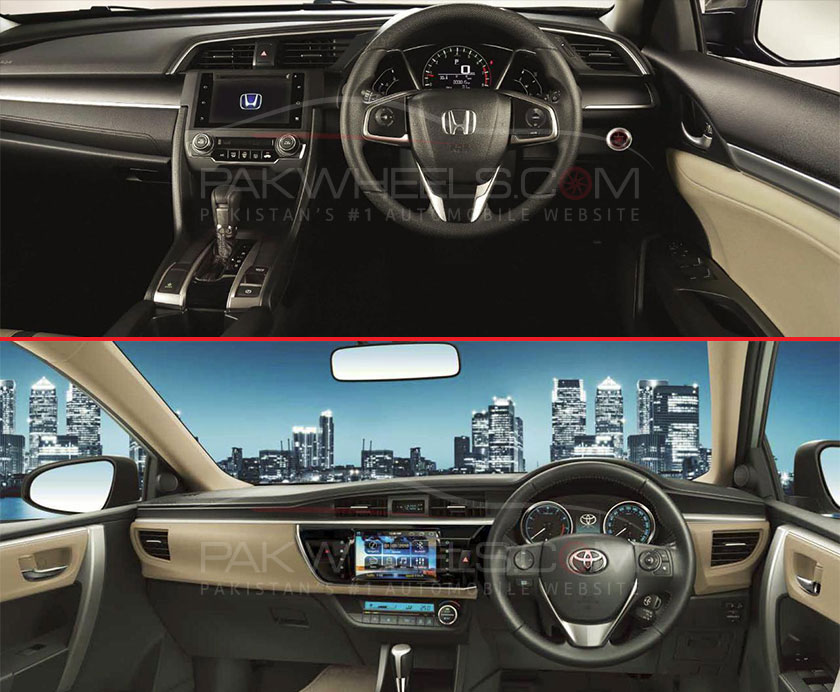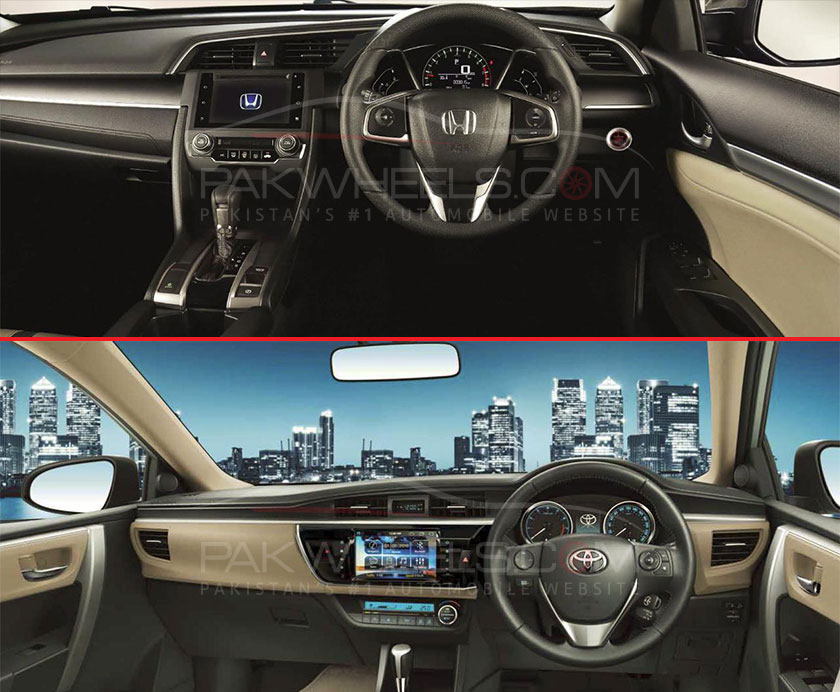 The most important factor is that Civic has an option to install official ad-ons from Grande's interior without aftermarket customization. But on the contrary, the features that are not present in Altis Grande, cannot be installed by even third-party technicians.
Safety Perspective
Safety features are a major concern as many people easily compromise on it. Civic i-VTEC Oriel outshines Corolla Altis Grande with safety features like Auto Brake Hold (ABH), Vehicle Stability Assist (VSA), Hill Start Assist (HSA), Emergency Stop Signal (ESS) and Auto Door Lock and Unlock by Speed.
For the first time, these features have been inducted into a Pakistani assembled car. However, the driver and passenger airbags, Immobiliser, and a 4-wheels disc brakes with ABS and EBD are a standard safety feature in Altis Grande.
Price
Honda Civic i-VTEC Oriel is priced at PKR 2,499,000 and above (depending on the add-ons you want) while the Corolla Altis Grande is fractionally less in price, PKR 2,379,000.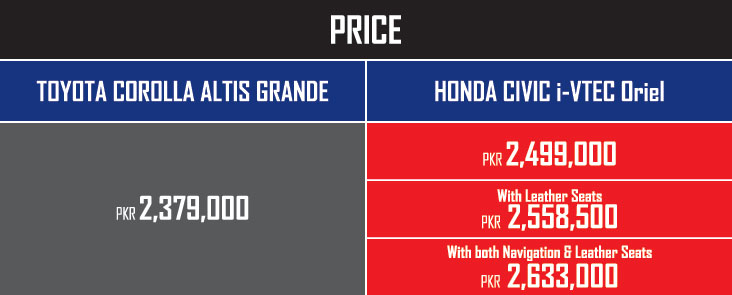 Who is the real Titan in your eyes?
Stay tuned to Brandsynario for more updates!