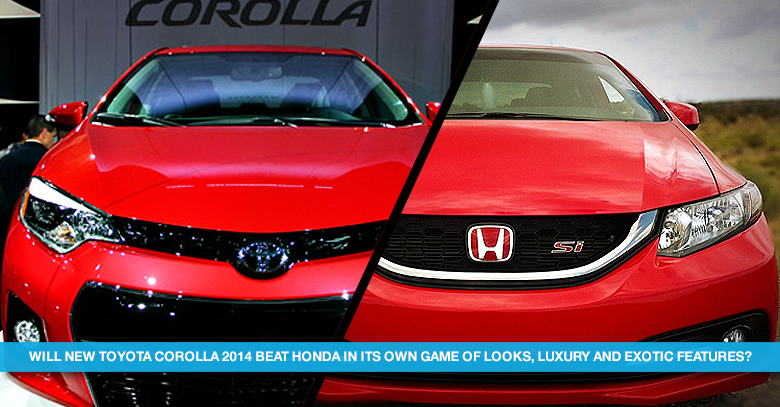 A monetary figure of $20,000 translates into approximately 20 lac rupees that in turn provide the buying power for a comfortable luxury car, but the question is – which one? Toyota is all set to roll out its all-new Corolla 2014 edition but is likely to face tough competition from Honda's Anchor automotive Civic'12 which is currently boasting good sales figures.
The crossroads of choice that eventually leads to the purchase of either of these two brands is not a new one for Pakistanis or Indian or even Americans. Toyota has tried steadily to overcome its arch rival the mammoth named Honda. This year, however Toyota just might come through. Let's compare the new Toyota Corolla 2014 specs and features with the last edition of Civic which launches an entirely new model of its Ace-Sedan at a 5 year mark.
Both  these automotive giants have made a name for themselves in the mid-line automotive industry by making the world's best fuel efficient, dependable cars alongside their flagship luxury vehicles.
Luxury
Let's first take a look at the all awaited Toyota's 2014 treat. The new corolla will succeed two of the most highly acclaimed offerings of Toyota.
The 2014 Corolla is completely redesigned and different in every way from what we have seen in the past. Corolla has not only enhanced its style on the outside, it is equally spacious on the inside.
It has the standard engine of Corolla as before, but a fairly new continuously variable transmission (CVT) and other updates to improve its fuel economy.
Civic on the other hand has seen a fair upgrade in the year of 2013, from when it launched a redesigned version in 2012 Civic.
Fuel
Toyota has launched Corolla specifically for the fuel cautious genre, in contrast to Honda who is infamous for making lavish automobiles. This has remained to be the grounding difference in the buying decision between Honda's Civic and Toyota's Corolla.
Toyota 2014 averages at an astounding 14.35 km/liter of mileage, whereas a performance-tuned Civic Si goes a mere 10 kilometers in one liter of fuel.
Safety
Unfortunately, as of now no reports of Corolla'14 safety reviews have emerged, as neither organization has performed testing on the redesigned Corolla, whereas Civic is one of the most critically acclaimed and safe automobile with a 5-star overall crash-test rating from the National Highway Traffic Safety
Administration and it gets a Top Safety Pick Plus rating from the Insurance Institute for Highway Safety (IIHS).
Reliability
Historically, Toyota has always rated higher than the Honda Civic in this department. Toyotas are renowned for their resilient structure and an established sense of reliability. Both the models in discussion have promised to be outstanding.
J.D. Power, a global market research company, has always rated Civic with average scores for dependability based on the results of its annual Vehicle Dependability Study, while Corollas have generally rated better than average in the same study of vehicle owners.
Price
Just like always, Toyota Corolla 2014 will have a lighter price tag as compared to the Honda Civic 2012 model. Corolla'14 with the LE Plus package, which includes aluminum wheels, fog lights and a reversing camera carries a price tag is of $19,510 (PKR 2,111,567) in contrast to Honda Civics' basic model that costs around $19,775 (PKR 2,140,248).
Conclusion
With 4-1, Toyota Corolla 2014 clearly beats Honda's flagship Civic, in areas that matter most to the targeted consumer market. Aside from this, Honda's superior driving experience makes Honda appealing to a certain set of brand conscious, brand loyal and 'experience' driven consumers.
But since, Toyota Corolla'14 is yet to make its mark on the market, we can only bet on the driving experience Corolla 2014 will offer.