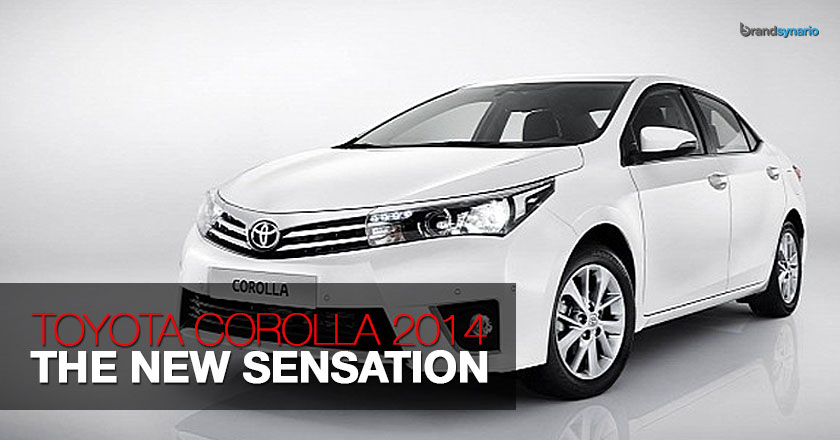 Indus Motors Company has announced the booking for its latest Toyota Corolla 2014 – Middle Eatern version model for Pakistan. 
Rumors for the launch of Toyota's latest edition in Pakistan have been circulating the market for a while now and with pre-launch orders already in place, the current stats of Toyota show a staggering increase of 16 %.
Corolla has been the dominant brand in the automobile market of Pakistan within the 1,300 cc – Engine category since a number of years, with over 70% of the market.
Corolla 2014 was launched globally keeping in mind the changes required according to the taste preference of each and every country. This is why Corolla 2014 launched in US differs from its Middle-East predecessor (the one which has come to Pakistan).
The interior of the car has been redesigned to provide more spacious cabin and a larger trunk area, while the wheel base has been expanded in order to provide more comfortable driving experience along with auto adjustable drive seat.
Some new features also include reclining rear seats, user friendly android based sound system which is also supported by on the wheel control panel to access in car entertainer with much ease. Also the car's center cluster is smartly placed for convenient interaction.
In the words of IMC's Chief Executive Pervez Ghias,
"With the new Corolla, we aim to excite our customers on a whole new level. For this, we have invested around $100 million in technology transfer and production facility improvements,"
Here's a video preview of this marvellous car:
The price range for this new model has been kept quite reasonable keeping in view the newly added innovative features.Take a look at the prices for Toyota 2014's 8 different variants right here:
Toyota Corolla 2014 VLI – PKR 1,624,000
Toyota Corolla 2014 GLI – PKR 1,749,000
Toyota Corolla 2014 GLI AT – PKR 1,824,000
Toyota Corolla 2014 Altis 1.6 – PKR 1,949,000
Toyota Corolla 2014 Altis 1.8 MT – PKR 2,024,000
Toyota Corolla 2014 Altis 1.8 AT – PKR 2,149,000
Toyota Corolla 2014 MT Grande – PKR 2,149,000
Toyota Corolla 2014 CVT Grande – PKR 2,299,000
The bookings for this new masterpiece by Corolla have already started in Pakistan at specific retail showrooms, while the official announcement by IMC for its booking and delivery is expected to initiate this August.