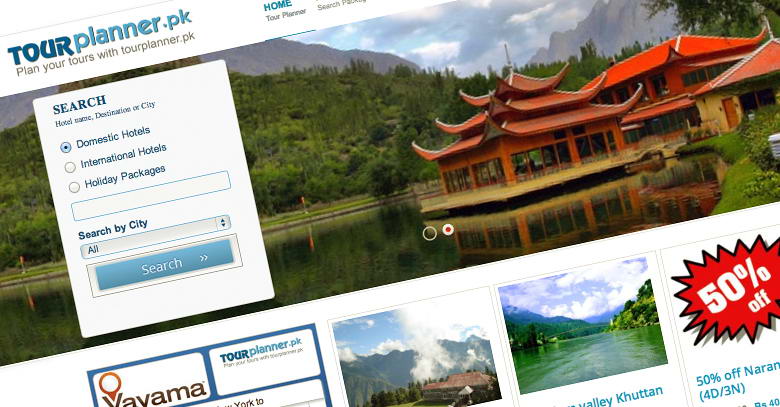 By: Ufaq Ashfaque
Despite of the falling economic growth, dangerous law and order situation and increasing unemployment, tourism sector in Pakistan has been resilient over the years. However, recent natural disasters and international tragedies have caused an unaccounted loss to the tourism industry.
According to the recent rankings of travel and tourism competitive index 2013 Switzerland, Pakistan is at 122nd in world and is at 24th in Asia Pacific region.
In such times of need, Tourplanner.pk, Pakistan's first online tourism portal is exactly what is needed to give tourism industry a boost.
Founded by members Khalid Mushtaq (Business Graduate – IBA) and Sajid Mushtaq (Software Engineer – FAST Lahore), Tourplanner.pk provides a one window solution to anybody who wantsto visit the scenic beauty of Pakistan.
The portal provides complete information about hotels, flight information, and international tourist spots. Visitors can also avail special discount packages, chat with the representatives and take tour advice.
While talking to Brandsynario, co-founder Khaild told commented on the target market saying,
"Our target market is dedicated to the local customer, considering we are charging them much less than that to a foreign client. Tourplanner.pk has been set apart in terms of cost efficiency, which would promote both tourism and the hotel with whom we are in collaboration with."
Talking about their special offerings Khalid said, "Our packages currently comprises of three categories for the domestic tourists. These include Business Package, the Family Packages and the Honeymoon packages. Our packages range from Rs.1000/night to a honeymoon package of Rs.90000."  
Currently, Tourplanner is looking forward to utilize e-commerce to promote their portal. They currently cover 13 cities for travel pitches and plan to expand to whole country.
As for the future plans, Mr.Khalid said, "Tourplanner.pk would also be promoting two-star and four-star hotels to promote  cost-effective packages that would help benefit the locals of the country.  Over the next two to three year, five-star hotels will also be targeted. Currently, we have 100 hotels that have been targeted, which will further head up to a thousand over the country."
Tourplanner.pk is a strong initiative that would fuel the tourism industry in Pakistan. Do you think our government should initiate such efforts to promote tourism in Pakistan?