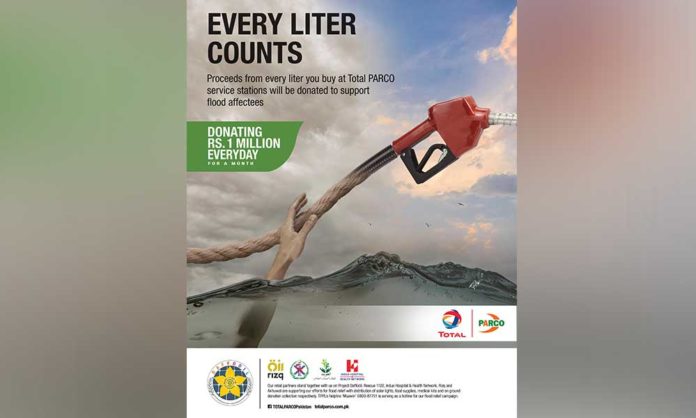 The CEO of Total PARCO Pakistan Limited (TPPL), Mr. Mehmet Celepoglu, extended heartfelt condolences to the flood-stricken families affected by the recent disasters in different parts of Pakistan and expressed that Total PARCO stands with them during this difficult time.
He announced the launch of Total PARCO's nationwide Natural Disaster Relief initiative 'Project Daffodil' that is mobilizing its entire stakeholder base across Pakistan, a big family of TPPL. To ensure the effectiveness of these efforts, the initiatives will be rolled out in phases aimed at creating a sustainable impact.
Immediate support in Phase 1 has already commenced for the provision of fundamental necessaries through its partner organization. TPPL, together with their Retail Business Partners, will contribute One Million Rupees every day for a month to support the flood victims. In more than 20 cities, 70+ service stations of Total PARCO have been dedicated as Natural Disaster Relief Corners with their helpline, Muawin – 0800 – 87751, acting as a hotline for TPPL's flood relief efforts.
As part of Phase 2, Total PARCO will continue to work with hospitals and universities for the rehabilitation of the displaced communities.
Over thirty million people in Pakistan have been affected by the unprecedented rains and catastrophic floods. Many areas are still submerged underwater and there is an urgent need for emergency assistance. TPPL has always initiated endeavors to support people's well-being and will continue to do so. Mr. Mehmet assured that the big family of Total PARCO will leave no stone unturned in the efforts to help revive the lives of flood affectees.