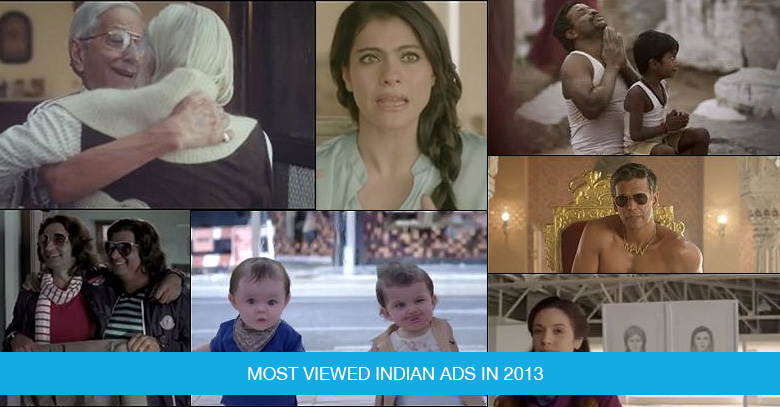 As 2013 comes to an end, Google goes back in time and provides a retrospect of the year's remarkable advertisements, according to the rankings on YouTube's Ads leaderboard. The Leaderboard rates the ads on the basis of the most engaging and view-able content on the video social network platform.
Let's take a look at the top viral Indian ads in 2013.
Dove Real Beauty Sketches
Dove came up with an inspiring campaign to make ladies feel confident about their looks and beauty. The brand especially took services of a trained FBI sketch artist to draw women on the basis of their own perception as well as that of a stranger. The phenomenally viral ad got 15 million downloads in the week of its release.
Lifebuoy Help a Child Reach 5
India is a country where each year 2 million children embrace death due to infections like diarrhea and pneumonia that can be prevented by merely washing hands with soap. By showing a tear jerking story of a father celebrating his son's 5th birthday, Lifebuoy spread awareness on the importance of good hand washing habits. The ad achieved 1.4 million views within three weeks of its released.
KitKat Dancing Babies
Who doesn't love adorable cute dancing babies? Humorous babies just can never get old. Designed by JWT India, Kitkat's ad cashed on the same idea and used incredible animation for real and animated baby scenes. The commercial had achieved 2.7 million views just after a few weeks it went up.
4. Old Spice Mantastic Man
Rich in masculinity and sex appeal, Old Spice's commercial featured India's top model Milind Soman dressed in just a towel and a gold neckpiece. He discusses how using Old Spice makes one feel like a real man. The ad was an instant hit gaining more than 47 million views on YouTube.
Evian Baby and Me
Like we said before, people just can not get enough of dancing toddlers. Evian's digital baby advertising worked like magic in attaining view ship and has achieved 67 million views till date.
Kajol's Lifebuoy Help a Child
The commercial features the Indian actress Kajol speaking up about motherhood and supporting the "Help a child reach 5" movement to battle against child mortality in the country. The ad has received more than 1.5 million views so far.
 Ramesh and Suresh ad Campaign for Cadbury 5 Star
The traditional comedy mascots of Cadbury 5 star "Ramesh and Suresh" return in this commercial and undoubtedly became its number 1 selling point. Their humor and funny antics never fail to keep the audience entertained. The commercial has gained more than 1.3 million views on Cadbury 5 Star's official channel.
 Google Reunion Campaign
The ad that ignited tears in India and Pakistan achieved instant virality by successfully uniting both the nations in a matter of just 3 minutes. Getting a whopping 10 million views on the official page, the Google ad had a lot of people crying in India and Pakistan.