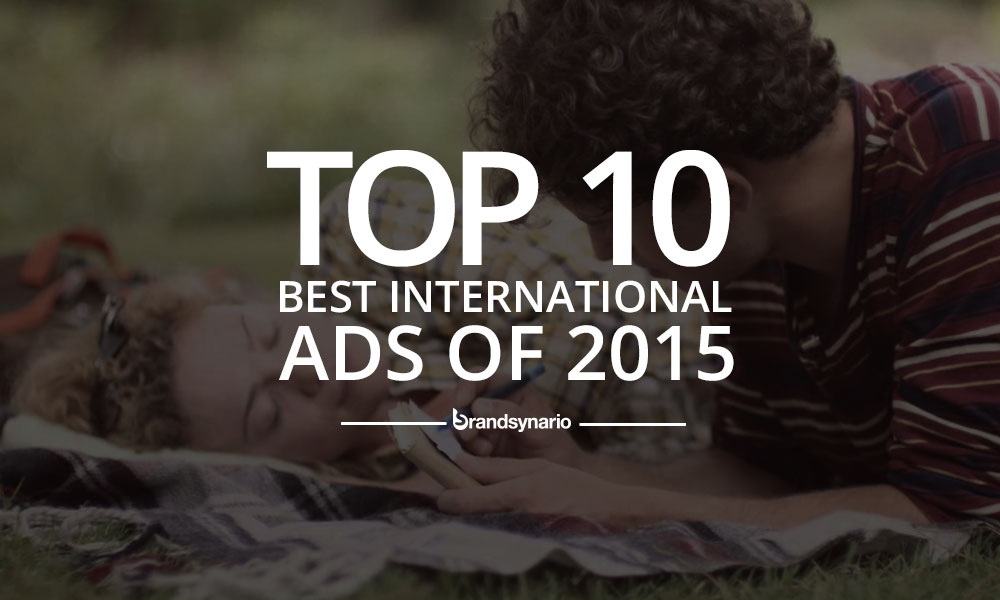 2015 was a brilliant year for advertising internationally. From Ads going viral on the Internet to Super Bowl Ads 2015 to Public Service Announcements, 2015 has been a year full of spots and content which has sentimental value.
The original ideas and social messages delivered by campaigns, agencies and brands this year is of a staggeringly high number. The most common trend amongst most of these spots, according to Business Insider was that they were pulling at our heart strings and touched a nerve with the audiences.
According to Unruly.com, this year the most viral spots featured dogs like in the Budweiser and Supercell Ads of 2015 instead of cats and goats which are a favorite in the internet world.
Here is a list of top ten most attractive, engaging and entertaining spots of 2015.
Extra Gum- The story of Sarah and Juan
This romantic two-minute spot by Wrigley's Extra Gum reduced people to tears. Created by Energy BBDO and featuring Elvis Presley's "Can't Help Falling in Love" score in the background, this ad reduces even the most stony viewer into a sentimental teary-eyed romantic. It's worth a watch:

BuzzFeed/Purina- Puppyhood
This 3 and a half minute, cute video depicts a dog and his relationship with his owner. The video created by Buzzfeed was viewed on YouTube 7.7 million times and received 2,88,879 shares. Conceptualized by Night Agency and produced by Buzzfeed. This went on to prove that branded content can really work wonders with the consumers if produced right.
Take a look at the video:

Google- Furever Friends
This adorable spot created for Google Android was the most shared Ad of 2015. Conceptualized by Droga5, this spot has been shared 987,361 times. It was cute, funny, hilarious and witty at the same time and has definitely hit home with the viewers.
Take a look:
Fanpage.it- Slap Her
This video by Fanpage.it was an impactful way to make a point against domestic violence. It has been shared 2,363,612 times on social media. This spot was part of a project by Ciaopeople Media Group. It shows the reactions of 6 to 11 year old boys when they are asked to slap a girl. Take a look at the reaction of these young boys:
The Spanish Lottery- The Greatest Prize Is Sharing
Christmas 2015 featured a cavalcade of thematic, inspiring and beautiful ads for the holiday. This particular Spanish Lottery Ad went viral and its characters became icons overnight.
Watch the Best Christmas Ads of 2015 by International Brands
It has been created by Leo Burnett Iberia (Madrid) and look like a scene from a Pixar movie.
Take a look:
Microsoft- Robert Downey Jr. Delivers a Real Bionic Arm
This spot featuring Robert Downey Jr. as Iron Man and a little kid for Microsoft's Collective Project has been shared 2,079,279 times. It has been created by Seattle-based agency POSSIBLE. One of the most touching moment in the Ad is when Alex the kid puts his child-sized Iron Man fist in Robert Downey's hand.
Take a look:
Budweiser- Lost Dog
This spot for Budweiser Beer has been created by Anomaly Agency. It was well-liked by audiences, however did not live up to the "Puppy Love" Ad. This spot has been shared 2,511,546 times.
The background score to the Ad also adds to its charm. The puppy here has a tendency to roam around and get lost.
Take a look at this Ad:
The Ad Council- Love Has No Labels
2015 has a milestone of a year for LGBT rights since Love finally won. Conceptualized by R/GA New York, this 3 minute, 19 second Ad has been directed by Danielle Levitt.
This spot hit 160 million views over all media platforms and turned out to become Ad Council's biggest successes ever.
Take a look:
#RealStrength Ad- Dove
Unilever's Dove Ad for Men for it's Super Bowl Commercial has talked about #RealStrength. It has been created by The Marketing Arm and it is beautiful and heart-touching.
Dove Call for Father's Day Celebration with Another Heart Touching Video
Dove is continuously challenging the typical stereotypes set up by society for Men and Women in the most simple and enduring ways as a brand.
Take a look:
Kleenex- Unlikely Best Friends
This Ad by Kleenex is another spot revolving around a dog. It has been created by Vimby, Facebook Creative Shop and has been shared across social media 1,242,583 times. Take a look:
Which Ad do you think is missing from this comprehensive 2015 list? Let us know in the comments below. Also let us know which one is your favorite?