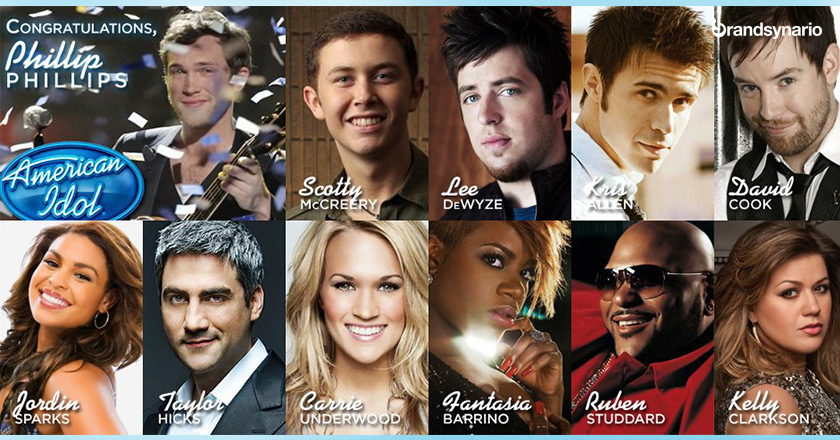 Forbes recently released its list of top ten highly paid American Idol alumni and to no ones surprise; it is the winner of Idol's 2005 season "Carrie Underwood" who is the star of the list.
Basking in a whopping amount of $31 million, Underwood has six Grammys to her name. The most paid American Idol winner has launched four albums till date, including her platinum-selling "Blown Away".
Extensive tours all over the world and her brand endorsement for "Olay" have also contributed to Carrie's massive fortune. In just five years, she has earned a colossal sum of $ 83 million.
After Carrie Underwood, the next grossing Idol graduate is none other than the very first winner of America's most popular talent show "Kelly Clarkson", with a $7 million paycheck.
With the first two spots grabbed by Idol queens, the third most rewarded alum is "Phillip Phillips"- the winner of 2012 season, in tie with "Adam Lambert"- runner up of season of 2000.
After him, Chris Daughtry makes his appearance on Forbes list on the 5th rank, with $4 million.
All in all, the Idol's Alumni Girls are more in power as they dominate a major part of Forbes's list.
Have a look at the complete list of top ten 2013 earnings of "American Idol" alumni.
1. Carrie Underwood – $31,000,000
2. Kelly Clarkson – $7,000,000
3. Phillip Phillips – $5,000,000 
4. Adam Lambert – $5,000,000
5. Daughtry – $4,000,000
6. Scotty McCreery – $3,000,000
7. Taylor Hicks – $2,500,000
8. Fantasia Barrino – $1,500,000
9. Kellie Pickler – $1,500,000
10. Jennifer Hudson – $1,000,000