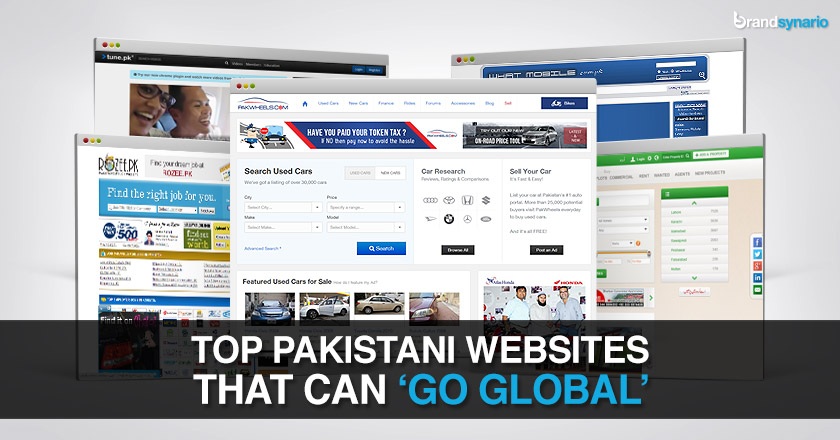 By Zulfiqar Ali Sajwani
Digital entrepreneurship has gained a terrific momentum in Pakistan in the last few years. With the rapid movement towards broadband, wi-fi networks and 3G technology knocking at the doors, the industry is all set to break some records in terms of online services and e-commerce.
Amidst the plethora of websites offering us day-to-day solutions for our needs, there are some websites that have the potential to cross borders and explore international territories.
These web based businesses may not have a brick and mortar backing, but they have the spirit and proficiency to hoist the green flag in the global trade.
Following are some websites that we believe have the caliber to go global!
1. Tune.pk
This website became a savior for Pakistani video surfers as soon as we closed our windows for Youtube.  Tune.pkoffers a collection of videos just like YouTube in the market. The makers of the website hold supreme pride in calling themselves as true Pakistanis.
"We cannot request someone to erase the content we do not like, instead we made our own space without any prejudice towards anyone, respect for all religions and races, and ofcourse made for Pakistan'" says the about me section of the website.
Along with achieving the majority of visitors from Pakistan(74%), the website enjoys a reasonable percentage from visitors from India(7.2%) and United States(3.6%).
Their ground-breaking feature that allows users to download any video from YouTube has partially opened the doors for millions of Pakistanis who have been deprived of online videos for more than a year now.
With the Youtube turmoil emerging in various states, this website has the go-ahead to achieve global milestones.
2. Rozee.pk
Rozee.pk is the ultimate job portal for all those employment seekers that do not wish to spend hours visiting the websites of various organizations and searching for vacancies.
The service providers embody a series of recruitment services, with day to day notifications of job openings and even assistance in terms of development of your resume.
With Pakistani employers moving abroad and the increasing spread of Multinationals in the country simultaneously, the website can offer a meeting place for employers and employees belonging to various nationalities. The company has already opened its doors for Saudi Arabia employees
Rozee.pk enjoys a bounce rate of as low as 1% exhibiting the website's tendency to hold its viewers back.
Viewers from US and India exhibit 1.4% and 1% participation in its viewership, which can easily grow if the business model is modified.
3. Karachisnob.com
KarachiSnob won its customers as per the response to the newly booming high involvement categories in the market such as fine-dining and fashion apparel.
The website's facebook page is a platform to ask for reviews for any consumer product or service in liberal way. Surely, the website is serving as more than a directory.
Currently, the website is not operating to its optimal level in terms of responsiveness. However, it still enjoys 2.40 points in terms of daily views per visitor. This clearly reflects that consumers are actively seeking out to this service. A slight move towards effectiveness and the website can become a global directory in no time.
4. Whatmobile.com.pk
We all know how fast paced are the dynamics of smartphone industry and with consumers increasingly looking for a one stop solution where they could find the smartphone of their choice along with day-to-day market prices,whatmobile.com is satisfying this appetite in Pakistan.
The website currently hosts smartphone rates only in PKR. However, if it establishes a well linked base across several countries, the website can offer solutions to a range of consumers craving for this service outside Pakistan.
With a daily time on site worth 5 minutes 25 seconds, the website represents its potential to go global.
5. Pakwheels.com
Automobiles are every man's first love but  there are times when the pocket size does not allow for a brand new vehicle. This is when the search on the roads takes its route, and web portals like pakwheels.com enter to make the hunt extremely comforting.
Much to astonishment, Pakwheels enjoys popularity in the west as well. 1.7% of viewers who visit the website reside in the United States, where as the website also reaches out to Canada with 0.8% of its viewership.
The website can clearly reach out to the consumers outside Pakistan who are good to go with trading a used car.
6. Zameen.com
 m