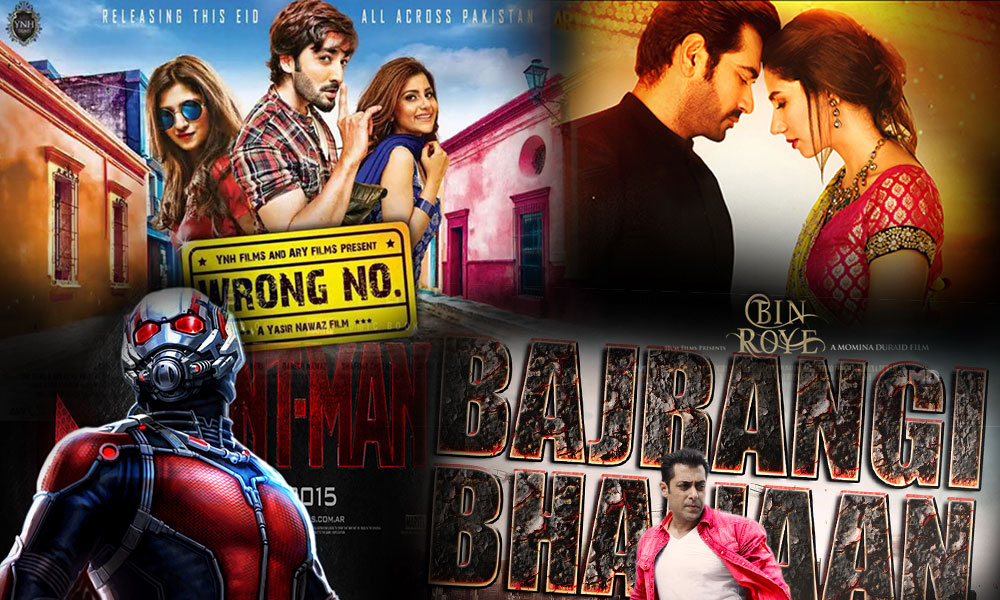 Eid has always been a magical time for the film industry to enjoy a booming business. Throngs of movie lovers visit the bustling cinema theaters and celebrate the grand occasion by watching their favorite films with their family and friends.
With Eid-ul-Fitr just around the corner, various movies, have already lined up at the box office to be released.
Check out these 4 movies that will hopefully rule the box office during Eid:
1. Bin Roye
Who wouldn't want to see the two most popular faces of Pakistani cinema, Mahira Khan and Humayun Saeed, romance together?  The couple will be seen swooning in love and dancing in HUM TV's first film production, Bin Roye.  The romantic family drama is based on Farhat Ishtiaq's hit novel of the same name. The two songs and trailer hint towards a full emotional journey with two of the best actors of our film fraternity. Also, a stellar cast consisting of Javed Sheikh and Zeba Bakhtiar will definitely make this movie be a big hit!
Check out Bin Roye's Hit Tracks
2. Wrong Number

After many drama serials, Danish Taimoor and Sohai Ali Abro are together on the screen to put the charm in the Pakistani film industry with Wrong Number.  Judging from the dialogues and Sohai's item song  Selfiyan Re Selfiyan, the movie, it seems, is rather a bold step for the audience. Despite the criticisms, Yasir Nawaz claims that this flick will be a hit in the Pakistani film industry so let's keep our hopes up.
3. Bajrangi Bhaijaan

After the success of Kick and Dabangg 2 in 2014,  Salman Khan is ready to weave his magic again in the upcoming release 'Bajrangi Bhaijaan'. Khan will be seen protecting a Pakistani girl along  Kashmir's border whilst romancing Kareena Kapoor.  Adnan Sami has intoned a qawwali 'Bhardo Jholi' for the qawwali lovers and this has increased the chances of success for Khan's another movie. With the heaps of action, drama and comedy, there is no doubt that the movie if released, will break box office records.
4. Ant-Man
The sci-fi action movie featuring the chocolate hero Paul Rudd is releasing on July 17, 2015. The remarkable Ant-Man suit lets Paul save the world with Micheal Douglas is acting as a mentor. Ant-Man is going to be one of the most important movies in the marvel cinematic universe as the famous avengers hero, Hank Pym will also be seen in the Ant-Man.