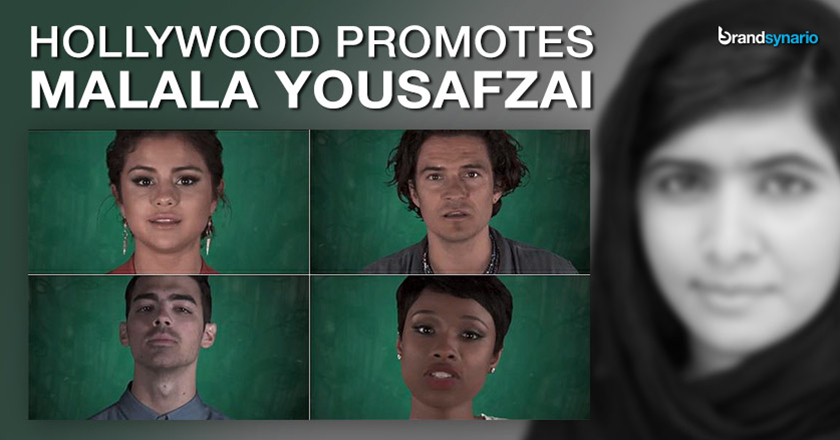 By Zoya Anwer
Malala, the 16-year-old daring girl who rose to give a voice to female education in tribal regions of Pakistan once again got recognition by the famous Hollywood celebrities in the "We Are Silent" campaign video launched on Friday.
This one-minute video features different Hollywood celebrities who take turns in narrating the brave story of Malala Yusufzai with Selena Gomez, the 21 year old singer and actor, opening it with lines, "I come from Swat Valley in Pakistan-a region where rifles are fired to celebrate the birth of a son, but daughters are hidden away behind a curtain." 

Other celebrities followed suit and top actors like Clive Owen, Orlando Bloom, Seth Rogan, Edward Norton andJennifer Hudson took turns in telling how Malala stood up against this injustice and was shot for this big step.
They say together: "Where I grew up, girls are afraid to go to school, but I'm not afraid. I believe that education is a universal human right. I believe that one child, one teacher, one book, and one pen can change the world." 
"Schools were attacked. I still went and I spoke out. We realize the importance of our voices only when we are silenced. I was shot on a Tuesday at lunch time, one bullet, one gunshot heard around the world."
The video then closes with Malala herself saying the courageous words, "But here I stand. I am Malala." 
The campaign targets Aril 17th, which will mark a day when Malala and many others will be silent for the period of 24 hours in protest against those millions of girls all over the world who are denied the right to get education and are oppressed and exploited.
Apart from these celebrities, other stars featured in the video are J. Cole, Joe Jonas, Shay Mitchell, Hannah Simone, Martin Sheen, Reggie Watts and Big Sean. 
Earlier on Malala made it to the Forbes top thirty entrepreneurs, ( got nominated for Times Person of the Year and also got featured in the video by Microsoft honouring great women of 2013.