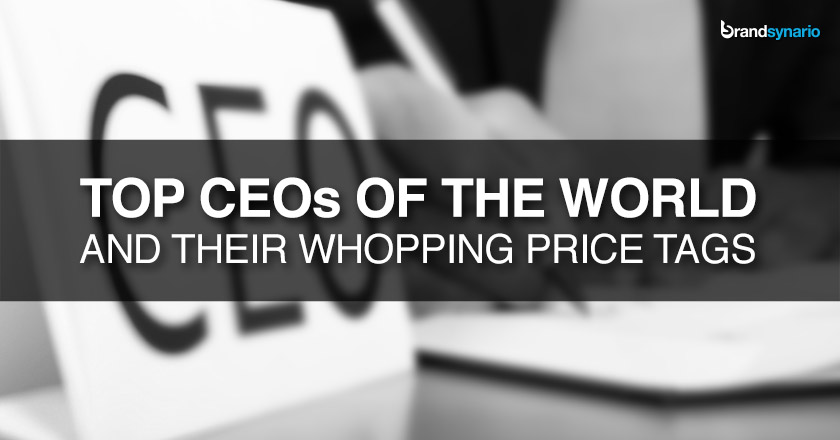 By Hassan Wasti
It is always worthwhile to see how the living standards of 1% of USA differs from millions of people living around the world and how much they roll in their bank accounts every day; so today, we have rounded up a list of top earning CEOs of the world.
Let's have a look at some of the top companies of the world and see how much they pay their CEO's on monthly basis.
Larry Page (Google)
The person we have right at the top is responsible for leading one of the world's most well known brands, Google.
Larry Page who is a co-founder of Google took the responsibilities as the company's CEO in 2011 and has been on a road to become the richest CEO of all time. With a net worth of $31.2 Billion according to Forbes, Larry has multiplied his earnings after the acquisition of Nest, a smart-thermostat-maker and the $2.9 Billion sale of its Motorola phone business to Lenovo also added to his many millions.
Some might wonder how Larry Page uses this wealth, well just look at his houses in Paul Alto that run on clean energy using fuel cells, geothermal energy and rainwater  capture.
Marissa Mayer (Yahoo)
After becoming the CEO in July 2012 at Yahoo, Marissa Mayer locked her targets to become the only female executive in the list for top earning CEO's in the country. Her first year pay check amounted to $6 million, which put her in the game with big sharks of the industry.
After taking control she not only got herself on the list but also brought back Yahoo to the game, the shares went up by a roaring 50% taking her net worth to $ 310 million.
Mark Zuckerberg (Facebook)
The man who reshaped social networking in today's world, Mark Zuckerberg is not a new entrant in the list of highest earning CEO's today. With a net worth of $28.39 Billion, Zuckerberg comfortably sits in the top three and is predicted to go a notch up once he starts minting cash from WhatsApp, a well known brand which he bought in an overwhelming deal that costed him $ 19 billion.
Satya Nadella (Microsoft)
The newly appointed CEO at Microsoft, Satya Nadella is getting a premium treatment at the firm. Having secured a monthly pay check of $1.2 million, Satya Nadella's package amounts to $18 million which is 70% more than what Ballmer got as CEO.
Satya Nadella is a new entry in the market but looks like he is here to stay and with a salary package like that he is starting to make quite an impact in the tech world.
Larry Ellison (Oracle)
Ellison, who has been a top earner for a while now saw a decline in his pay by 18% after foregoing in bonus package. Ellison's pay package amounted to $78.4 million after his company missed out on its profit margins last year.
As of May 2013, his monthly earnings fell to $1.17 million from $3.92 million, however with recent investments in technology Ellison is looking to bounce back this year as the richest CEO.
Mukesh Ambani (Reliance Group)
The business tycoon from India is well known around the world, Mukesh Ambani the man who owns the most expensive 27 storey home in the world is number 6th on our list. Ambani recently forgo a INR 24 crore pay check this year restricting his monthly income to INR 15 crore.
As the fiscal year doesn't seem to get better anytime soon Ambani looks to cut cost by restricting his income to a modest sum of INR 15 crore. Ambani's net worth is valued at $22.3 billion.
Michael Burke (Louis Vuitton)
Michael Burke, the current CEO of Louis Vuitton recently bought a $11.2 million property which might give you a hint about his current package at the company. Burke's venture with the fashion house seems to be a lucrative one which has helped him secure a position in the top ten on our list.
Jeffrey Preston (Amazon)
The online retail tycoon Jeffery Preston is no surprise on the list, the man behind Amazon.com who is famous for selling anything to anyone has a net worth of $32.22 Billion but has a modest salary package of just $81,750, a humble pay check which is just around what Facebook pays its interns.
Lakshmi Mittal (Mittal Group)
Lakshmi Mittal, the CEO of world's largest steel-maker Arcelor Mittal recently took a 38% cut in his pay and restricted his monthly income from $2.23 million to $1.76 million. This is the result of the recent fiscal deficit which seems to have slowed down the economy but Mittal, like his counterpart Ambani is just binding time, once the economy takes a turn for the better both these tycoons will eye the top spot at the table.
Michael S Dell (Dell)
Michael Dell, the CEO of Dell for the last 5 years grabs the last spot on our list, with a salary package of $7.58 million Michael Dell gets a $0.90 million every month. He ranks number 15 within technology and hardware equipment.