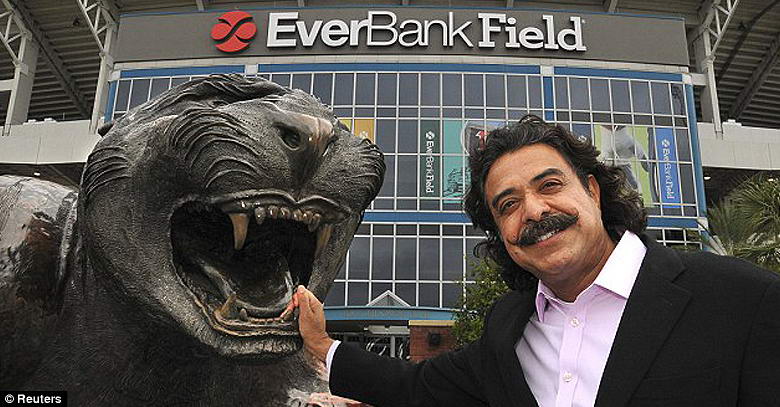 If you ever tried to count the richest men in Pakistan, quite a few politicians must have come to your mind. Very few people realize that Pakistan has also produced men who have earned phenomenal amount of success and money solely with the help of their business skills.
Shahid Khan
Shahid Khan, the owner of multimillion dollar automobile part manufacturing corporation Flex-N-Gate. He also owns the NFL team Jacksonville 'Jaguars'and he also recently bought Fulham FC – a frontline English premier League Team. Shahid Khan is a proud Pakistani.
'Shad', as his friends and family call him, is a 63 year old Pakistani born American businessman. As of September 2013, Shad stands at a total worth of USD$ 3.8 Billion. He is the currently ranked 122nd in the Forbes 400 richest Americans, a list led by none other than Bill Gates himself. Khan is the richest man of Pakistani origin.
He was born in Punjab in a middle class family of Lahore and moved to the United States in 1968 at the age of 16 to study engineering. He completed his graduation from the University of Illinois.
The billionaire, during his time at Illinois, joined Flex-N-Gate where he fixed automobile parts in cars. Khan eventually designed a revolutionary one-piece truck bumper design that saved weight while adding structural support.
In 1980, Shahid Khan bought Flex-N-Gate, the company he joined after he graduated. By 2011, Flex N Gate had almost 13,000 employees, with around 50 manufacturing plants in the country. The company also recorded a USD$3 Billion in Revenue that year.
The Auto part entrepreneur and self-made billionaire bought Jacksonville Jaguars, a National Football League team – which is has fan following of millions – for a whopping USD$ 770 million. In July 2013, Khan bought another sports team, this time a Premier League soccer club, Fulham FC for USD$300 million.
Khan is married happily with two kids, his company ranked 120 among Forbes biggest private, makes everything from the bumpers to pedals to spare tire hoists for all the major car companies. '60 minutes' a popular American show, in its visual biography on Khan, depicted the man's respect for America and his undying love for Pakistan.
Mian Muhammad Mansha
After Khan, comes Mian Muhammad Mansha as the second most successful businessman to have earned fame and money, due to his brilliance. An industrialist by profession, Mansha is an entrepreneur and visionary who bought his family textile business to an unparalleled altitude of success.
Mansha owns the Nishat Group, MCB bank Limited and Adamjee Group. Mansha's personal wealth is estimated to be around USD1.5 Billion. He is the only Pakistani, other than Shad, who has ever been mentioned in Forbes' Billionaire list.
Sir Anwar Pervaiz
Mansha is followed by another entrepreneur by the name of Sir Anwar Pervaiz, who is a Pakistani-born British businessman and investor. He is founder of Bestway Group, the second largest Cash & Carry operator in UK.
Sir Anwar received his knighthood in 1999, followed by Hilal e Pakistan in 2000. His personal financial worth is estimated to be around USD$ 1.5 billion.
Saddaruddin Hashwani
After Sir Pervaiz, stands Saddaruddin Hashwani– a Pakistan industrialist and investor. He is ranked amongst the richest people in Pakistan. He is the chairman of Hasho Group, one of the leading industrial Groups of Pakistan. Hasho Group has shares in Marriott and Pearl Continental Hotels which are Pakistan's most luxurious hotels. Hashwani is estimated to have a net worth of around USD$ 1.1 billion.
Nasir Schon
A rather recent addition to the dynasty is Nasir Schon – the CEO of Schon Group which owns Pak-China Fertizilers, Schon Bank, Schon Textiles and several other empires. He lives in Dubai, UAE where he is currently working on an $830-million worth project. Schon's personal wealth is also estimated to be around USD 1billion.
Apart from these enormously affluent poeple the Billionaire list further includes names like; Abdul Razzaq Yaqoob owner of ARY group, Rafiq Habib of House of Habib and Bank Al-Habib and Tariq Saigol of Kohinoor Textile mills. All of these gentlemen are worth a billion dollar each.