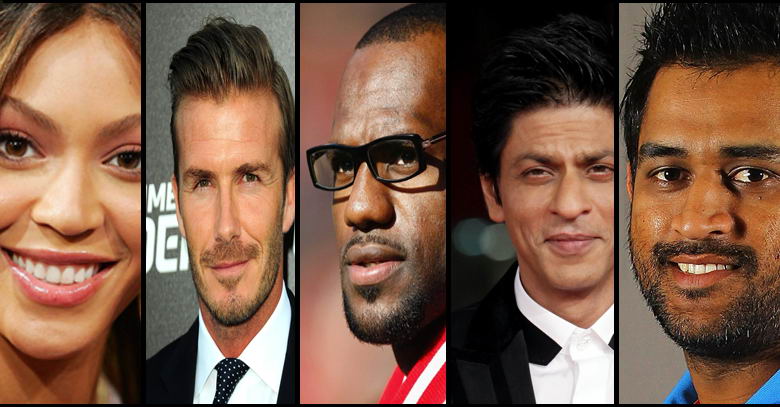 By Hassan Wasti
Endorsements have become a trending practice for brands and celebrities. It is a win win situation for everyone as celebrities score multi-million dollar deals and brands get influential entertainers to increase sales pitch and bring in huge fan following.
Many argue that endorsements have resulted in diminishing brand loyalty. Critics say that brand have lost their essence and have given into the world of glamour, however, celebrity endorsements continue to grow and prove to be an effective major in promoting a brand.
Today quality has taken a backseat in the race to become the best. It is all about which brand bags the biggest name in the industry to promote its product.
The list shows which celebrities dominate the marketing arena these days.
Beyoncé
Beyoncé recently launched her ads with H&M and Pepsi. Her deal with Pepsi was a mouth-watering $50 million. The partnership had Beyonce's face on limited-edition soft drink cans as well as appearing in TV advertisements.
David Beckham
David Beckham's endorsement deals are top notch. From Adidas to Armani, the soccer god reels in the money while continuing to get paid huge sums for his real job as an athlete.
Beckham apparently signed a lifetime deal with Adidas (worth over $150 million) in addition to earning approximately $55,000 per day because of joint deals with big names like Diet Coke, Armani, and Samsung.
Lebron James
Lebron James is a champion on and off the court. He's also a brand magnet and has been since high school, when he first signed a $90 million deal with Nike. Since then, the basketball star has raised his stake with partnerships alongside Coca-Cola, State Farm and in 2010, a multi-year deal with McDonalds.
This is after a lucrative 2009, which netted arguably the most powerful athlete on the planet $40 million in endorsements alone.
Shahrukh Khan
With one commerical hit after another, Shahrukh Khan has made himself into an endorsement machine for many brands.
Earning $38 million annually SRK has signed over 23 endorsement deals with brands like TAGHeuer watches, Hyundai, Lux, Airtel, Pepsi and Nokia.
Mahindra Singh Dohni
M.S Dohni the cricketing sensation of India earns $31.5 million in endorsements. He is one of the highest paid cricketers around the world.
Nearly half of Dhoni's 25 endorsements pay more than $1 million annually, including a three-year deal with former billionaire Vijay Mallya's United Breweries Group worth more than $5 million over three years.
Usain Bolt
Usain Bolt, the fastest man in the world earns almost $20 million a year in endorsements. One of his biggest paychecks came from Puma ($8.6 million annually).
Usain's endorsement helped the brand compete against competitors like Nike and Adidas. If Usain is wearing them, then it must be magic; at least that's what they want us all to think.
Catherine Zeta Jones
Catherine Zeta Jones signed a $20 million deal with T-Mobile. Initially the actress received $20 million for the deal, but was then replaced.
However, due to the recession and the company's new focus on price comparison, Zeta-Jones' celebrity power was needed and T-Mobile brought her back.
Sachin Tendulkar
Cricket Legend Sachin Tendulkar has become a name that is now associated with many brands earning $20 million in endorsement deals. Major brands like Adidas, Audemars Piguet wrist watch, Coca Cola, Aviva, Swiss Watch, Toshiba, ITC are associated with Tendulkar and his fame.
Brad Pitt
Brad Pitt became the first male face of Chanel No. 5, earned $6.8 million with the fragrance.
Jessica Simpson
Jessica Simpson signed a $3.8 million contract with Weight-Watchers and not long after announcing the deal, she announced her pregnancy; Weight-Watchers wasn't too pleased.
Brand-Celebrity Relationship
No matter how harshly one criticizes these extravagant deals, one cannot argue that brands give millions to stars because their word is credible in the eyes of the customer.
This list proves that the bigger the celebrity the higher his/her credibility is worth. This relationship is solely based on monetary terms and if a celebrity ceases to be useful and live up to his worth, brands look for new faces to represent its product