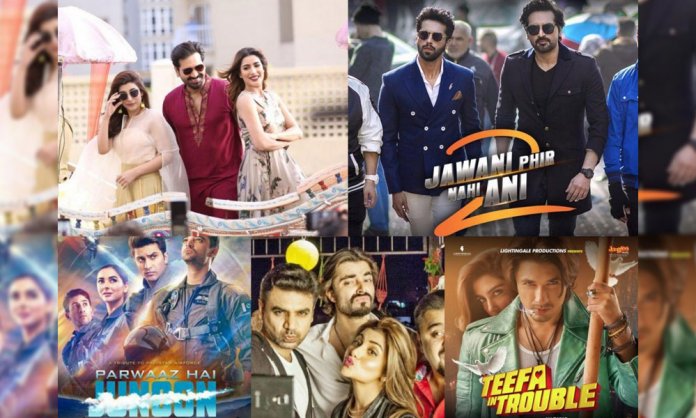 The end is here, at least for the cinematic year, which has gifted us with a bounty of audacious dramas, comedies, thrillers, and action.
From crowd-pleasing blockbusters to the ones the animations, there's been something for everyone at the theater.
Although, it's about time we sit back and reflect on the best films Lollywood churned out this year.
We will be taking a look at Pakistani movies' earnings and box office numbers, do narrow down the top-grossing Pakistani films this year.
According to Box Office Detail, here are the highest-grossing Pakistani Films in 2019
1. Parey Hut Love (PKR 240 million)
Parey Hut Love is rom-com that follows a romantic tale between the dapper (Sheheryar Munawar) and a no-nonsense girl with an ironclad resolve (Maya Ali).
Directed by Asim Raza the movie follows the lead characters' combatting ups and downs of relationships at a wedding.
2. Superstar (PKR 240 million)
The plot sees the lives of two actors living in Pakistan intertwine. Mahira Khan plays a struggling actor (Noori) from bhaaati gate, who runs into her crush and superstar (Sameer Khan) during the shoot of a TV advert. Despite the obvious class difference, they manage to strike chemistry and fall for each other.
3. Wrong No 2 (PKR 215.5 million)
Wrong No.2 is a rom-com. It is the sequel to the 2015 film Wrong No. The film portrays the love story of a wealthy girl named Zoya (Neelam Munir). Who falls in love with a man who goes by Omar (Sami Khan).
Omar hails from a miserly background, far below Zoya's financial status. Not your average 'the princess and the pauper fairytale'. All goes into disarray when a former lover makes an appearance.
4. Chhalawa (PKR 180 million)
Armed with a good plot, Wajahat Rauf ventured bravely into rural Punjab, where Zoya (Mehwish Hayat) lives with her father, Chaudary Rafaqat (Mehmood Aslam), her sister Haya (Zara Noor Abbas) and her brother Haroon (Aashir Wajahat).
Zoya is in love with Sameer (Azfar Rehman) but her father has decided she must marry her cousin, Jalal Chaudary (Mohsin Ejaz). Enter Luqman (Asad Siddiqui), the pir sahib who is entrusted with the job of making Zoya fall out of love with Sameer.
5. Sherdil (PKR 130 million)
Director Azfar Jafri made sure to add that certain spark in the movie Sherdil which s a high octane fueled movie about Haris Mustafa's pursuit of a decorated military career.
All the while facing overwhelming challenges in his personal life. Played by the ever charismatic Mikaal Zulfiqar who meets his match with Flight Lieutenant Arjun Veerani.
6. Baaji (PKR 120 million)
The movie revolves around a senior former Lollywood actor, Shameera, (Meera) who is being cut from movies due to her age but she refuses to give up her career.
She finds a companion in Neha (Amna Ilyas), a simple beautician who becomes her manager, excelling at her job to such an extent that Shameera is seen returning to the spotlight.
It's when a Hollywood director Rohail (Osman Khalid Butt) expresses his desire to work with Shameera in hopes to revive Lollywood that we find out just how insecure and jaded the industry has made her.
Forever afraid of losing her place or being usurped, she projects her insecurities on Neha.
7. Laal Kabootar (PKR 32 million)
Laal Kabootar is the tale of Adeel (Ahmed Ali) and Aliya (Mansha Pansha), two Karachiites who live in very different worlds. Adeel is a taxi driver and a petty criminal who wants to go to Dubai in search of greener pastures.
Aliya is the widow of a murdered journalist Noman Malik (Ali Kazmi). Even when her mother tells her to travel to the United States with her, Aliya chooses to stay in Karachi to avenge her husband's murder.