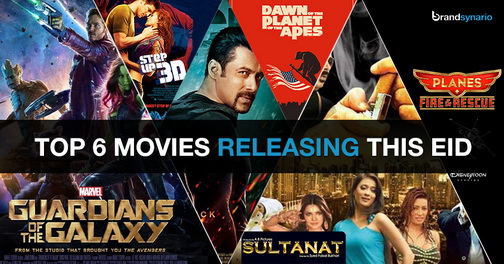 Eid has always been a magical time for film industry to enjoy a booming business. Throngs of movie lovers visit the bustling cinema theaters and celebrate the grand occasion by watching their favorite films with their family and friends.
With Eid-ul-Fitr just round the corner, various movies have already lined up at the box office to be released.
Check out these 6 movies that will be ruling the box office during Eid:
1. Kick
It's no secret that Salman Khan always eyes Eid occasions for his big movie releases and yet again, he has chosen his comeback movie "Kick" to be launched on the festive occasion. The movie has already made waves in the industry and is expected to break all previous records.
Also starring Jacqueline Fernandez and Randeep Hoda, let's see if "Kick" manages to kick off all the box office records and turns out to be lucky for Dabang Khan.
2. Dawn of the Planet of the Apes (3D)
The sci-fi becomes the new fresh film in "the human-verses- super smart apes" series.  Shot in 3D, the sequel to "The rise of the Planet of the Apes" seemingly promises a gigantic dose of action, some spectacular visual effects and a dramatic story, bound to keep you on the edge of your seat.
4. Guardians of the Galaxy (3D)
Prophesied to be "The best Marvel Movie" till date, this action-packed, space adventure will be worth a watch this Eid.
The trailer, featuring a super-heroic raccoon and talking tree, itself proves to be nothing short of outstanding; it is still yet to see if "Guardians" too becomes a mega hit entry in Marvel's diary of blockbusters.
4. Step Up All In (3D)
Well, its good news for lovers of "Step Up" movies, as it's new, street-powered- dance, installment is grooving its way to cinema screens this Eid.
The fifth entry in the series reunites all stars of the previous movies-minus Channing Tantum-competing against each other for the ultimate dance battle.
5. Sultanat
With a budget as mighty as 22 crore, the most expensive of all Pakistani movies "Sultanat" is the only Lollywood film in the list to be released this Eid.
Alongside famous Pakistani faces like Ahsan Khan, Sara Lorren, Zainab Qauyyum amd Javeria Abaasi, you will also get to witness India's Shewata Tiwari making her debut in a Lollywood film.
6. Planes: Fire and Rescue (3D)
Even a treat is set for the kids this festive season with the release of Disney's comedy cum adventure animated movie.
However, critics worldwide have rained the movie with negative reviews and have labeled it as far below the standards set by "Frozen" and "Shrek".