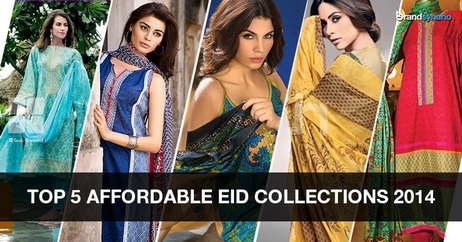 By Arub Shaikh
Warm weather, waves of sunshine and EID
Can it get any better than this? Being a girl you know it's not food or meetings that get you excited but it's actually the hours of relentless shopping trips, intense idea sessions with tailors and the final outcome – Our Eid Clothes. 
The cherry on top here is the whole frenzy of finding jewelry and shoes that are perfect for our perfect outfit.
However, with Eid shopping comes the whining mantra of the millions of women about the lack of choices, the expensive rates and the arguments with tailors.
The textile industry in Pakistan has a huge market to cater to with varying demands and like every year, a large collection of clothes is released by numerous designers and fashion houses before Eid.
Here, we focus on a few highlighted ones for the year 2014 according to affordability, design and popularity.
1- Khaadi
 
Price Range: PKR 2,400-6,000
'A brand that has intricately woven itself into all aspects of life.' 
True to these words, Khaadi is the customer's first choice when it comes to ready-made, trendy and affordable dresses. Reasonable in pricing and appealing to the eyes, this year's Eid collection involves a mixture of lawn prints and formal dresses. 
Floor length kameezes and single color dyed shalwar with colourful thread embroidery and embellishments on the bust, neckline and borderline is the agenda of this collection.
Higher priced dresses come in five pieces with an embroidered lawn piece, shalwar and dupatta pieces and a silk patti.
2-  Nishat Linen
Price Range: PKR 5,600-6,500
Nishat Linen is the brand for women these days. From casual to formal, it offers a wide variety of selection to choose from. This year, this brand has released the SUMMER GOLD COLLECTION, which is the Collection of 2014 Volume 3.
It also includes a series of six dresses known as the Royal Edition. The spotlight of this collection is the embroidered chiffon dupattas and the supreme embroidered shirts.
It also includes lavish forms of silk adorned with digital prints and vibrant embroidery which are more formal.Nishat Linen's Eid Catalogue includes dresses categorized as: Star Struck, Bejewelled, 24 Carat, Gold, Trend Alert, Traditions, Platinum, and Folklore.
3- Gul Ahmed
Price Range: PKR 5,000 onwards
"Gul Ahmed is a name that speaks  quality dressing in Pakistan and a prominent name in  the textile market for decades." This year, it has released its Eid collection under the name of La Chiffon which includes a diverse style of long and middle sized embroidered shirts and sleeves with jacquard laces, buttons, pleated panels and embellished motifs-all under a reasonable price tag.
With printed chiffon dupattas and dyed shalwars, the collection plays with a few vibrant, vivid and chic colors displaying lovely floral and abstract patterns.
4-  J. – Junaid Jamshed
Price Range: PKR 2700- 6,500
"J. can be defined as a fashion retail brand that is rich, elegant and stylish in traditional ensembles."
This year J. has been one of the first brands to release their Eid collection-Eid Treat Summer Lawn 2014. Adorned with bright hues of joy and vitality, this collection revolves around bright, summery shades.
5. Sana Safinaz
Price Range: PKR6,350
Sana Safinaz has to be our number one choice for going chic and trendy.
This powerhouse of two women combined is a bliss for us girls!"
Known for their exquisite designs and contemporary patterns, Sana Safinaz has launched their Eid Collection 2014. Playing with layers of Lawn, Chiffon and Silk, this collection includes a pure jacquard base with bold designs and an embroidered neckline.
The highlight of this collection is the heavy embroidery work on the front and a sharp Turkish design at the back. A combination of vibrant and pastel colours, this line exhibits a graceful yet glamorous look-typical Sana Safinaz.
So, which one will you pick for your perfect eid dress? Share your views in the comments below.