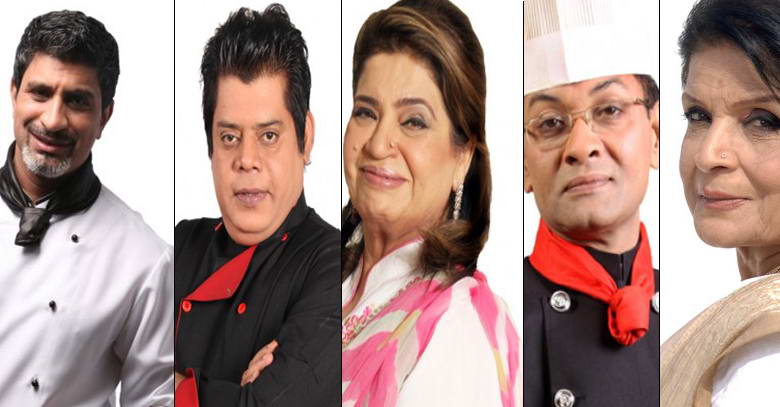 The reality cooking show MasterChef, which originated in United Kingdom in the 1990s, was revived in 2005 by British Broadcasting Corporation (BBC) before travelling to other countries. Pakistan is the recent addition to the list of the many countries hosting MasterChef, as URDU 1 brings the show that is being watched in more than 200 territories around the globe.
Franc Roddam created the show under the name of 'MasterChef'.
Pakistan is blessed with some of the best chefs of the sub-continent. These professionals are undoubtedly masters of their art even if they seldom show the same level of excellence while hosting their cooking shows. Thus, the debate of who shall prove to be a better judge on the MasterChef Pakistan starts?
Being a judge on this international franchise requires more than just being an excellent and seasoned chef. It requires confidence, experience and that factor of creating drama in almost every situation.
Here is a compiled list of the top most suitable celebrity chefs who are capable of judging Master CHef Pakistan:
Zubeida Aapa
The first name that comes to mind when we think of this post s Zubaida Tariq, the 68 year old cooking expert who is one the most familiar and mother-like-figure of our country.
Popularly known as Zubaida Appa, she is perhaps the most seasoned and experienced hosts of our country. She started her career on Television after she had already made a name on Radio from the Show Aik Mukammal Ghar.
Zubaida Appa has done around 400 shows till date and has featured in even more. Therefore, Zubaida Tariq will be the strongest contestant in this race for the MasterChef judge.
Chef Zakir
Chef Zakir is also a prominent name in cooking shows these days. Currently, Chef Zakir hosts Masala TV's show Dawat, which is one of the most popular shows on the network. He is also a strong candidate with his diverse cooking and remarkable hosting skills.
Shireen Anwar
Next up, is Shireen Anwar, a credible name in the industry. Little do people know that she did not even know how to fry an egg when she got married, although she had a passion to become a culinary expert.
Shireen Anwar now teaches how to cook to thousands of men and women. She is inspired by Zubaida Aapa and hosts one of the most popular cooking shows on Masala TV.
Chef Shai
Then comes, Chef Shai, a name not so old in the industry but certainly unique. She is an International chef who has specialized in fusion cooking and apparently singing.
Shai hosts her own show on Masala TV again, which is one of the most watched show mainly because of her singing that her fans love during her cooking classes.
Chef Shai on her official website claims to have travelled more than 100 countries to satisfy her appetite for learning to cook. This has, in turn, shaped her on-screen personality in a rather unique manner that masses seem to adore. Therefore, she stands as a serious consideration for the judges as well.
Chef Saddat Siddiqi
Last but not the least, it is none other than Chef Saadat siddiqi who studied in Ramapo College of New Jersey and worked at Unilever for a good four year.
Chef Saadat has been associated with ARY Digital Network from 2006 till present as a chef producer and presenter. He has an extended experience of almost 18 years in the cooking industry and has a very professional attitude towards his work.
There are some other names in the industry like Chef Rahat that deserve to be on the list but since they are seen less on the television, they might not garner the same interest.
Whoever judges the show in the end, MasterChef Pakistan promises to be a different kind of reality show experience for the Pakistani audience.
For now, we can only wait for the International sensation to finally come to Pakistan after making its way from numerous countries of the world, including United States, Australia, Malaysia, India, Belgium, China, France, Germany and many more.
Who do you think will be the judge for Master Chef Pakistan?