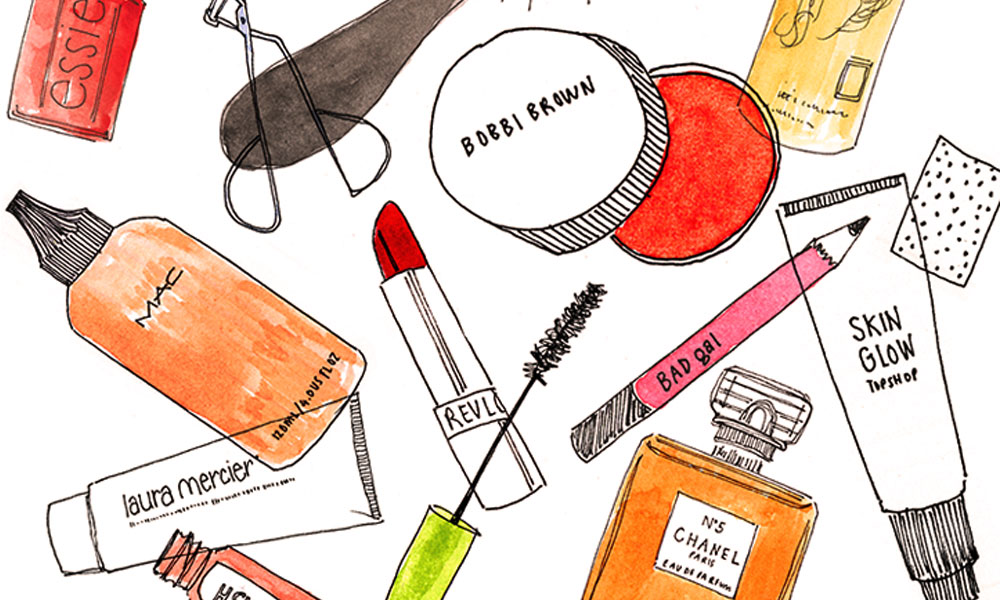 Yes, we all love knowing how to contour and strobe, what lip colors are rocking the Fall ramp and how to get that beautiful, dewy makeup finish. But at the end of the day, what we actually need to learn is how to accentuate our boring brown eyes, how to rock a red lip color on our desi skin tones and how to prevent every inch of our makeup from melting into nothingness.
Enter Pakistani beauty bloggers – with an arsenal of beauty hacks and knowledge of all things desi!
Read More: Top Beauty Salons for Bridal Make-Up in Karachi
These gorgeous Pakistani beauty bloggers not only cover the latest in beauty but their detailed reviews depending on our skin types and our climatic environment and their in-depth makeup tutorials for us makeup noobs make them the ultimate beauty gurus for us.
Check out our list of top 5 Pakistani Beauty Bloggers to follow:
1. The Beauty Finds
My personal favorite, The Beauty Finds, run by Bia is an absolute delight to read and hosts a truckload of beauty knowledge. From drugstore best beauty buys to high-end hauls, you can find detailed reviews on anything and everything that is trending in the beauty world.
Bia loves all things vintage and is a fellow hoarder in every sense of the word. Her writing style is witty, her reviews thorough and her hauls HUGE. If, for nothing else, you can simply visit her blog to ogle massive beauty hauls!
Some of her beauty posts that we absolutely love and recommend are 8 Summer Skincare Essentials for Oily/Combination Skin, My Foundation Collection, The Beauty Finds Under PKR 250 and 5 Makeup Fixing Sprays – Review & Comparison.
2. Red Alice Rao
Red Alice Rao is one of Pakistan's top magazine blogs, run by the eccentric Maliha Rao with an obsessive penchant for the color red.
The blog is not only popular in Pakistani circles but is, might we add much deservedly, internationally recognized by iFabbo and retailPR UK too.
Covering a range of local and international beauty brands, Rao's beauty blog is the ultimate portal to look for reviews for her honest, to-the-point opinions on the products and the complementing colorful swatches. What's more her active media presence makes her blog one of the first ones to cover major beauty events in Karachi too!
Some of her beauty posts that we recommend checking out are Color Studio Professionals PURE MATT LIPSTICKS Review and Swatches, ATIQA ODHO Cosmetics Blush Ons – Review and Swatches and Masarrat Misbah Makeup – Halal, Hot and Happening.
3. Sahrish Adeel's Blog
Currently residing in Malaysia, Pakistani beauty Sahrish Adeel is yet another one of Pakistan's top beauty bloggers to follow.
Mommy to a 5-year-old boy, Sahrish is not only an amazing housewife and a pro at makeup but boasts of credible hair cutting and styling talents too. You can find detailed reviews and swatches of local and international beauty products at her blog, organized under specific categories, something that you don't see as often on Pakistani blogs.
One of her notable international achievements includes creating a gorgeous nail polish shade, Majesty, in collaboration with renowned brand Picture Polish.
Some of her beauty reviews and makeup looks worth checking out are Lip Color Palette by Stageline Cosmetics – Review & Swatches, Starter Set by Real Techniques – Review, Sparkle Makeup Look feat. MUA – Makeup Academy and The Twilight Saga Inspired Halloween Makeup Look.
4. Ayesha Talks Beauty
Design buff and a self-proclaimed photographer, Ayesha's makeup blog Ayesha Talks Beauty is our favorite Pakistani beauty blog for makeup looks and tutorials!
https://instagram.com/p/qYRdT5HWbV/
Her makeup looks are flawless, color combos stunning and techniques pretty simple! We absolutely love her effortlessly created beauty looks and recommend you to take inspiration from for the next party season.
Some of our favorite looks from Ayesha's stunning makeup portfolios are: Barbecue Factory, Rose Orchid, Smoked Cherry and Minimal Glam.
5. Nayab Loves
An all-rounder girly girl and a secret Twilight fan fiction lover, Nayab is a lifestyle and beauty blogger known for her pretty pictures, her honest reviews and gorgeous swatches!
The 21-year-old Islamabad-based beauty blogger is an out and out drugstore beauty fan but doesn't mind splurging every now and then either.
Check out Nayab's Top Picks For A Desi Pink Pout, review of Wet N Wild Mega Last Lipsticks and her favorite Online Makeup Stores To Shop From In Pakistan!
If you want to learn about makeup techniques and follow tutorials you need to keep these beauty bloggers as your go-to pages.
Are you a fitness freak? Give Top 7 Most Popular Gyms in Karachi a read.