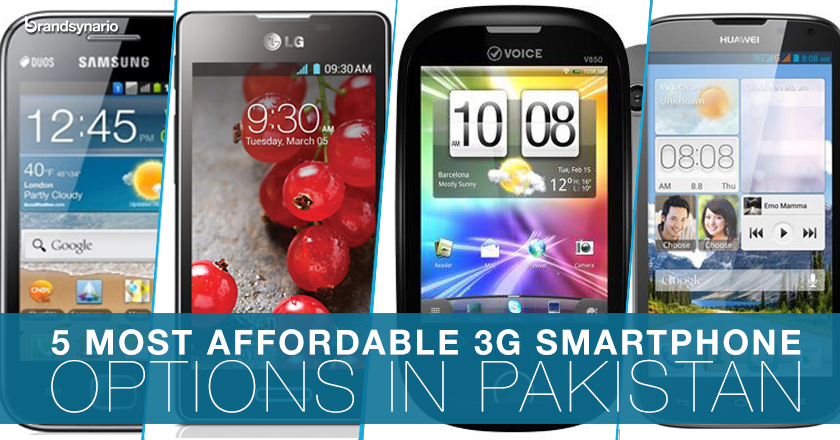 3G/4G enabled smartphones have become the latest trend of the market in Pakistan.
The choice of a 3G/4G enabled phone might have been easier before all the brands including Nokia, Samsung and QMobile literally bombarded our televisions, social media, radio stations and even the billboards with their 3G/4G enabled smartphones.
For all those users who are wondering whether their current phones support 3G and how to activate it. Click here to know how to activate it.
For the rest of you who are planning to change their phones to enjoy free 3G internet being offered by all telcos, here is a thorough analysis of the best 3G/4G affordable handsets currently available in the market.
Voice V850 (PKR 5,700)
Looking for a really cheap 3G? Voice has answered your call with its V850. The phone sports a screen of 2.8 inches, a 3.2 MP Camera, Android OS, and v 2.3 Gingerbread system to support your love for 3G.
LG Optimus L5 II (PKR 17,000)
LG has been recently quite active in the market, the recent addition to its Optimus series LG Optimus L5 II offers 4.0 inches LCD, 512 MB Ram and an Android OS v 4.1.2 Jelly Bean.
Nokia XL (PKR 17,600)
Nokia XL is one of the latest and most amazing 3G enabled android phone by Nokia. The phone offers 5.0 inches of IPS LCD, 4GB of internal storage, Qualcomm Snapdragon S4 processor and 768 MB Ram to support 3G technology. All in all it is one of the best deals in this price range.
Huawei Ascend G610 (PKR 20,000)
Huawei's Ascend G610 offers a 5.0 inches, 4GB of internal storage, a stylish body, 1 GB of RAM, a Dual Sim feature, 5.0 MP of back camera and to back it all up an Android 4.2.2 Jelly Bean system.
Samsung Galaxy Ace Duos S6802 (PKR 19,500)
Samsung, the world's smartphone leader offers one of its latest Galaxy Ace Duos S6802 with 5 MP camera, 3.5 inch display, 3G capability, Dual Sim feature, Android 2.3 Gingerbread system and 512 MB of RAM to support 3G.