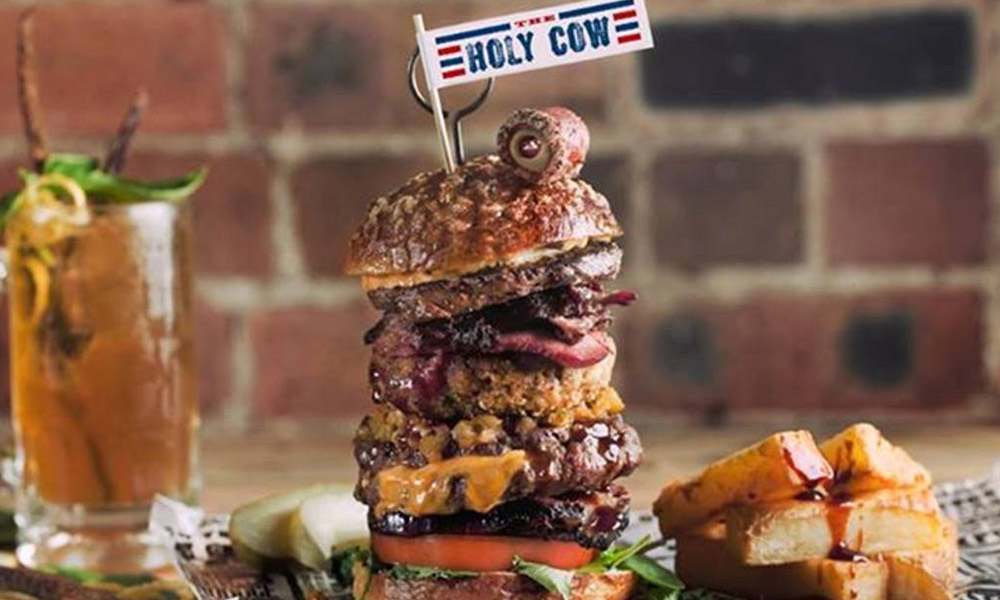 Did somebody say Burger? Yes! If you love burgers and would choose it above any other meal, this post is heaven sent for you. This meaty,  juicy and delicious gift from America is something the world can never get enough of.
For all  burger freaks who love trying various toppings, fillings and style,we bet you wouldn't have thought about the following:
Take a look at some some of the coolest, strangest and shocking burger innovations from around the world!
Pizza Burger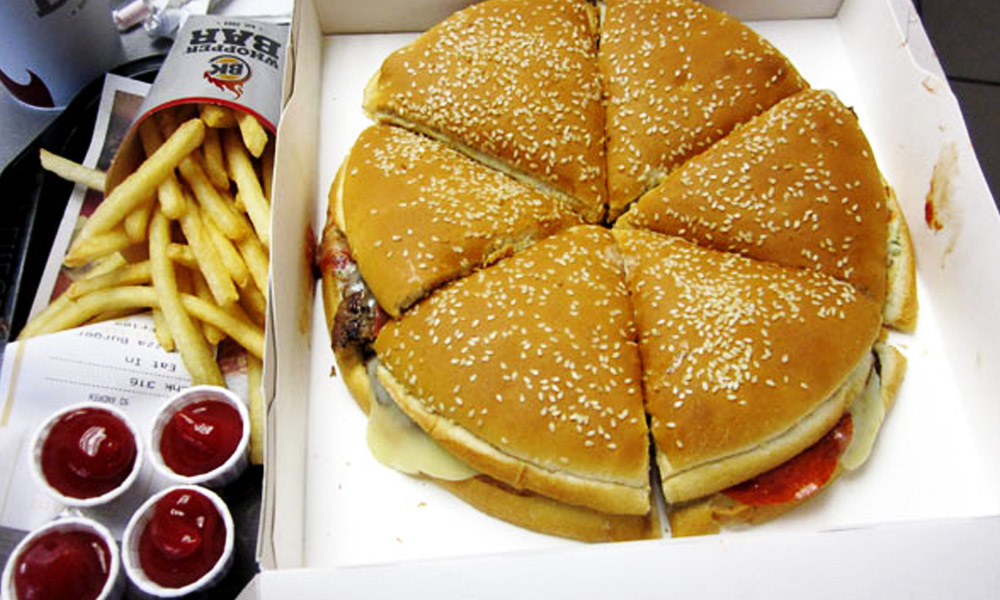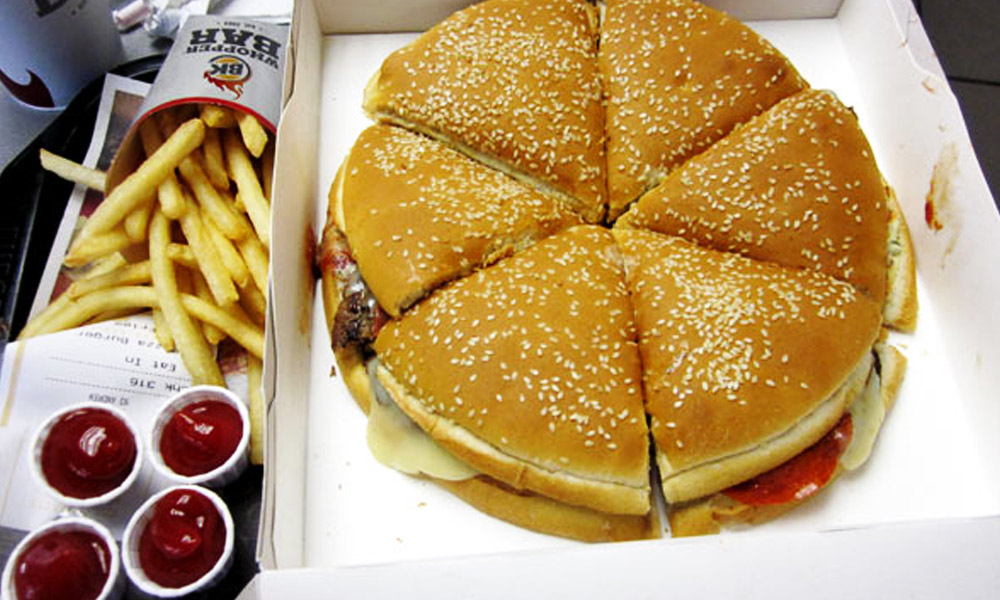 If you find yourself stuck in a dilemma of choosing a burger or a pizza, Burger King has made it easier for you. Choose both with the  Pizza Burger! This 2520 calorie beef burger is arranged like a pizza on a nine and a half inch sesame seed bun. Topped with pepperoni, mozzarella and Tuscan pesto and marinara sauce, this burger is an utter delight for burger/pizza lover.
Black Burger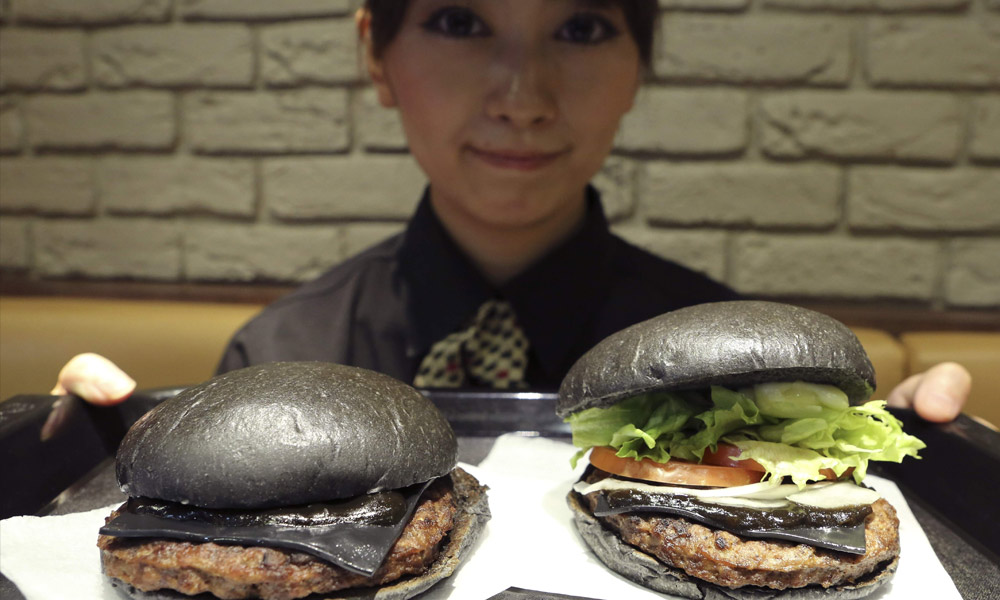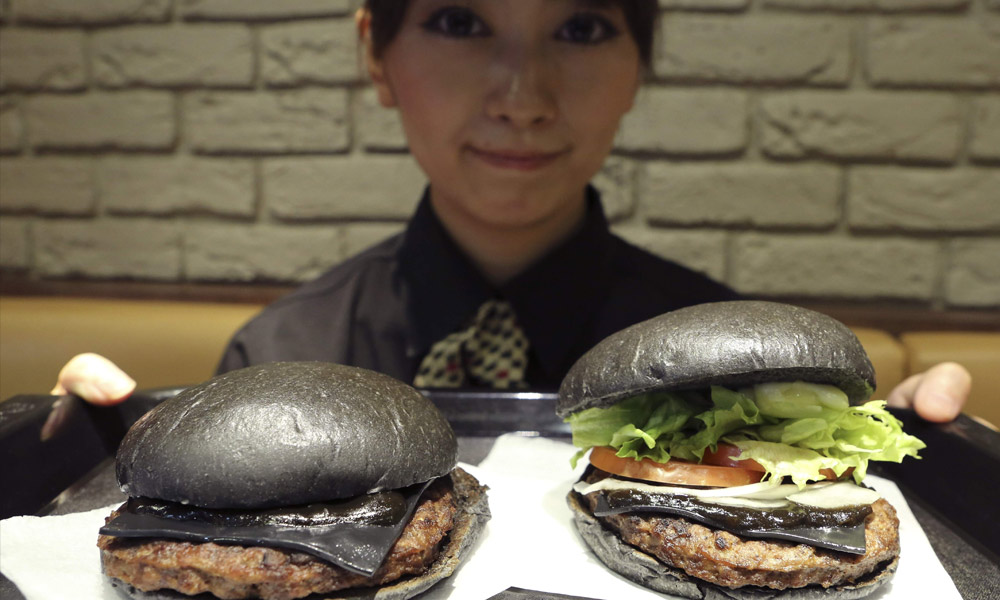 Burger King Japan has come up with a premium Kuro burger. At the first glance, one may  find it something out of a nightmare but the truth is, some people actually like it.  To our utmost surprise, not only are the buns black but the cheese is also colored with bamboo charcoal and squid ink ketchup. Would you dare try it?
Red Burger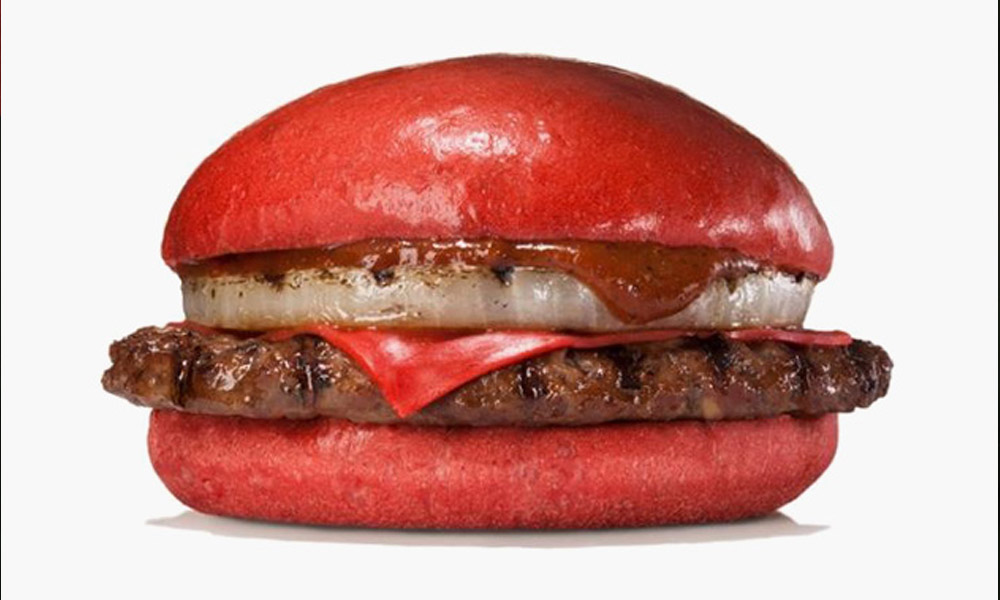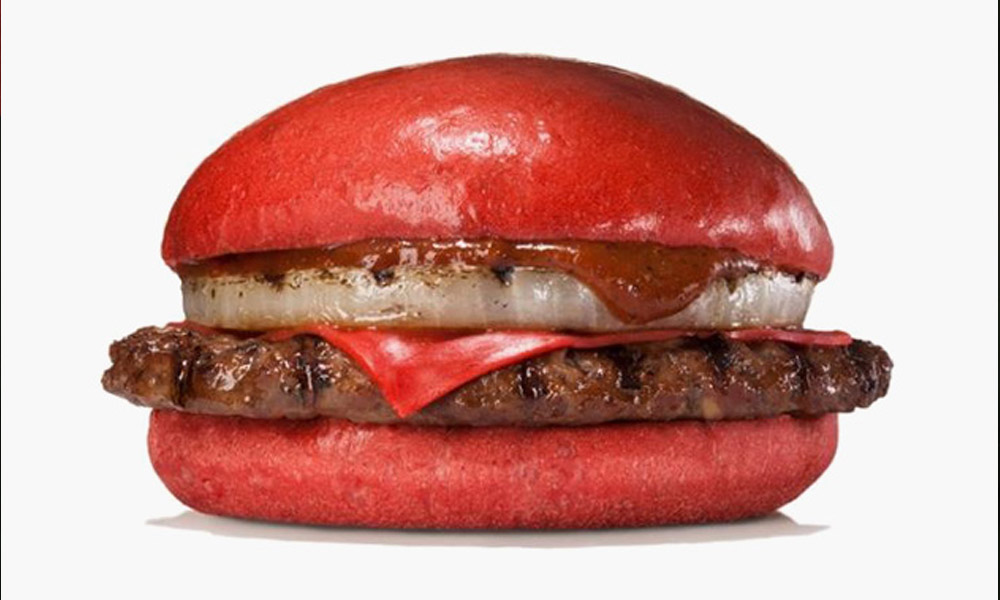 Planning to go to Japan this summer?  Try Burger King's Aka Burger (Aka means red in Japan).  With its two varieties: Samurai Beef and Samurai Chicken, these burgers are bright red with red cheese and, of course, how can we forget red tomato.  Corresponding to the color, these burgers are spicy containing what BK has termed as 'Angry Sauce'- containing chili peppers and chili paste.
McRice Burger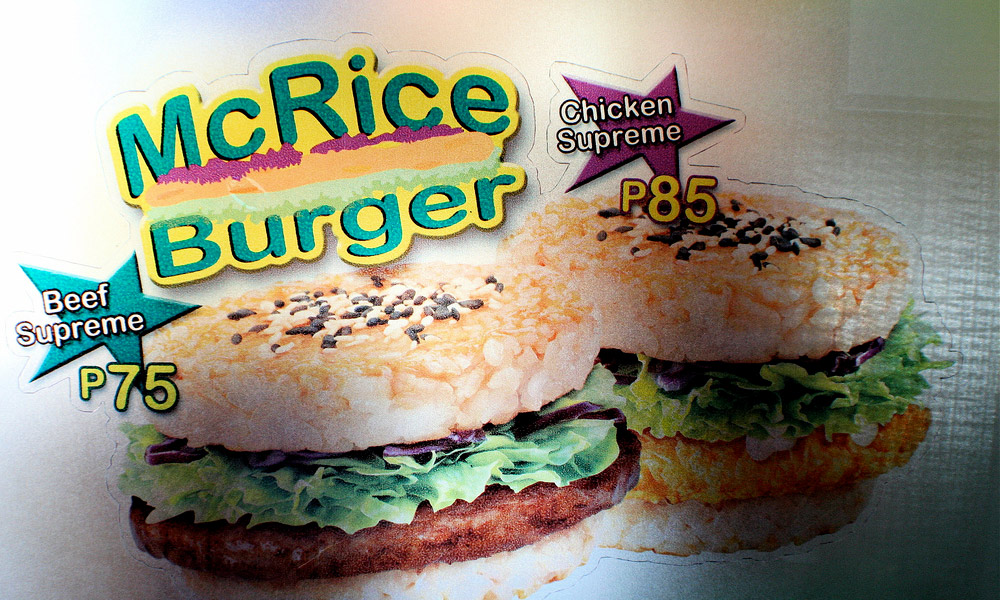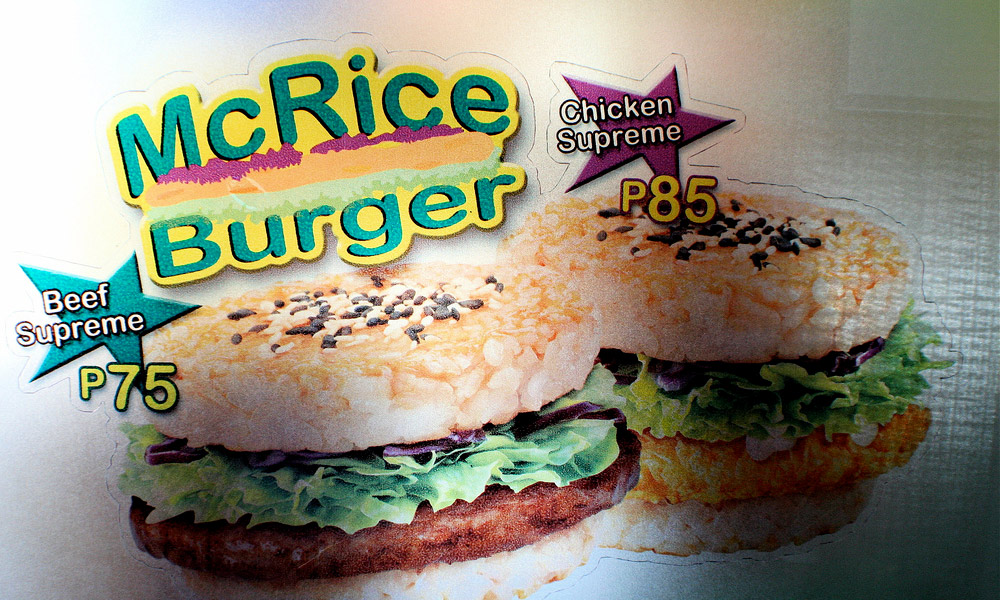 Introduced in Singapore, the McRice burger is winning hearts.  Served between fried sticky rice patties, you can get either the chicken patty or the beef. McDonald's never fails to surprise us with its crazy menus. For people who can't live without eating rice- Mc Donald's has answered your wishes.
Holy Cow Burger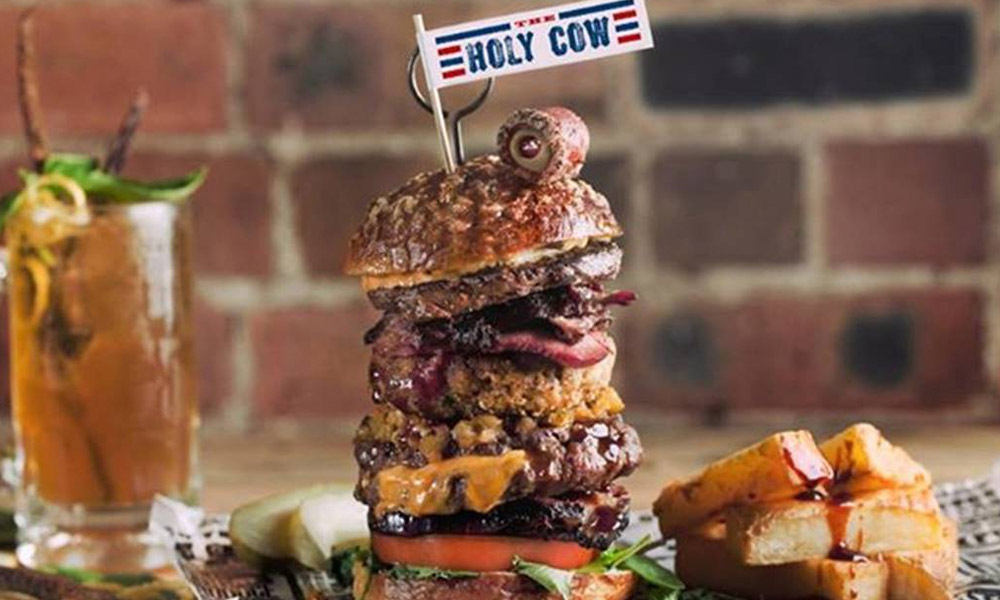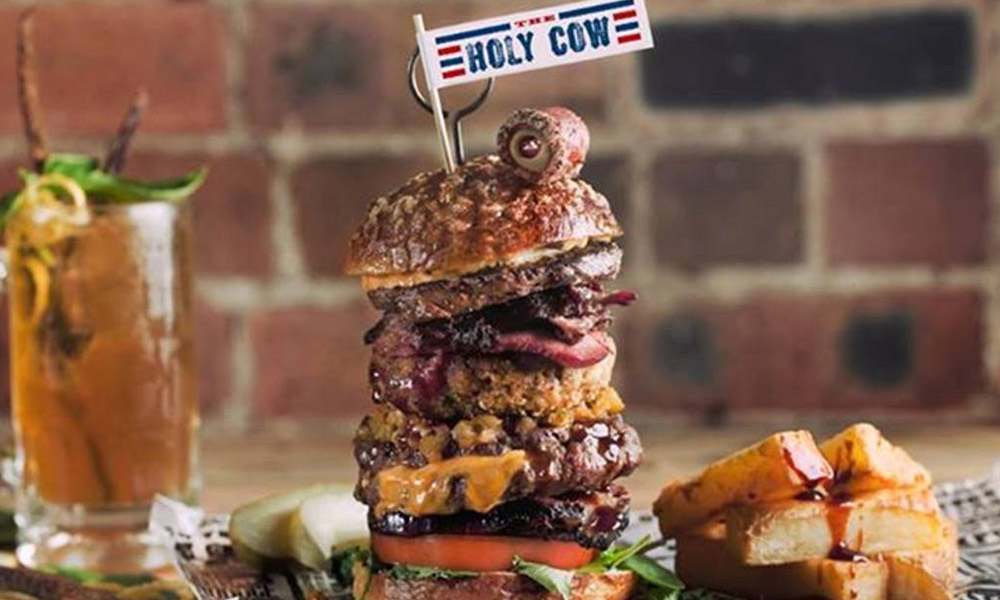 Thinking about having a beef burger, well, at Holy cow you can celebrate an entire cow in just one burger! Giving you a complete nose-to-tail eating experience, this burger is filled with Beef, Juicy cheese, Jalapeño, dill pickle, beef bacon, tomato, salad leaves and sauces.
Noodle Burger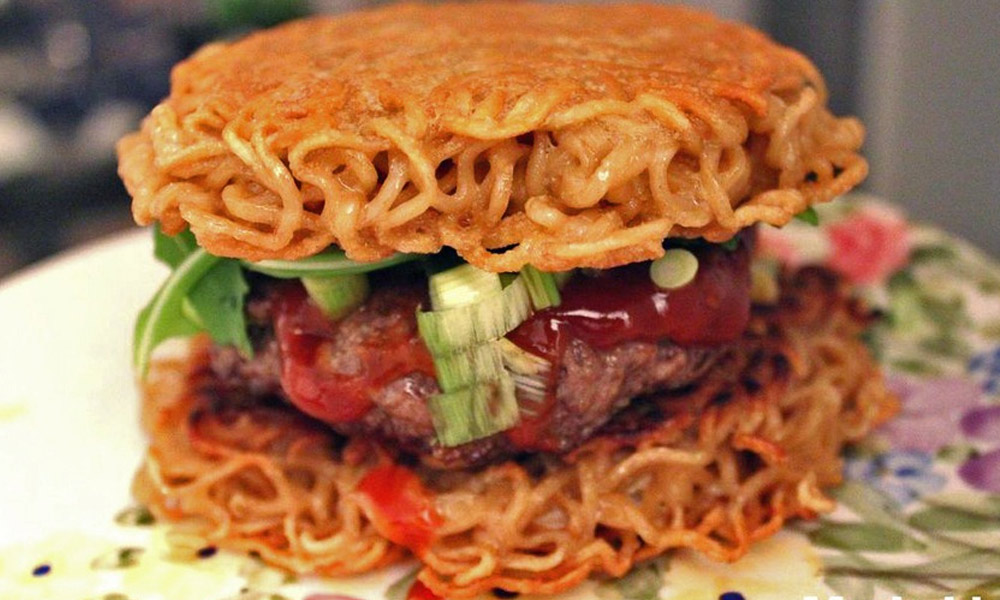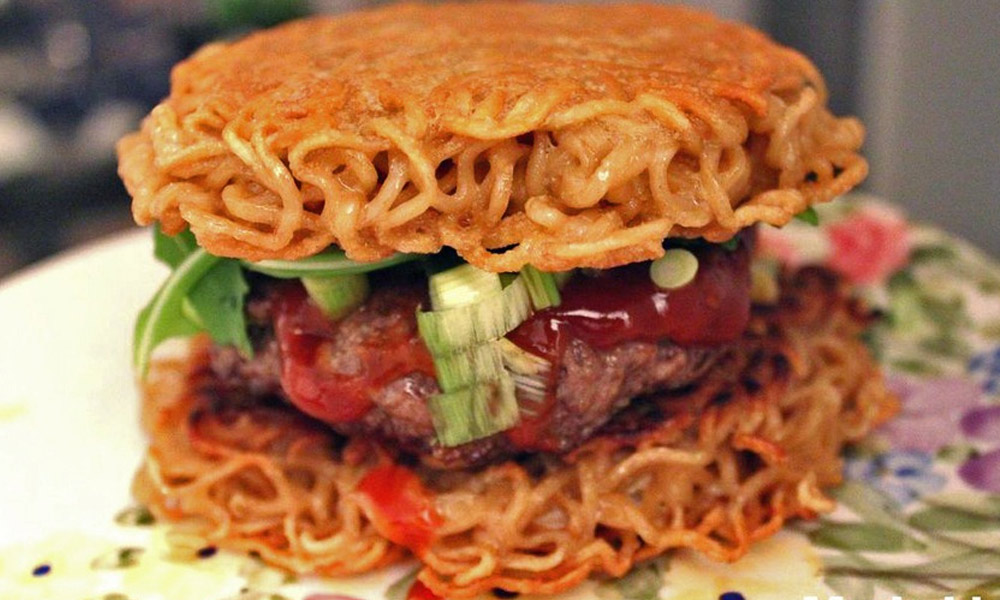 Do you like making crazy combinations with your burgers? Then Noodle burger is a MUST have for you.  This juicy, crispy Ramen burger is made with a beef patty, green onions and arugula served between two salty ramen noodle buns. You can also try this crazy combo at home.
Fondue Burger
Is cheese your first love when it comes to burgers? Well, then you must see what Burger King has in its Pandora for you. The Fondue Burger in South Korea contains cheese, cheese and more cheese. With a melting pot and burner, the cheese will come in a little tub for diners to dip their choice of chicken or beef burger into. The burger contains parmesan, cheddar, mozzarella, emmental and Gouda, with a touch of white wine as well.
KFC Zinger Double Down King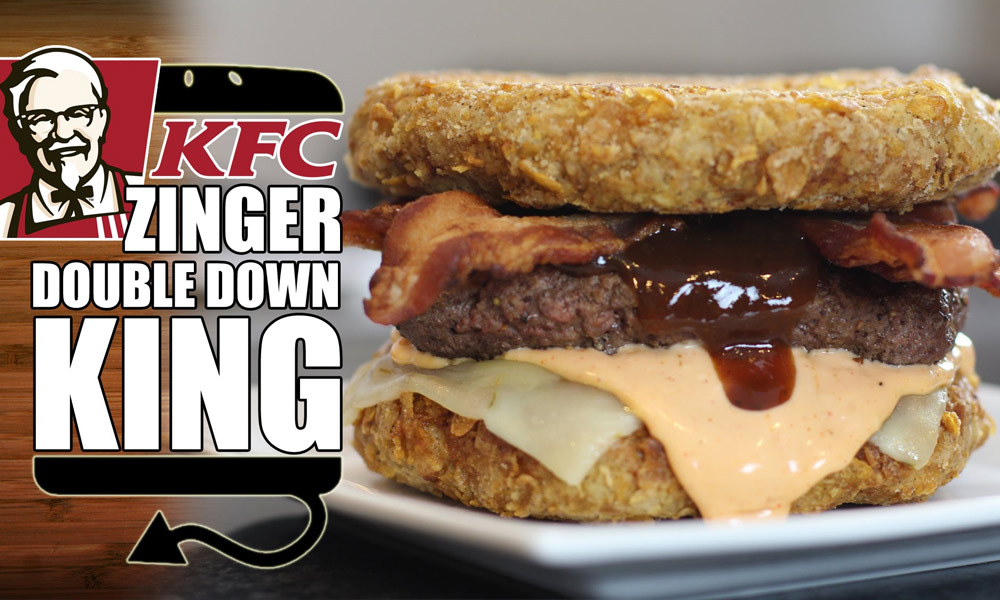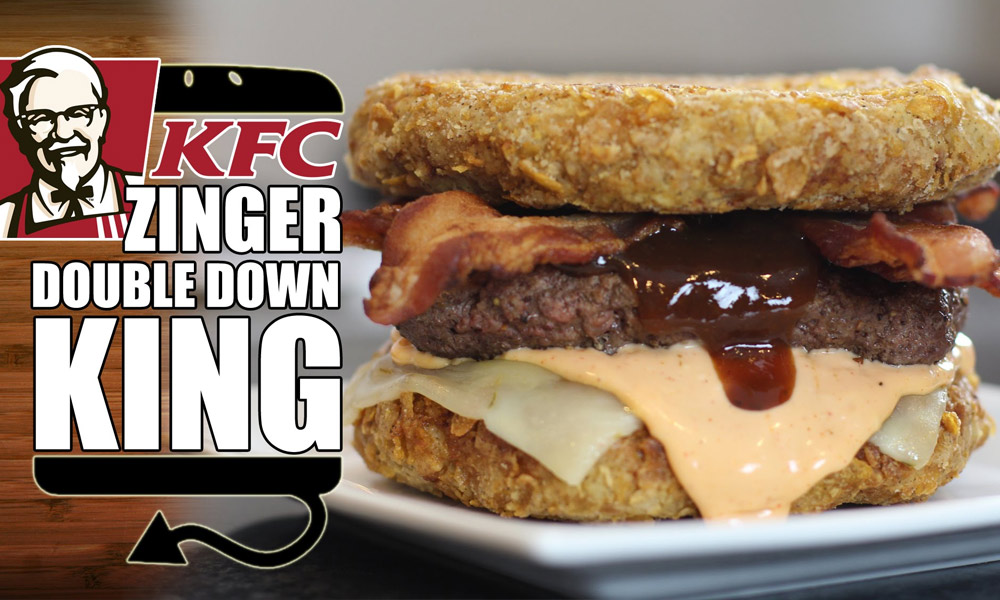 KFC is back in action with 'crime against food' with the Zinger Double Down king. This zinger has a meaty and juicy patty in the middle. Introduced in South Korea, this bunless burger is bigger and better.Glam Burger – The Most Expensive Burger
Glam Burger – The Most Expensive Burger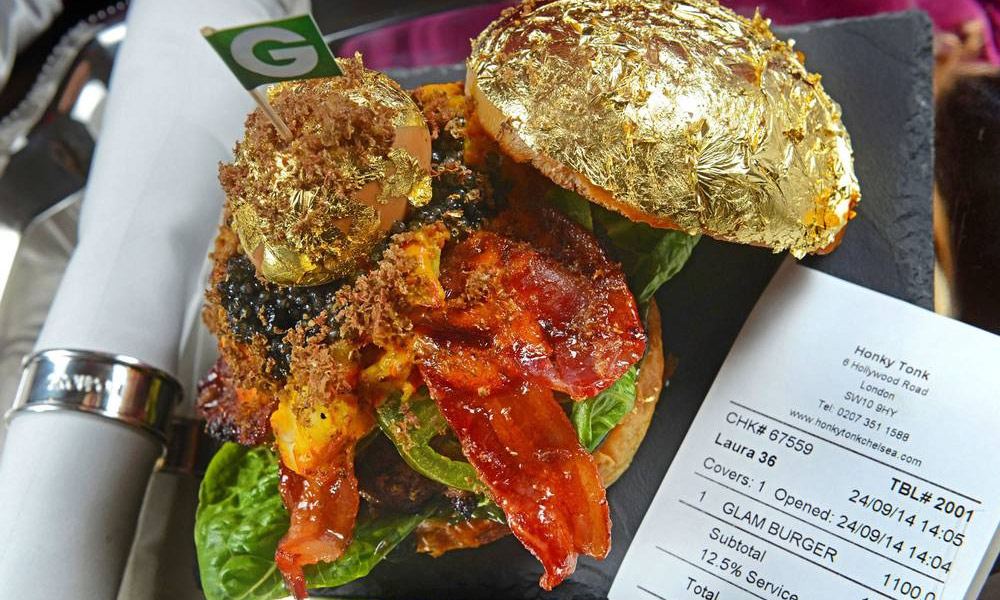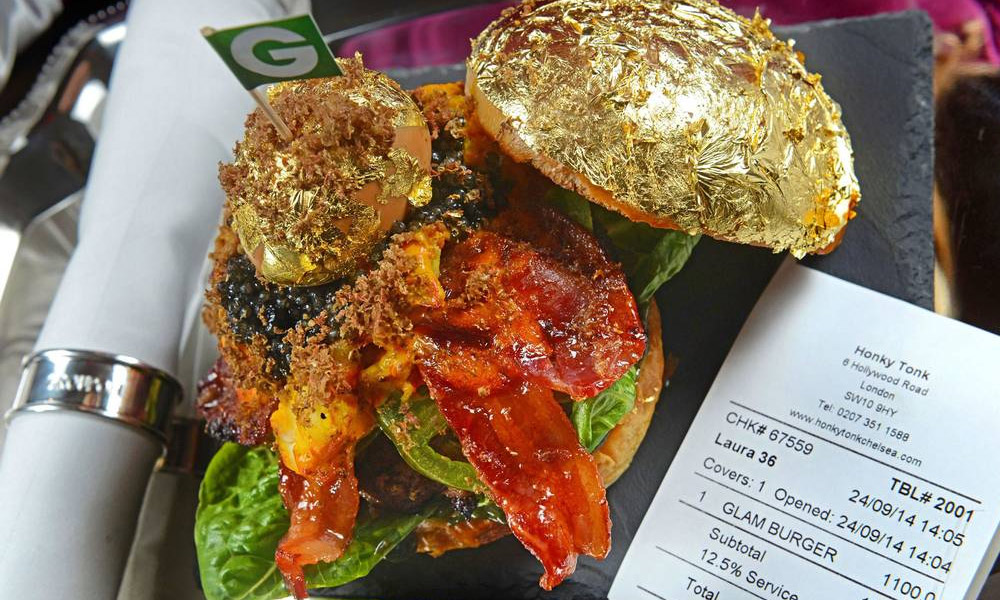 From Hamburger to Glamburger, this burger is one of the most expensive burgers in the world.  Served in a golden bun, because ordinary buns are too mainstream, Glamburger costs around £1,100.  Created by a restaurant based in London, this burger that contains Canadian lobster, Kobe beef and black truffle brie.
The Massive Burger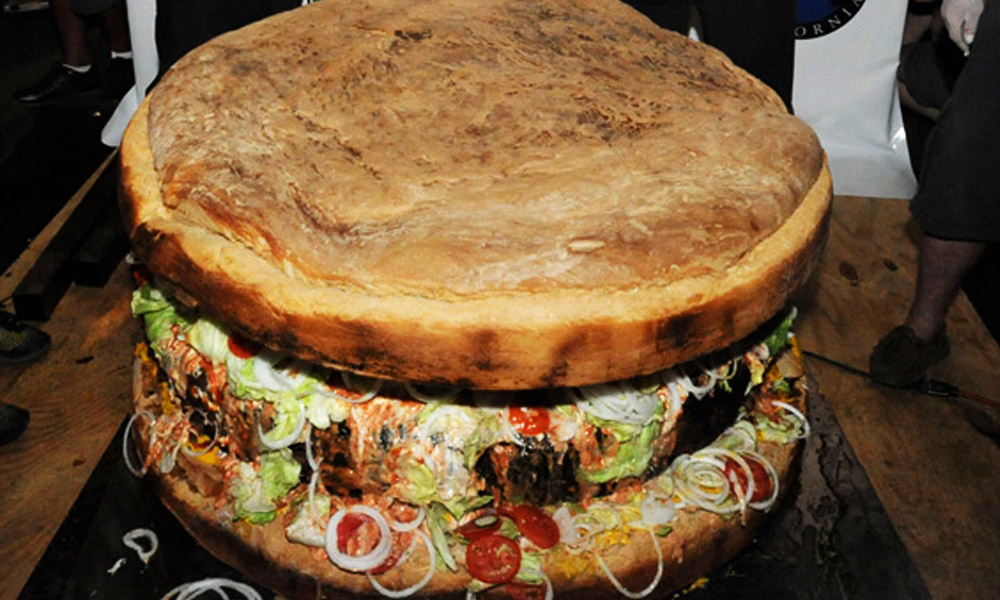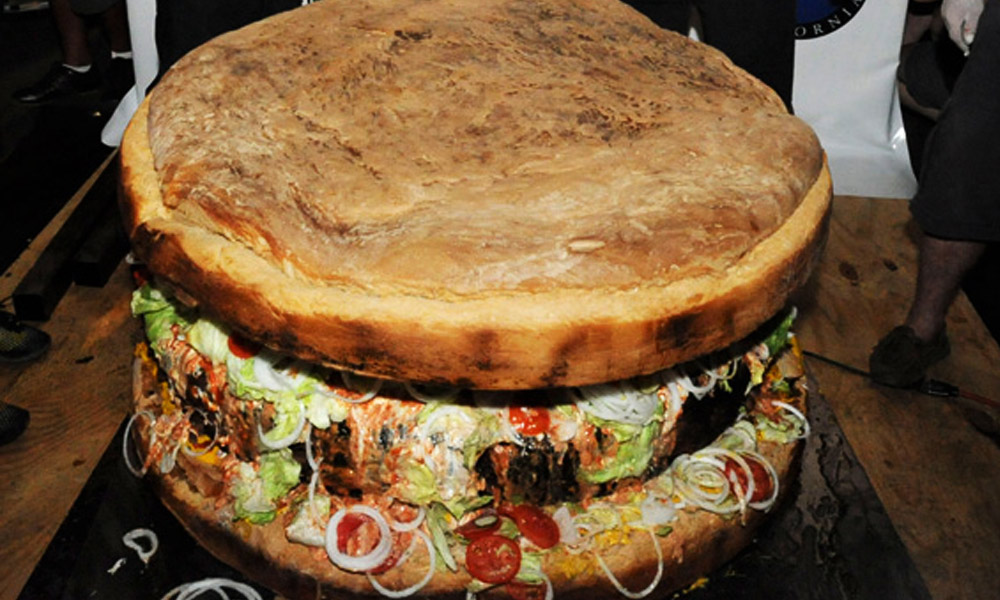 To take the Fast food industry a bit further, ambitious grillers of US have set the record of creating the world's heaviest burger weighing 352 Kilos. The burger contains 1,375,000 calories enough to feed one person for almost two years. This gigantic ground beef creation is a world-record-breaking burger. If you have a pack of hungry friends, relatives, neighbors, with a mere $400 you all can have this 134-pound burger. Topped with cheese, bacon and all other filings, this burger has a giant 50-pund bun measuring two feet in diameter.
  Windows 7 Whopper Burger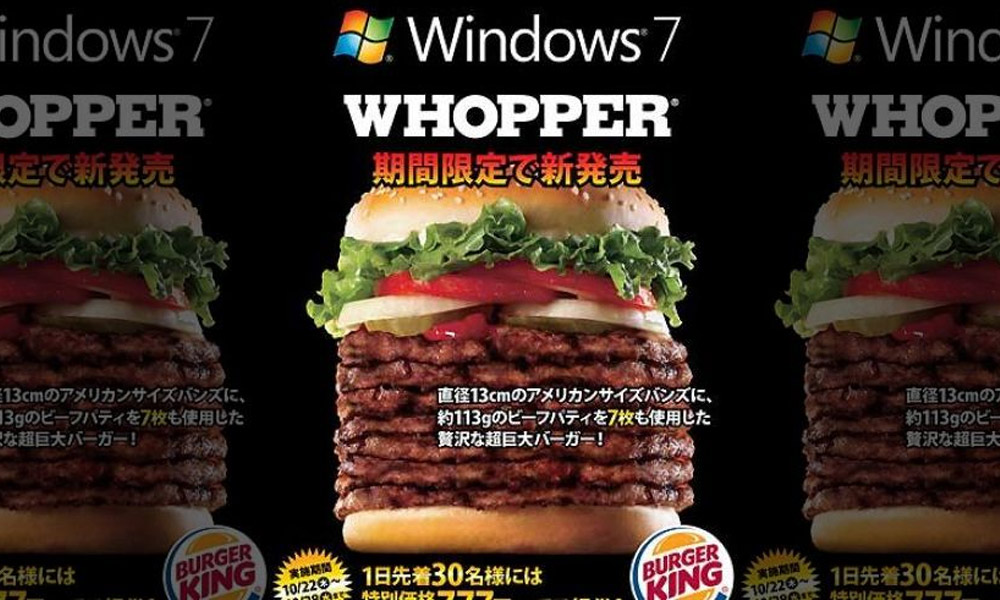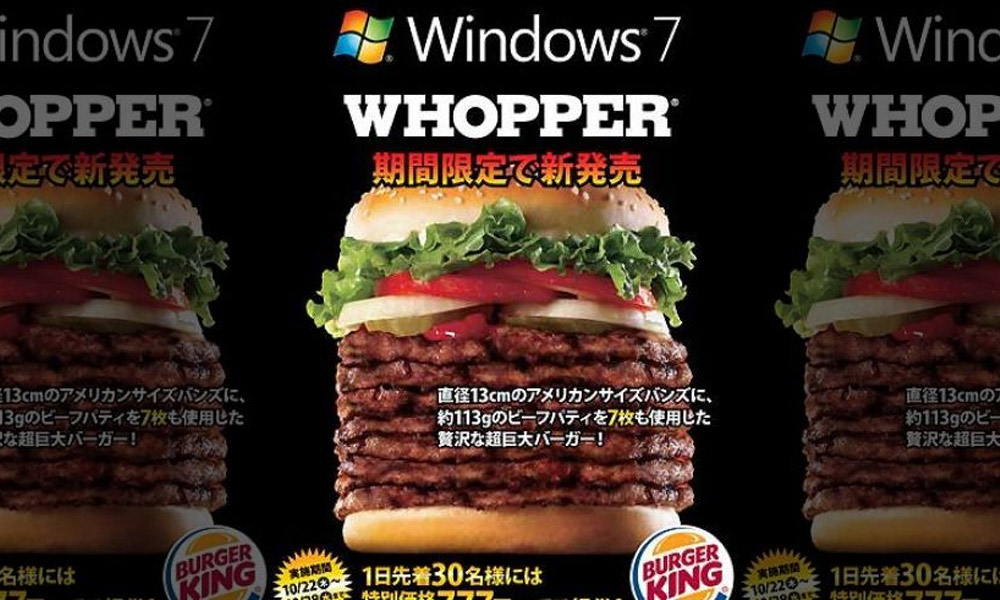 The home of Burger Kings' coolest and craziest burgers is Japan. With this exclusive Windows 7 Whopper, Burger King proves that they will always surprise burger lovers. This seven stacked beef patties burger is of five inches in height costing about ¥777 (or $8.55).  Are you ready for this meaty burger?
Which of the mentioned craziest burger would you like to try? Tell us in the comments section below!