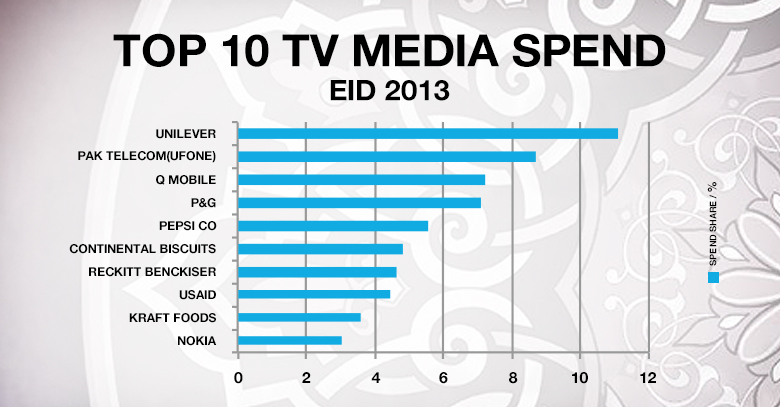 By Zulfiqar Ali Sajwani
Pakistan is a nation with festivity and traditions in its genes. Throughout the year, we are continuously looking for the slightest chance to celebrate. And when it comes to an occasion that has our religion in its roots, we ensure that we make it 'larger than life'. Yes, we are referring to the 'king' of all festivals, Eid.
Eid is a day of joy, enthusiasm and compassion. With such deep connections embedded in its existence, the marketers cannot afford to lose this opportunity to strike the chord for their brand.
Months before its arrival, marketers start knocking the doors of the consumers, convincing them to open their treasure chests. Every company, be it an FMCG giant or telecommunications pioneer, undergoes comprehensive planning with the motive of efficiently cashing every effort.
Eid of 2013 was no different from the past year for the enterprises. In fact, the media scene saw the companies expanding their 'Eid budgets'. The million dollar question for consumer was, "what medium should they choose to spend their precious pennies on?"
Although the 'Eid day routine' mostly includes meeting people or lazying in front of the television. It is the time before this very day that marketers cash on.
Without any further ado, we present to you the top 10 spenders in Television Media this Eid.
10. Nokia
Nokia has been on the move since the beginning of the year, and they took Jawad Ahmed on-board this time for singing the jingle in their Eid commercial.
With the words ' jee lay jaan ke mazey se', Nokia associated their Asha series with simplicity .Though the theme of the song had a humble and 'common' man feel, Nokia ended up with a share of 3.02% out of total TV media spend on Eid.
9. Kraft Foods
KRAFT FOOD's 'Tang' commercials was all over the television screens during Ramadan. The 'Super heroes' TVC elevated the bar for the brand's marketing and therefore, the company continued spending on advertising on Eid as well, a 3.57% share the total TV media spend in Pakistan.
8. USAID
USAID faces the challenge of breaking ice between Pakistani and US citizens. So, what better opportunity could they have gotten than the occasion loved by all.
USAID promoted its role in Pakistan's prosperity through a song by the young talent Amanat Ali called 'Roshan Pakistan'.
Showcasing the rural areas with such impressive visuals costed 4.48% share of TV media spend to the International social awareness organization.
7. Reckitt Benckiser
Reckitt Benickser (RB) has been making all ends meet to stregthen Dettol Soap's brand equity.
This Eid, they used Shahid Afridi to endorse the 'Dettol anthem' calling for a cleaner Pakistan. Mr. Afridi being one of the 'favorites' of many brands these days, has ended up taking 4.65% of the media spend share.
6. Continental Biscuits(CBL)
With biscuits being a part of the snacks served to the guests who come to visit you during Eid, Continental Biscuits ensured that their TVCs were aired regularly this Eid.
We saw a Candi ad with Pakistani television icons Adeel Hussain, Ainy and Hamza, as well as Bakeri biscuit ads showcasing its freshness during this Eid. Though the former's TVC was not Eid-centric but it kept the brand top of mind of the audience throughout Ramazan.
CBL claimed a good 4.82% share of the entire media spend on television.
5. PepsiCo
Pepsi was talk of town for their Ramadan Ad featuring an employee imagining his Boss as Pepsi, representing the thirst for the beverage.
This ad had mixed reviews, and therefore Pepsi turned back to its commercials which they ran before Ramadan. The brand is reported to have taken 5.55% share of total spend.
4. Procter & Gamble (P&G) Pakistan
This Eid, it was Waseem Akram calling for a 'one wash' challenge and Shahid Afridi flaunting dandruff free hair for P&G's Ariel and Head&Shoulders respectively.
Though P&G did not have any specific commercial customized for Eid, they decided to take a spend share of 7.10% spend share.
3. Q Mobile
This is one of the new entrants in the 'extravagant media spenders list'.
Keeping in mind its growing market, Q Mobile broadcasted its ads frequently during Eid, paving its way in the list of an ideal Eid gift. With Bollywood actors like Aditya Roy Kapur endorsing Q Mobile Noir series, undoubtedly Q mobile had to take 7.24% of the total media spend share on Eid advertising.
2. Pak Telecom( Ufone)
Ufone's TVC featuring the war between Tailors and women became a huge hit last year. Though we did not come across any 'tailor-made' ad for Eid from the telecommunication giant, the television was flooded with its offers for local and international calls, awarding the brand with Runners up position for the most media spender with 8.72% .
1. Unilever
The FMCG giant won the race of the most media spender, thanks to the wide range of brands that correspond to Eid.
From Knorr's Beef Zaiqa's ad to Sunsilk's designer shampoos,Unilever opened their hearts to media advertising and claimed a whopping 11.71% share of TV advertising this Eid.
After observing such ample expenditures on this auspicious occasion, it is evident that the corporate world wants to celebrate the festival along with their brands.