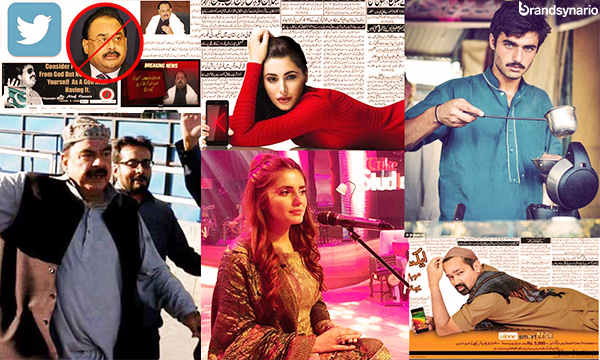 Put up a funny picture on facebook or twitter and it'll go viral in seconds- share a weird insight and people wouldn't stop raving about it, such is the power of Social Media. The internet has celebrated so many overnight sensations these past few years that we have lost count. Be it the now deceased controversial social media queen Qandeel Baloch or the overnight famed Arshad Khan #Chaiwala, trends that went viral in Pakistan this year are hidden from none.
People forgive and forget easily, but the social media is one such unyielding and the unforgiving giant that keeps reminding you of it all. It neither forgets nor lets you forget. The year 2016 has been the year of social media; be it the Coke Studio famed Momina Mustehsan or Imran Khan's political dharna, social media has stayed abreast with it all!
Here are top 10 social media trends that went viral in Pakistan in 2016.
1. Arshad Khan aka Chai Wala
Arshad Khan aka Chai Wala is a living example of an age-old adage that miracles do happen. Jiyah Ali, a recent media graduate, who loves capturing photographs of eye-catching sights, captured the beauty of Arshad Khan in her camera without realizing that a random picture would leave such an imperishable impact on the life of a man whose only objective in life was selling tea.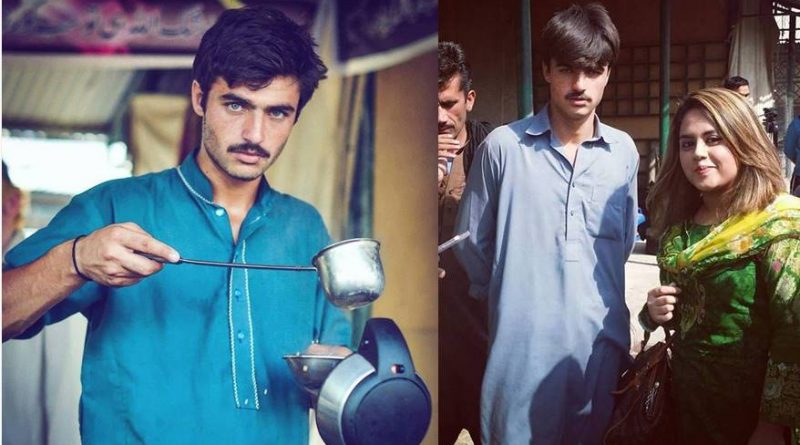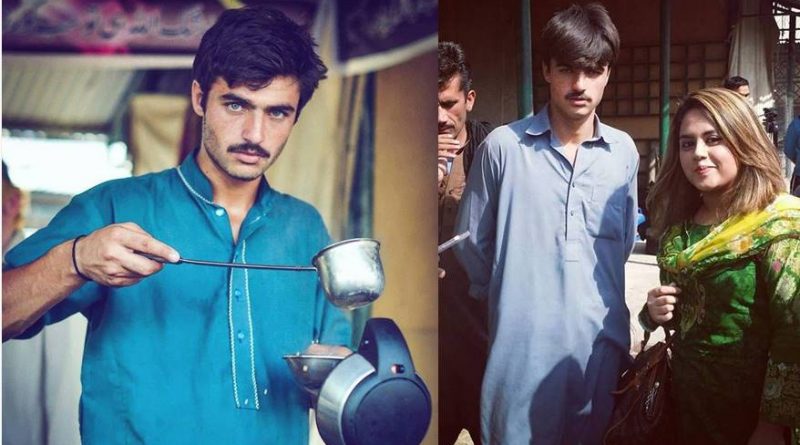 Her photograph floated all across the world, turning Arshad into an overnight star. His deep blue eyes managed to charm the girls who couldn't help going gaga over the charmingly hot tea vendor. Some days later, he landed a modeling contract for a retail website Fitin.pk with getting international coverage from CNN, BBC, Al Jazeera and Mashable. All hail, Instagram!
#Chaiwala Arshad Khan's Journey from a Dhaba to International Media!
2. Momina Mustehsan
The girl with the nightingale voice, music sensation, Momina Mustehsan catapulted to instant fame after reinventing the famous Nusrat Fateh Ali Khan Qawwali into an unplugged version on Coke Studio this year. Afreen Afreen is considered one of those Qawwalis that are imbued with passion and enthusiasm, so an attempt to revive the same passion is bravery in its own self.
Momina's debut with Rahat helped her establish as a brilliant singer on a strong musical footing. With over 4 million followers on Facebook, Momina now rules millions of Pakistani hearts, all thanks to her self-acclaimed social media fame.
3. Sheikh Rasheed at Committee Chowk
Sheikh Rasheed's dramatic entry at the PTI Rawalpindi rally on Friday left everyone in fits of laughter. He trespassed all the hurdles and barriers and reached Committee Chowk via a motorbike, playing hide and seek with the police officers

The news swept the internet within minutes and took everyone on a laughter spree.
Catch Me if You Can. 😄🚬😎😎#SheikhRasheed ( @ShkhRasheed )
Mr. Dabang !pic.twitter.com/OEwvTQJtP6

— shazoo (@shaziaKhan1000) October 28, 2016
20 Hilarious Sheikh Rasheed Tweets That Prove He is the Real Boss!
4. The False surgical strike
In order to tarnish the image of Pakistan globally, India claimed that it had launched surgical strikes and killed many militants across LoC (Line of Control). This claim turned out to be false as there were no traces of surgical strikes nor any evidence of the dead bodies of the militants.
Reality of Endian Army & their #SurgicalStrike pic.twitter.com/gD08UTEAP9

— Nomy Sahir (@Nomysahir) September 29, 2016
Be it real or fake, Twitterati ensured to have all the fun with it while they can! Memes and tweets took the internet by storm, giving Pakistanis a highly awaited opportunity to troll the Indians via a Pak vs India hilarious Twitter war.
Pakistan Vs India Twitter War on #SurgicalStrike: Tweets that Will Make You LOL
5. Ban on MQM
Pakistani politics has a funny way of never letting us down when it comes to trolling. When MQM's former leader Altaf Hussain openly confessed to supporting the activities of Indian spy organization RAW in Pakistan, a great wave of fury rushed through the hearts of the people and they lost their cool.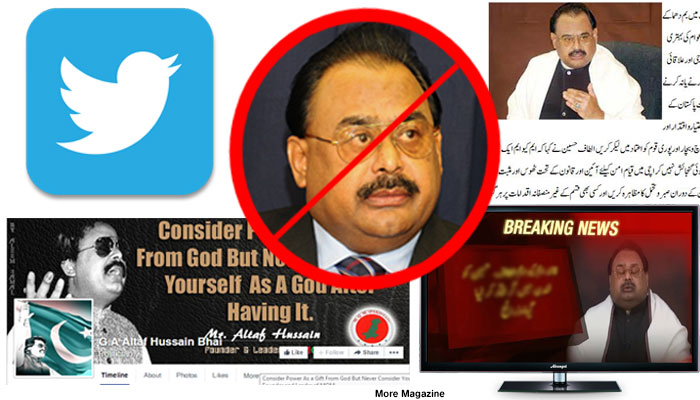 Altaf Hussain was forbidden from making any statements and the access to their website was blocked. People expressed their angst by starting a trend on social media #BANMQM. Pakistani politics became a Global Joke owed to this incident.
6. The 'sultry' Nargis Fakhri Mobilink Ad
Who can forget the epic Nargis Fakhri Mobilink ad? A sultry image of Nargis, flaunting her curves while inappropriately lying down in a red dress, spread across the bottom of an Urdu newspaper, took the internet by storm.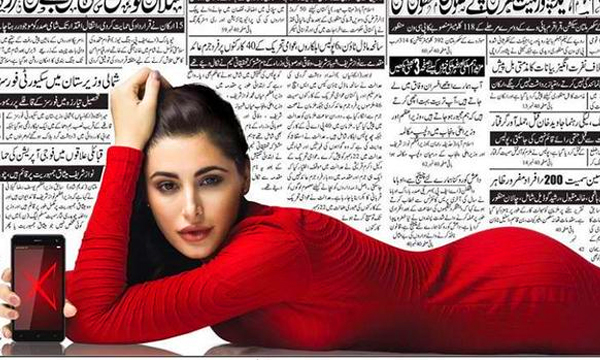 The ad received mixed reviews- while some found it hilarious, others believed it subconsciously implied the objectification of women, deeming it classless and tacky. Be what it may, the internet had its fair share of fun.
7. Ufone's Hilarious Response to Nargis Fakhri's Mobilink Ad Controversy
Ufone's strong marketing strategies always add to their glory and fame. The wit and brilliance through which they hit the nail on the head of their audience always leave us in great spirits. While Mobilink was being criticized over the Nargis Fakhri ad controversy, Ufone cashed in on this opportunity, releasing a hilarious print ad featuring Faisal Qureshi in the same pose as Nargis Fakhri.  The tagline read: 'Axcuse me, Mobile Phone humara sasta aur behtar hay'.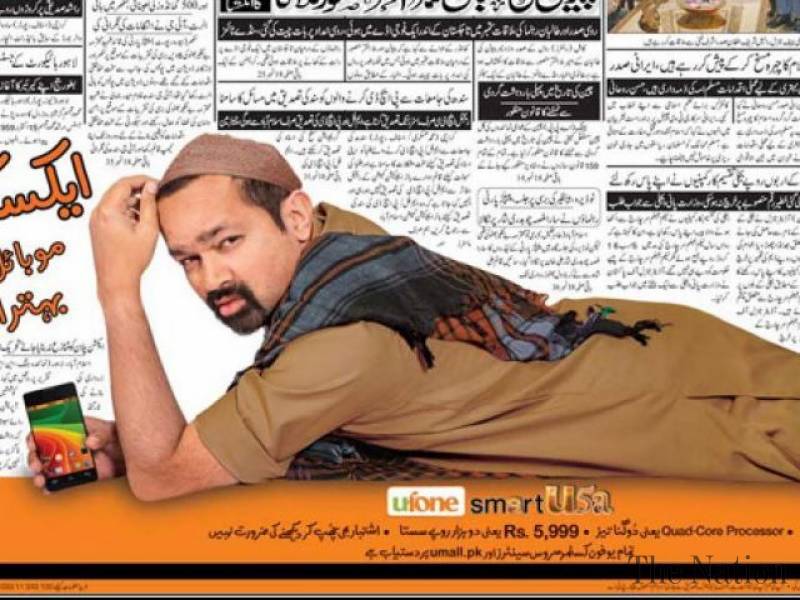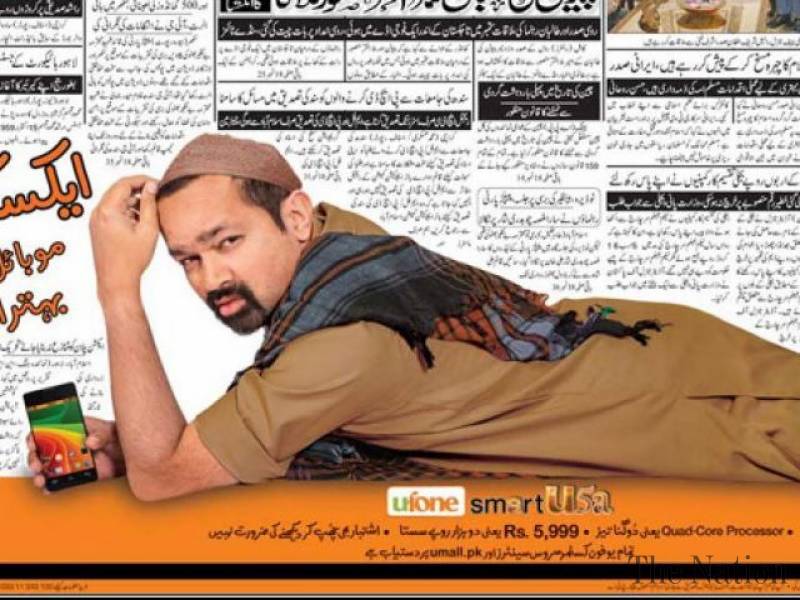 Ufone's ad literally went viral within seconds, taking the marketing competition to a whole new level.
Ufone's Hilarious Response To Mobilink Nargis Fakhri Ad Controversy
8. Amjad Sabri's Sudden Death
The celebrated qawwali maestro of Pakistan left us bereaved this year when on his way to a Ramazan transmission, he was murdered by two unknown men. His death shook the nation with #AmjadSabri trending on Twitter for days.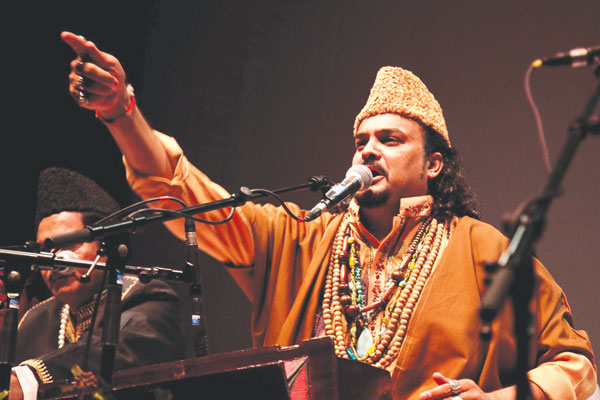 Fans, young and old, celebrities and friends alike, shared the legend's qawwalis on social media and paid tribute to him by sharing memes, messages, and tweets. He'll forever be cherished in our hearts.
9. Edhi's Demise that Shook the Nation
2016 was definitely a black year for Pakistan as it lost two of its great legendary figures: Amjad Sabri and Abdul Sattar Edhi. Edhi was a humanitarian and philanthropist whose services for mankind are immeasurable. The man who devoted his whole life in catering to the needs of others, passed away this year, leaving the whole nation distressed.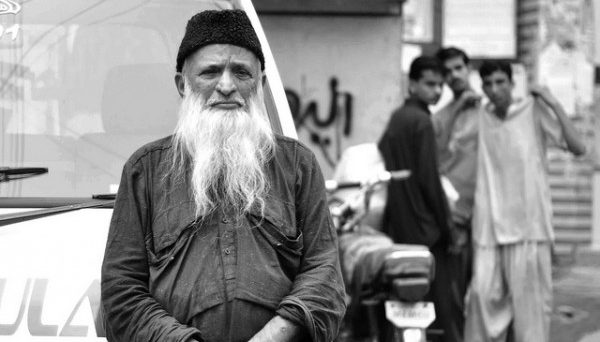 There is no one who can replace the great, Abdul Sattar Edhi- the void can never be filled.
10. The controversial Qandeel Baloch's Honor Killing
The once popular 'controversial social media Queen', Qandeel Baloch's mysterious death sparked a huge controversy. Qandeel rose to fame by posting obscene images and videos on social media, often being labelled as the Kim Kardashian of Pakistan. People did not stop calling her names even when she became a victim in the spate of honor killings.
The good thing is that her murder didn't go wasted as it helped in underpinning the approval of anti-honor and anti-rape bills.
What do you think of this post? Let us know in the comments section below.
Stay tuned to Brandsynario for more updates.
Contributed by Fizza Abbas.