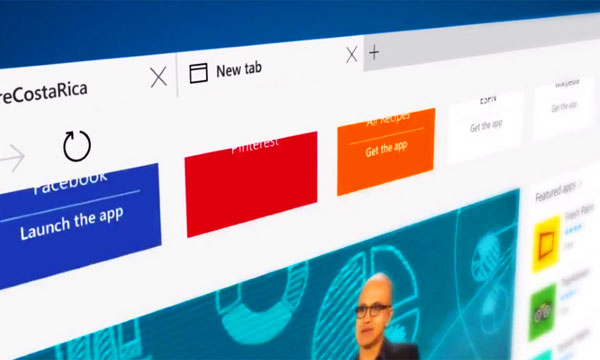 If you have ever thought that Microsoft could do a much better job while experiencing slow internet browsing from Internet Explorer; this post is exactly meant for you! Microsoft has finally played its card after a long awaited silence and launched its new browser-Microsoft Edge, also known as Project Spartan.This new browser will be introduced in Windows 10.
Here are all the reasons to give it a try:
1) Speed: It's much faster than Internet Explorer and Chrome
Undoubtedly, when it comes to browsing, nothing is more important than speed. If this what you are looking for above all; then be relieved as in the Future mark Peacekeeper browser performance test, it scored 1248 compared to Chrome which just scored 447.
Forget the numbers! Is it faster than Chrome?
Yes, it is! As per Sun Spider Java Script, Edge is twice as quick as Chrome.
Read More: Microsoft Office Suite Now Available on Android Phones as Free Apps
2) More reader-friendly
Nothing is more irritating than the popups disturbing your reading experience. The Edge browser offers an incredibly convenient reader mode. All that's needed to be done is to click the Reader icon in the toolbar and the page will reload in an easy to view layout. A click again takes it back to the original web page. Simple!
3) Provides a handy Reading List

It's very much similar to the 'To-read' list, which allows you to mark and keep track of things that you might like to check out later.
How to do it?
To add an item, you can just click the 'favorite' icon in the taskbar, and from there, you can select whether it should go in a bookmarks folder or straight into your reading list.
Related: How to Upgrade to Microsoft Windows 10
4) It's much safer
Sure, it may not be so important to you when choosing your browser, but it is surely worth considering. To ensure that Edge doesn't become the victim of malware vendors, hackers or virus creators the way Internet Explorer did; it has taken special technical measures to ensure that no one gets access to the rest of the system.
 5) It's simple
No one enjoys using a cluttered and confusing browser.Therefore, Edge offers a clean and straightforward surfing experience.For a change of options, the settings menu is located on the right-hand side of the screen which is accessible via the ellipsis (…) button.
6) Cortana makes your experience even better
Think of Cortana as your loyal personal assistant that will look up words or phrases that you highlight and bring you contextually relevant information as you browse the Web.
How to use it? Simply you need to highlight words and then right-click to select 'Ask Cortana'. Depending on what you're asking, you'll get a range of results.
Also see: Microsoft's Bing is Now a Better Video Search Engine than YouTube & Google
7) It's really easy to annotate and share pages
Edge enables easy sharing of pages by just highlighting certain parts, suggest changes when required and then sharing it via installed apps.
8) It always welcomes feedback
It accepts that even their best may not be perfect. Hence, you can leave feedback on websites, or tweak recipes you find online and give them a chance to provide even better solutions in future.
9) Web Note is worth a try
Web Note lets you mark up a Web page using your stylus or finger  and then save that scribbled-on Web page to your Microsoft OneNote app and share it with others. It can also be used to highlight text or clip sections of the page.
10) Support from Browser Extensions
According to the company, it is bringing support for extensions to Edge later this year. These are built for other modern browsers using common Web technologies like JavaScript and HTML will work with Microsoft Edge with little or no code changes.
Even with all these details in hand, it is difficult to draw conclusions as yet. For now, How about you give it a try and let us know your experience in the comments below!