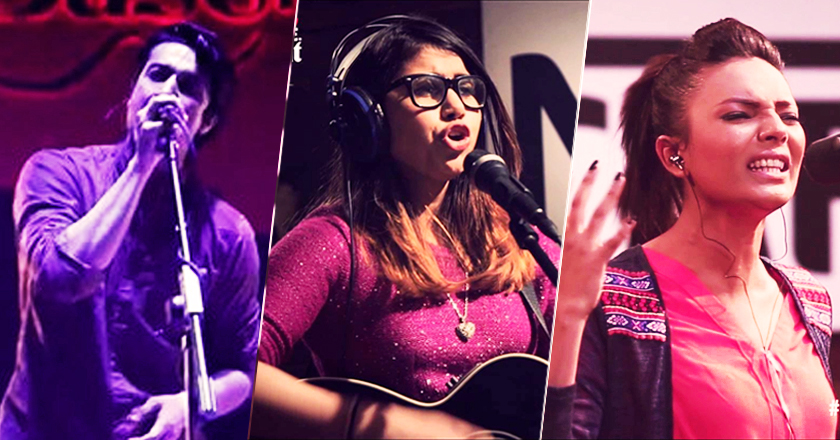 Nescafe Basement started off low-key despite having a popular brand name attached to the music show. The platform grew bigger and better over time, marking its excellence by completing its 4th season.
It's not surprising how branded music shows such as Nescafe Basement have become the safe haven for Pakistan's music industry ever since artists underwent isolation due to lack of talent endorsement. With every jam at the basement, rises a new star, which is the best part about the show.
Nescafe's latest season significantly rose its bar by giving us a variety of talented musicians and cover songs along with nostalgic vibes.
The songs listed are the most cherished and popular episodes of Nescafe Basement.
1. Kameez Teri Kaali
Kameez teri kali is formerly sung by Attaullah Khan. Mehak Ali ft. Farhan Ali on bass covered the song beautifully; the song is produced by Xulfi.
2. Kitni Saadiyan
Kitni Saadiyan has to be my most favourite song plus video from the fourth season. The song is a tribute to legendary guitarist Faraz Anwar. The handsome vocalists include Asfar Hussain, Rizwan Anwar, Hamza Tanveer, Sherry Khattak, Kristin Kanaria, Zeeshan Ali, Zaryab Sultan, Richie Robinson, Abdullah Qureshi, Shahmir Quidwai and the beautiful Maria Fatima.
3. Bhangi
https://www.youtube.com/watch?v=Asxf83BuHPQ
Bhangi is sung by Rizwan Butt along with Bilawal Lahooti on drums. The team includes Usman Sheikh and Sherry Khattak on electric guitar, Haider Abbas on bass guitar, and  Hassaan Bin Akhtar on the keyboard.
4. Sajna
https://www.youtube.com/watch?v=bxy10bL-OD0
Sibtain Khalid covered 'Sajna' at the Nescafe Basement along with his team including Amna Imtiaz and Sibra Sharmeen as back vocalists, Sharoon Leo on Violin, Usman Sheikh on bass, and Bilawal Lahooti on drums.
5. What Do You Want From Me

One of my favourite songs by Adam Lambert on his debut album 'Four Your Entertainment' was covered at the Nescafe Basement by everyone's persisting crush Parizae Azhar.
6. Tu Mera Nahi
'Tu Mera Nahi' is originally sung and covered by Rizwan Anwar along with Omar Farooq on the bass. The team includes Sharoon Leo on violin, Sherry Khattak on electric guitars, Maham Riaz on the keys, and Bilwal Lahoori on the drums.
7. Nishaan
https://www.youtube.com/watch?v=UbFCstMH-To
If you're a fan of rock music, this song is specifically for you! The Pakistani boys are rocking this episode. Sherry Khattak, Ali Suhail, Altamash Server, Maria Fatima and Parizae Azhar are the vocalists for this must-listen tune while driving.
8. Allah hoo
https://www.youtube.com/watch?v=H1jxbXuSaq0
Allah hoo is originally sung by Nusrat Fateh Ali Khan. The song is covered by Hamza Tanveer, Rizwan Butt and Sibtain Khalid who did justice to the song.
The team includes Bilawal Lahooti on drums, Melvin Arthur on bass guitar, Hassan Bin Akhtar on keyboard, Usman Sheikh and Sherry Khattak on the electric guitar, Sharoon Leo on violin, Haroon Leo on acoustic guitar, and Amna Imtiaz and Sibra Sharmeen backing vocals.
9. Kal Nahi
Kal Nahi is a Nescafe Basement original by Sherry Khattak and Bilawal Lahooti. The director of the song is Muhammad Usman Dadi along with Sherry Khattak on the vocals and electric guitar.
10. Pee Jaon
https://www.youtube.com/watch?v=1WdxSWgRPFk
Pee Jaon is a song originally sung by Farhan Saeed. Artists who've covered the song at Nescafe Basement include Hamza Tanveer and Momina Mustehsan. Bilawal Lahooti on Drums, Amna Imtiaz and Sibra Sharmeen on backing vocals.
The team includes Rahim Shahbaz on bass guitar, Arslan Hasan on keyboards, and Arfa Chaudry on electric sitar.
Stay tuned to Brandsynario for more updates.
Contributed by Laiba Omer
Disclaimer: The views expressed below solely belong to the writer and does not necessarily imply Brandsynario's opinion towards an individual, organization or a group.