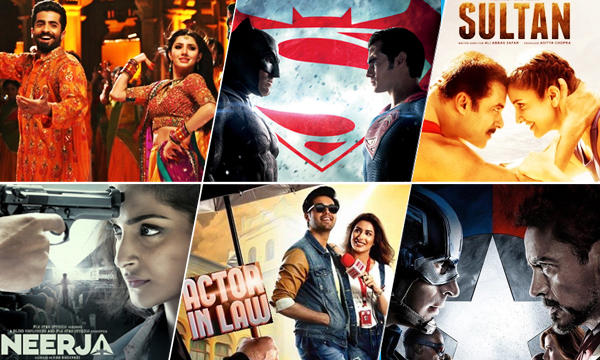 Like music and book lovers, avid movie fans know no boundaries. Be it Hollywood, Bollywood, or Lollywood, cinema landscape is expanding at a fast pace with interesting scripts, ace-directors, magnificent visuals and astounding music! Movie fanatics will watch any movie as long as it delivers the promised 'entertainment' factor. Despite being a year we would all like to wipe off our memories, 2016 wasn't too disappointing for in terms of producing some of the best movies.
Here's a complete roundup of this year's best movies that are bound to stay on our minds for years to come, starting with our very own Pakistani cinema.
Pakistani Movies
1. Ho Mann Jahaan
With a stellar cast, the year 2016 began with a breath of fresh air with Ho Man Jahaan. Directed by Asim Raza, this movie about following your dreams sets new standards for music and cinematography in Pakistani cinema. The dreamy leading trio of Mahira, Adeel, and Shehryaar, delivered stunning performances that more than made up for a very predictable plot.
If you are in the mood for incredibly memorable tracks, intense drama, and light comedy, this one is a must-watch.
2. Actor in Law
For anyone who has been disappointed in Hollywood and Bollywood comedies lately, Actor in Law is a fresh breath of air. Fahad Mustafa solidifies his silver-screen presence with his flawless expressions and great comic timing.
https://www.youtube.com/watch?v=2avSl_pwTcE
With a smart script and clever direction, Nabeel Qureshi over exceeded expectations after Na Maloom Afraad. The movie packed more laughs than we expected, reaping some magnificent numbers at the box office!
3. Dobara Phir Se 
With Mehreen Jabbar at the helm, one cannot expect anything less than a gem. While the title and picture-perfect trailers made it seem like a typical love story, the movie was so much more than a cliched romantic comedy.
With a dream cast including some of the Pakistan's A-list names, Dobara Phir Se flaunts some moving performances, enhancing an already enthralling script and setting a new benchmark for cinematography. Effortlessly seizing all the limelight from the rest of Pakistani movie ventures, Mehreen Jabbar's inspirational magnum opus is unmissable! 
4. Janaan
Janaan leads the romantic-comedy genre this year if one overlooks the not-so-real portrayal of the Pakhtoon culture. While the storyline was nothing out of the ordinary, the lighthearted movie managed to keep viewers hooked. Flaunting soulful music and garnished with frequent doses of light comedy, cinema goers left with beaming, happy faces.
https://www.youtube.com/watch?v=Q7ezcQxyDJY
Top 10 Movies Releasing in December 2016 That You Must Watch!
Bollywood
5. Sultan
Sultan happens to be one of the few Salman Khan movies equally liked by people who aren't part of the Sallu Bhai fan club. The real life biopic had an appeal similar to that of the first Rocky movie. While the wrestling scenes get the blood rushing, the background love story and the beautifully incorporated feminist angle pack a lot of substance.
Sultan is powerfully inspiring and Salman's best performances till date!
6. Neerja
Bollywood is finally learning how to tell it like it is. Airlift and then Neerja, both movies based on real life incidents portraying powerful real-life characters were received with well-deserved praises and big box office business. Based on the brave Neerja Bhanot, the movie shines with its powerful script, amazing performances, and of course, outclass direction.
7. Udta Punjab
Directed by Abhishek Chaubey, the Bollywood's June release Udta Punjab powerfully highlighted the insurgence of substance abuse among the youth in the Indian state of Punjab. Revolving around the lives of four youngsters, a rock star, a migrant laborer, a doctor and a policeman, Udta Punjab will give you goosebumps.
10 Controversial Bollywood Movies that Were Banned in Pakistan!
Hollywood
8. Captain America: Civil War
With the way storylines in the Marvel cinematic universe are converging, we had great expectations from Captain America: Civil War, and it definitely delivered. The movie broke several box office records and was received positively by critics and fans alike.
9. Batman vs. Superman
Haters may call it the worst Superman or Batman movie ever but the fact of the matter is, it did record-breaking business all over the world. To be honest, it wasn't a bad movie considering the fact that it was supposed to be more of an introduction to the many DC movies to come.
Not to mention, Zack Snyder once again proved his cinematographic excellence with outrageous action sequences, worth watching again and again.
10. Finding Dory
Remember that forgetful blue fish in Finding Nemo? This movie follows the clumsy blue tang on her adventure as she sets on a journey to find her parents, along with her old friends Nemo and Marlin. Funny and, at times, emotional, the movie is just as entertaining as its prequel.
Which one of these is your favourite? Let us know in the comments below and stay tuned to Brandsynario for more updates.
Contributed by: Quratulain Khan