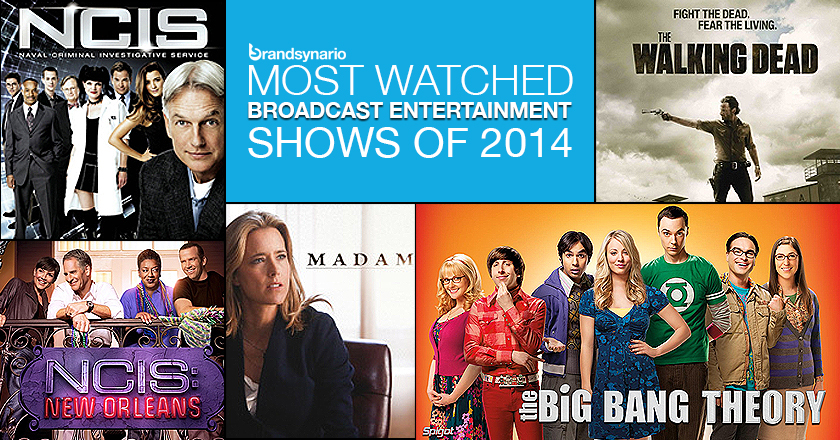 Carat, the renowned media agency based in New York, just released its list of most watched entertainment TV shows in the year 2014, based on Nielsen ratings. These ratings measure the size of live audience and same day ratings of the TV shows aired during prime time all year long.
All of the series in the NCIS franchise bagged positions in the Top Ten list with the original NCIS taking the first place, followed by the ever popular Big Bang Theory. The NCIS spin-offs, NCIS: New Orleans and NCIS: Los Angeles, took up the third and fourth positions respectively, bagging all top four positions for Eye Network.
Amongst the cable series, AMC's The Walking Dead made to the top ten list, attaining the fifth position. From the reality TV shows, ABC Network's Dancing with the Stars and NBC's the Voice (both airing days) were listed as one of the most watched entertainment shows in 2014. Amongst other top contenders were CBS's Madam Secretary and Blue Blood. Surprisingly, none of the Fox TV's shows made it to the list.
It should be noted that the released list was drafted based on two different seasons, that is, the end of 2013-2014 and the start of 2014-2015 seasons. Since some of the series premiered in the second half of the year like NCIS: New Orleans and Madam Secretary and some like Big Bang Theory aired at multiple and different time slots throughout the year, the list was finalized using the weighted average of all original episodes during the year.
While the list reflects a good picture of what was most watched, since the past year, there has been an increase in delayed viewing. The results might have been different if viewing on the delayed basis were taken into account for all shows.