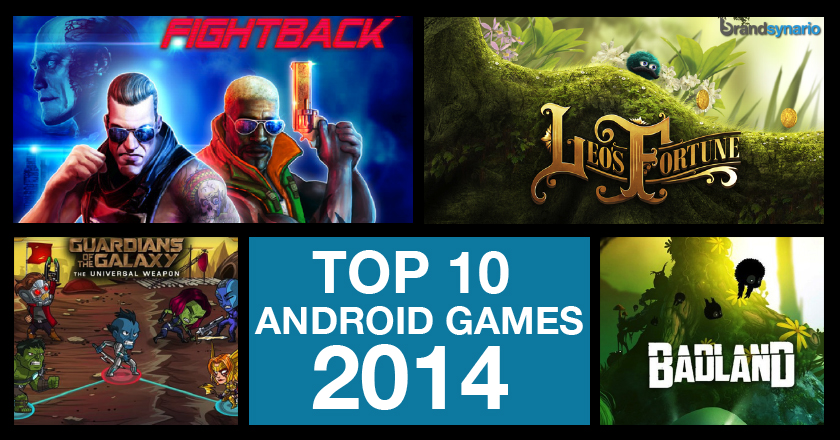 Have you recently bought that Android phone you had always wanted to get your hands on? Or was it a birthday gift from your parents? Do you feel butterflies in your tummy when you show your new phone to your friends? We have all been there and we know what that feeling is like! But what is the first thing our friends do when we hand them our phone? Yes, they ask us what games we have on there! After all, these games are the best way to kill time!
Android had been facing a dilemma for quite some time. Its games were always considered second-rate when compared to the games released for the iOS. The tides have turned now, somewhat, as new games, developed by big and small studios alike, are being added on the Google Play Store on a daily basis.
From the chaotic scenarios of endless runners to to extremely addictive strategic RPGs to intense fighting games to the turn-based sports games, the Play Store has an unbelievable variety of games for people of all ages.
Here, we look at the top 10 of the newest Android games that are available for an ultimately low price or totally free!
1) Fightback

What do you do when you find out some one has kidnapped your dearly loved sister? You set out, heavy weapons drawn, all-guns blazing, to kick some #$% and retrieve her! Fightback has a glut of intense action scenes, the intensity increasing with every level. Draw all your guns out and get ready for some heavy-action fun!
2) Clash of Clans

Making the jump from the iOS, Clash of Clans, created by renowned game developers 'Supercell', brings its addictive strategic city-building gameplay to the Android users. You are made the leader of your clan; where the main objective is to build up your people's villages, develop your infrastructure, and fend off attacks from hordes of goblins and even other players.
3) Leo's Fortune

With beautifully hand-crafted levels, lush sceneries, and a gripping plot, Leo's Fortune revolves around the story of a mustachioed fluff-ball whose gold has been stolen by someone and you are set out to retrieve it! The amazing graphics bring Leo's adventurous quest to life with this awe-inspiring game.
4) Shadow Fight 2

After the unprecedented success of the game on Facebook and iOS, chief developers 'Nekki' released Shadow Fight 2 on the Android platform. With over 5 million downloads within the first two weeks of its release, the game brings shadow fighting (literally) to new levels by bringing Ninjas and Martial Arts tournament fighting into one game. You, as a ninja, must learn the art of shadow fighting and impress your old master!
5) Guardians of the Galaxy

As if the release of the smash-hit movie was not enough, Guardians of the Galaxy now has a game too. And dare I say it just might be better than the movie itself! You have to team up with star-Lord, Groot, Drax, Rocket, and Gamora, and secure the five pieces of The Universal Weapon before Ronan the Accuser takes possession of it. In short, save the galaxy. Let's go, Guardians!
6) F18 Carrier Landing II

The flight deck is only 150 meters long. You have to take control of the F18 airline and land it. Sounds simple, doesn't it? Take a challenge and see if you can do what most pilots find the most difficult to do while operating an aircraft. Land it!
7. Game of Thrones Ascent

A strategic RPG. A Game of Thrones game. Need I say more? Just like the TV show (and of course the books), you have to build your noble house, embark on quests, and rise in power!
8. Dino Hunter: Deadly Shores

Deadly Shores takes you back to the Jurassic Park days, when you believed that Dinosaurs would kill you if you don't kill them. That is exactly what you have to do in this game. Set out on a dinosaur hunting expedition, and kill some dinos – before you become their victim!
9. BADLAND

With gorgeous visuals, simple and soothing sounds, the cute puffball creature, and amazing mechanics, this game has all the ingredients for it to be an instant hit amongst the users. The objective is simple – to fly and survive through the different terrains. The controls? A simple touch on the screen is on, while release is off. It does not get any simpler than that. But, as the levels grow, your reflexes and tactical abilities are seriously tested. Are you game enough to try it?
10. Transworld Endless Skater

The list would be incomplete without the addition of a free-runner-esque game. However, long gone are the days when people would go on endless running adventures, rolling, spinning, jumping and avoiding obstacles, collecting coins, and whatnot. The Transworld Endless Skater lets you go on an endless-skating journey, where you can flip, grind, grab, Ollie, and make high scores!