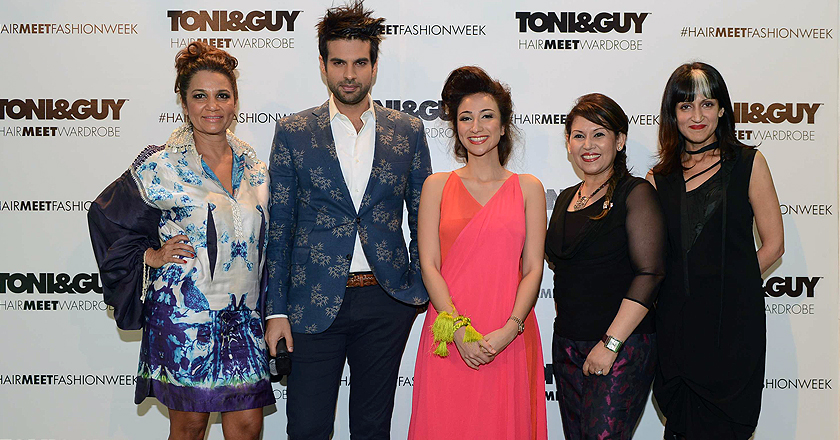 After it's global trend setting success, Britain's most celebrated hair-styling brand, TONI&GUY introduced the 'Hair Meet Wardrobe' campaign which has pioneered  the 'dressing from head down' philosophy.
Recently, the campaign dazzled celebrities, fashion designers, fashion editors and socialites with three days coverage of FPW 6 where they introduced three looks, Glamour, Classic and Casual through leading designers Shehla Chatoor, Maheen Karim, and Sadaf Malaterre.
The hair styling was done by the Artistic Director of TONI&GUY, Saeeda Mandviwalla and her team.
Speaking on the success of the campaign, Brand Manager, TONI&GUY HMW, Sneha Khawaja said,
"This year we came up with an exciting campaign truly celebrating the head-to-toe philosophy of the brand on both red carpet, backstage, and on the catwalk. To maintain excitement and curiosity with our key fashion personalities, a different designer, celebrity muse and relevant LFW S/S14 hairstyles using TONI&GUY HMW styling products were revealed in our TONI&GUY HMW Lounge.  Changing the reveal lounge furniture and set up each day was vital to having our audience feel the different attitudes that persist throughout some of our eclectic styling ranges in the local market: Glamour, Classic, Casual."
The TONI&GUY HMW show was choreographed by renowned Frieha Altaf.
Day 1 of FPW 2014 witnessed the beautiful and glamorous Humaima Malik in Shehla Chatoor's design for the night.
The idea behind this capsule collection was to showcase the philosophy of TONI&GUY HMW that the hair can be worn as an accessory and with the perfect wardrobe you need a perfect hair style to make it a hit.
Day 2 of HMW 2014 featured Maheen Karim's collection, styled using the Classic HMW range.  The collaboration of TONI&GUY HMW range, hairstyling by Saeeda and team, and the Classic wardrobe of Maheen Karim were fabulously received by a huge applause from the audience.
The multi-talented Ayesha Omer was the muse , displaying the HMW Classic head to toe look.  
Day 3: TONI&GUY HMW featured Sadaf Malaterre's collection with the Casual HMW range worn by Anoushay Asharaf.
Watch the Event's Red Carpet Ceremony, right here:
Sneak Peak of TONI&GUY HairMeetWardrobe Red Carpet at FPWS 2014 from TONI&GUY HMW on Vimeo.
"My vision was to give all the girls and guys  out there the products, tools and techniques to stay on trend and blend wardrobe with hairstyles, from head to toe or root to tip", Said Saeeda Mandviwala, Artistic Director TONI&GUY