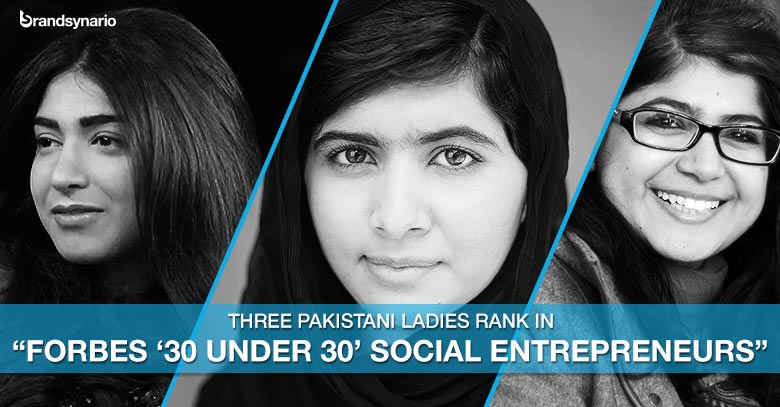 Forbes recently presented its third annual '30 under 30' – a list that showcases the brightest stars in 15 different fields under the age of 30 – this year however three Pakistanis and two Indians make the list.
Surprisingly enough, the country blamed for suppressing its women has three of its women feature in the Forbes top 30 social entrepreneurs. Let's look at the three Pakistani women
1. Khalida Brohi – 25 Years Old
  Khalida Brohi watched her friend being killed in the name of bogus 'honor' for marrying someone she loved; Brohi was 16 at that time.
This experience inspired Brohi to start an NPO empowering women; she named it "Sughar" a nonprofit organization working in 23 villages across the rural Pakistan.
In just six-months of time, these women gained business skills along with crafts like turning the traditional embroidery into commercial fashion products. For this achievement, Brohi stars in the Forbes top 30.
2. Shiza Shahid – 24 Years Old
Shiza Shahid is a Stanford Grad and McKinsey consultant, who works for 'Malala Fund', as chief strategist. She met Malala in 2009, when Malala was still young and had been recently shot by the Talibans.
"While I was there by her side," says Shahid, "she woke up and said, 'I want to continue my campaign.' This fueled Shiza Shahid's ambitions for Malala's vision, as she thought to herself the ways they could leverage Malala's voice ways that would drive this energy around Malala into some meaningful action.
The answer sprouted in the form of "Malala Fund", founded to turn her vision for girls' education into reality.
Malala's Funds till date have grown to be somewhere around $400,000 pooled half from World Bank and half from Angelina Jolie and Brad Pitt.
3. Malala Yousafzai – 16 Years Old
Who doesn't know Malala? The sixteen year old girl has become a global phenomenon.
Ever since Malala fell victim of narrow minded extremism, in October 2012, as she was shot for becoming the voice for women rights and women empowerment, it seems she has received all kinds of praise and awards one could imagine.
She ranked in Times Person of the Year even got short listed for the Nobel peace Prize, received numerous awards in almost all platforms of the world.
Malala has also appeared on The Daily Show, along with penning an autobiography "I Am Malala." The 16 year old wonder Girl is now using her fame to further women education and empowerment.