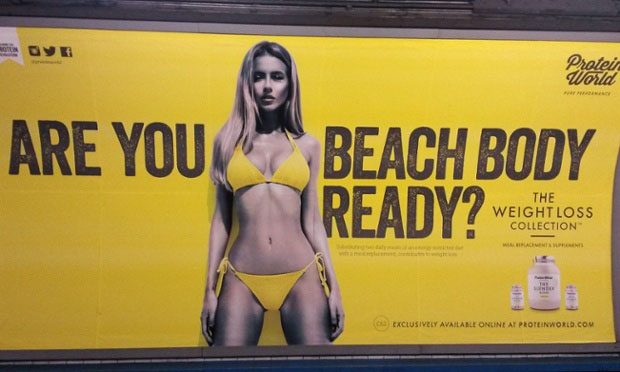 218 views
In spite of the alarming number of complaints and backlash against Protein World's controversial "beach body ready" campaign for objectifying women, the Advertising Standards Authority (ASA) ruled in favor of the billboard poster, claiming it as "not offensive" .
Showcasing a slender, toned female clad in a bright yellow bikini, the bold advert flashes a headline "Are you Beach Body Ready" to tout a collection of weight loss slimming potions.
Since its release on the walls of the tube stations of London back in April, the advert had sparked an outrage for being claimed as "body-shaming" and "socially irresponsible".
However, even a massive protest on London's Hyde Park and a petition on Change.org of more than 71000 signatures failed to prove its point to the U.K watchdog team that the advert clearly passed a message of "physical inferiority".
"We did not consider the image of the model would shame women who had different body shapes into believing they needed to take a slimming supplement to feel confident wearing swimwear in public" said the ASA in a statement.
Whilst it is claimed that the brazen advert did not breach any advertising code of U.K, it has been banned due to campaign's unauthorized claims on health and nutrition.
In its defense, Protein World argued that the campaign's idea was to invite consumers to think if they were as fit for the summer as they want themselves to be and overall shunned the idea that the campaign was morally offensive toward the women.
The head of global marketing of Protein World revealed in an interview the campaign turned out to be a mega success, even though the company faced violent bomb threats for rolling its outdoor advert.
Do you think the advert is "body-shaming" in nature?
Share your views in the comments below.