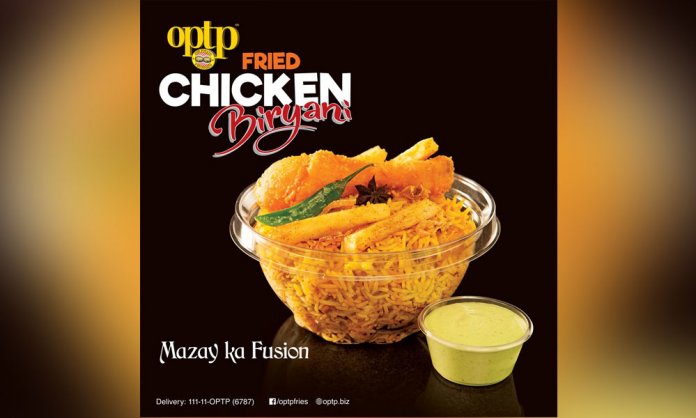 Pakistani's love for food knows no bounds and when it comes to Biryani, things can get pretty personal.
Biryani love is pretty serious – and so when one Karachi eatery tried to bring their own twist to it, things didn't go down so well.
Here's the deal!
One Potato Two Potato are famous for their French fries and rightly so! Not only are they absolutely delicious – perfectly golden and crispy – but the different toppings and flavors really add an extra "oomph" to the overall taste.
The local eatery is notorious for is for experimenting with different dishes to create their own fusion and offer something new to their fans.
So this time too, they decided to "spice things up" and teased their new innovation!
Sharing their excitement for the upcoming promotion for Eid, OPTP posted:
Prepared to be amazed? Guess what are we upto bringing your way!

Guess & Win.

10 Winners will be selected randomly.#OPTP #DifferentIsGood #NewProduct #ComingSoon #GuessAndWin pic.twitter.com/h7fC8RxRr6

— OPTP (@OPTP_fries) June 10, 2018
Well with a post like that, you can bet that people would be curious and excited!
However, things quickly turned "sour" when they realized that OPTP had dared to experiment with their much-loved Biryani!
OPTP finally revealed the mystery dish to be the "Fried Chicken Biryani" on their Twitter!
The Wait is Over! Introducing OPTP Fried Chicken Biryani, an Exciting Culinary Fusion of East and West, combined to bring to you our tantalizing version of the most popular rice dish in Pakistan.
Hai Na Mazay Ka Fusion?
Limited Time Product.#OPTPFriedChickenBiryani pic.twitter.com/A1liaVCCju

— OPTP (@OPTP_fries) June 11, 2018
And we can rightly say that Twitteratis lost their cool!
Things turned ugly for the popular food chain as loyal biryani lovers roasted the brand for trolling with their feelings like this!
While some took a strong stand against the dish…
HAR AALOO CHICKEN AUR CHAWAL KI DISH BIRYANI NAHI HOTI. pic.twitter.com/XsHBUqqCDO

— حنا صفدر HURRY UP (@hinasafi) June 11, 2018
Others were downright upset over this impertinence! 
OPTP first showed up with nutella fries and now this… can forgive nutella fries but not this😰😰 biryani ka mazak nae 😕

— Kolachi, N. (2015) (@NeeraKolachi) June 12, 2018
Some even questioned the brand's objectives and goals!
My reaction was holy shiz after chocolate fries, now this?
Do they only care about making people fool and achieve certain target rather than making it sustainable and a hit product?

— Ammara. (@SyedaaAmmara) June 11, 2018
Whereas one openly condemned this fusion dish!
EVEN THAT BADYAN KA PHOOL DOESN'T MAKE IT BIRYANI.
HOW DO I CONDEMN THIS FUSION?

— حنا صفدر HURRY UP (@hinasafi) June 11, 2018
However, some were actually hopeful about the dish and decided to share their two-cents on it.
@OptpPk launches #BIRYANI
The Rice The Chicken and THE AALU 🤣🎉 served with garlic mayo though, which is a little off taste sideline.
It's actually pretty good!#ShareYourMeal⁠ ⁠#OPTP is a Kiraanchiite 🙈 pic.twitter.com/k5wRso06OF

— Zenub Babur Butt (@QararaRasha) June 11, 2018
Hmm… going by the reactions, we are sure that many more will have an opinion on this "exciting" combination. And it seems that they won't be so tasteful.
Will you be trying OPTP's fried chicken biryani? Let us know in the comments below.
Ghousia Nalli Biryani in Karachi: The Biggest Food Craze of the Year!
Stay tuned to Brandsynario for more news and updates.