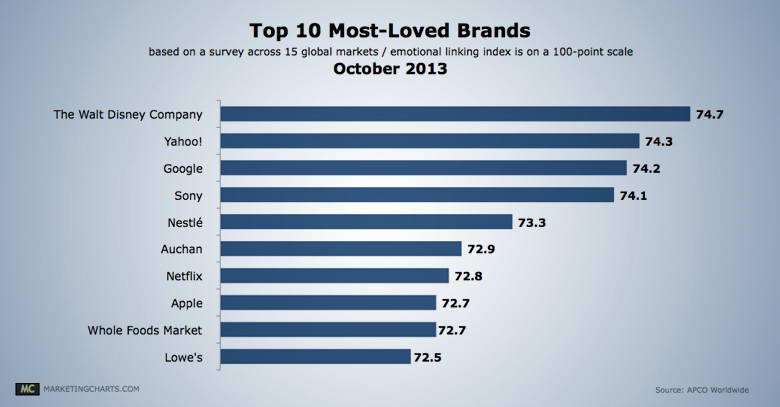 By Zulfiqar Ali Sajwani
Be it an aspiring or a well established brand, every brand aims to establish a healthy brand-consumer relationship and what else can be more longstanding than 'love'.
Therefore, APCO Worldwide has recently published a study that reveals the "world's most loved brands".
The Emotional Linking Index which helped the researchers measure the 'love' of the consumers was based on eight critical emotions including Understanding, Approachability, Relevance, Admiration, Curiosity, Identification, Empowerment and Pride.
The Walt Disney Company
Not to much surprise, topping the list is none other than our very own 'fantasy' company called The Walt Disney Company.
The entertainment company carries an emotional linking index of 74.7, which can be credited to the coverage of a large age group by its products and services.
From theme parks to cartoons to goodies, Disney has ensured that it has a deep bond with its customers, that helps the brand win this prestigious place in the hearts of its fans.
Yahoo and Google
Closely following Disney are the technology giants Yahoo! and Google with ELI of 74.3 and 74.2 respectively. With Yahoo! recently changing its yoddler and Google doodling around with its interesting interfaces, the fierce competitors have together made their distinct places in the top 10 list.
Sony
At number 4 is yet another innovation leader Sony. With the Xperia's amazing HD technology and Bravia's lifelike experience, the Japanese tech savior has added mesmerizing colors to the lives of consumers, getting a 74.1 ELI rating as a reward.
Nestle
If you are wondering how come an FMCG brand has not entered the list yet, Nestle enters the list at number 5. The company holds a wide portfolio with almost every consumer product including chocolates, milk, water etc, helping it achieve a score of 73.3.
Auchen and others
At number 6 stands the French retailer Auchen at 72.9, which is proceeded by Netflix (72.8), Whole Foods Market (72.7), Apple (72.7) and Lowe's (72.5).
To much astonishment, the giant social network Facebook failed to make it to the top 10 list. Infact, it lies way down at number 81 position, and is sadly the only social network in the top 100 list.
Even the automobile kings like GE and Toyota do not appear on the list; being considered as some of the most valued brands, this fact comes as a shock too.
As far as the ranking is concerned, it was established after a comprehensive study on 600 corporate brands all over the world among 70,000 individuals living in 15 markets.
What do you think? What would be the most loved brands in Pakistan?