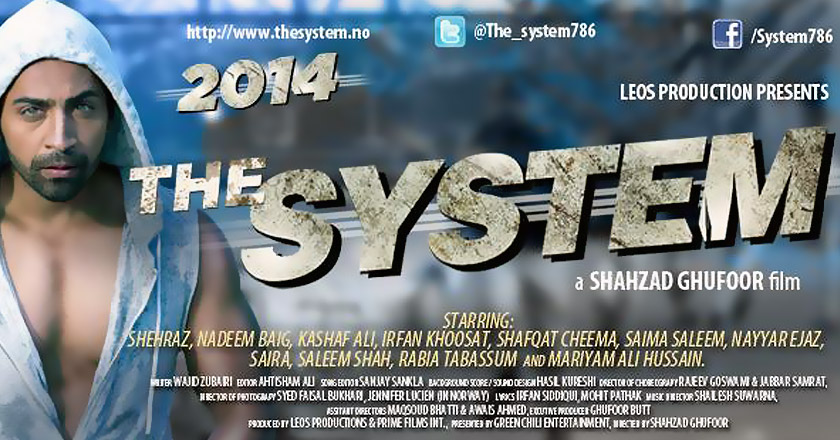 After the successful theatrical release of Waar, Pakistani cinema is all set to launch its next big action movie, "The System". The first trailer of the movie has just been aired.
A Shehzad Ghafoor's production, The System is the second action flick of the renewed Pakistani cinema. As the name suggests, the movie focuses upon the corrupt system of Pakistan, a sad but true reality.
Shehzad Ghafoor, a Norwegian distributor and also the son of Pakistani film distributor and producer Ghafoor Butt, is directing his first ever film. Shehza has previously directed some short films and adverts.
Have a look at The System's trailer right here,
The film's director expressed his opinion about the movie in the following words,
"Our country's film industry was on its way down," while further adding he said, "Last year when I visited, I came across a script which I liked and I thought why wait until times improve. We should start now."
The System also stars some new faces, including the heroic Shehraz and the Pakistani beauty Kashaf Ali in lead roles.
In order to bring something different to Pakistani cinema, two of the movie's songs have been shot in Norwaywhile majority of the movie has been shot in India and Pakistan.
To provide the movie with a super fine touch, the director has taken help from Bollywood professionals and has used latest cameras for film's production. In Shehzad's own words, "We are doing something unique, because we have hired a lot of the technical team from India,"
Except for marvelous production and direction, the movie also features four soulful sound tracks, sung by well known singers including Javed Ali, Rahat Fateh Ali Khan, Komal Rizvi, Palak Muchal and Mohit Pathak.
Defining the sole purpose for this amazing direction, Sheraz says,
"Our goal is [to do] a project that can improve the value of the industry," and he added, "We need to move beyond Gujjar-style films otherwise our industry won't survive."
All set to hit the cinema's in May 2014, the movie promises much entertainment for the viewers.