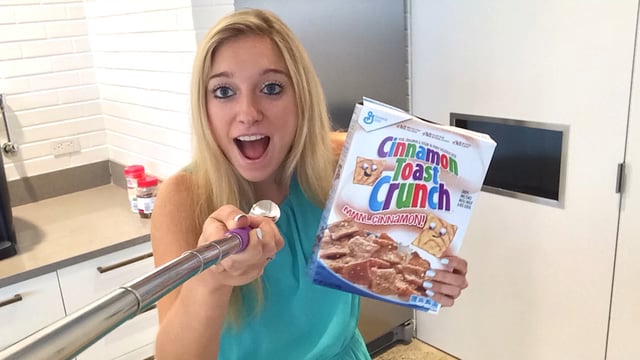 All you budding food photographers and die-hard selfie addicts, rejoice! The world has welcomed the "The Selfie Spoon", ending all your troubles to get that perfectly framed picture while you are eating and chilling with your pals.
Fashioned by the General Mills brand Cinnamon Toast Crunch, the selfie-spoon apparently takes the art of taking selfies to a whole new level.The stick with a spoon lengthens as high as 30 inches and sports a clamp at the end to fasten your smartphone.
Read More: Velfies: The Rising Trend in India After Selfies & Dubsmash Videos
What's more, it comes with a Bluetooth enable remote so that you can easily Instagram, Snapchat or Tweet every munching moment.
In a marketing campaign, Cinnamon Toast Crunch launched this innovation with the aim that their cereal lovers will enjoy to pose and capture while eating their breakfast.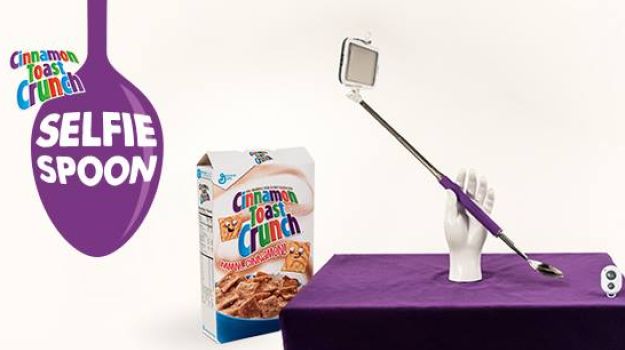 See the Cinnamon Toast Crunch commercial, featuring the legendary Selfie Spoon.
Cinnamon Toast Crunch "Selfie Spoon" from CLC on Vimeo.
The Internet has already gone crazy in love with the cool gadget and is eager to get their hands on it
I can't believe it, but yea I should this is #America and the #SelfieSpoon is sold out, @RobinMeade @MorningExp free, is the keyword though

— Chaunce Omar Luckett (@ImChaunce) September 21, 2015
Oh no! I just tried to order my #selfiespoon but they are already sold out! There's a fresh batch being released tomorrow. I gotta be on it! — Michelle Lewis (@Michelle_Radio) September 21, 2015
I actually need a new selfie stick because I used mine so much this weekend it BROKE! #TrueStory #SelfieStick #SelfieSpoon

— Pancake! (@Pancake899) September 21, 2015
The greatest invention has finally arrived ! #Selfiespoon — Nitika Satya (@NitikaSatya) September 21, 2015
THIS is incredible! I NEED it!!! #SelfieSpoon #Selfies #Cereal #PerfectCombo #ThisWasMadeForMe pic.twitter.com/UlAnrlDVTf

— Pancake! (@Pancake899) September 21, 2015
Can't wait to flaunt your food adventures this Eid-ul-Adha with your friends via the Selfie Spoon on social media? Well then, you can order this piece of innovation for free on SelfieSpoon.com, The ordering process requires you to pay charges for handling and shipping.
Related: Apple Bans Selfie Sticks at WWDC 2015